By default Windows 10 saves screenshots in the Pictures folder. But, if you want to change the default folder location from Pictures to somewhere else, you can do the same by referring to this post. There are several ways to take the screenshot on Windows 10 PC. To take the screenshot in Windows 10, one can use any third-party tool, the PrtScr keyboard button, or even the built-in Snipping Tool.
How to change the default folder location of Print Screen Screenshots in Windows 10?
Step 1. To change the default folder location in Windows 10, navigate to the following location, where you will see a Screenshots folder:
C:\Users\<username>\Pictures
Note: If you do not see the Screenshots folder, press Windows + PrtScr keys to take a screenshot. This screenshot will be saved in the Screenshots folder created by Windows 10 to save your screenshots.
Step 2. Locate the Screenshots folder, right-click on it, and select Properties.
Step 3. Click on the Location tab.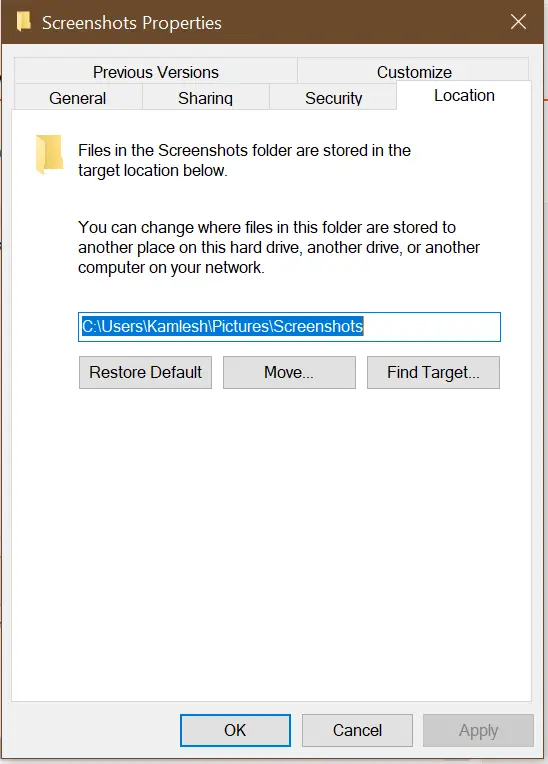 Here you can see the default path, where screenshots are getting saved by default.
Step 4. Click on the Move button and select your desired folder location where you want to save the screenshot.
Note: For a new location, you can choose the Desktop, any other drive, or even another computer on your network.
Step 5. Once a new path/folder is selected, click on Apply then the OK button.
From now onward, all new screenshots will be saved to a new location that you have selected in the above steps.
Step 6. To restore the default location of the screenshots folder, right-click on the folder (where your current screenshots are getting saved), and select properties.
Step 7. Click on the Restore Default button.
Step 8. Finally, click on Apply then an OK button.
Now, the default folder location will be restored for your screenshots.