Ninite is a freeware browser-based app that lets you install or update multiple software at once. It is beneficial for those who have installed a fresh Windows or reinstalled the Windows operating system and have many tasks to perform. Once OS installation is completed, you will try to install your favorite apps from the internet.
Npackd for Windows 10/11
Similar to Ninite, Npackd is free software that can install multiple applications at once from the internet. You can select from the 1278 available software. Apart from installing and updating software in bulk on your PC, it also allows us to perform bulk uninstall at once.
Note: By default Windows 10 offers three ways to uninstall a software or app from your PC. However, you need to wait to complete the uninstall process for the first application then only you can uninstall another app. I want to say that you can not uninstall multiple software at once.
Once you install and launch Npackd, it will scan your PC and list the applications from your computer. It will show the respective app icon, title, description, available software version, installed software version, and license information. One can also filter the list of installed software by clicking on the Installed radio button under the Status level.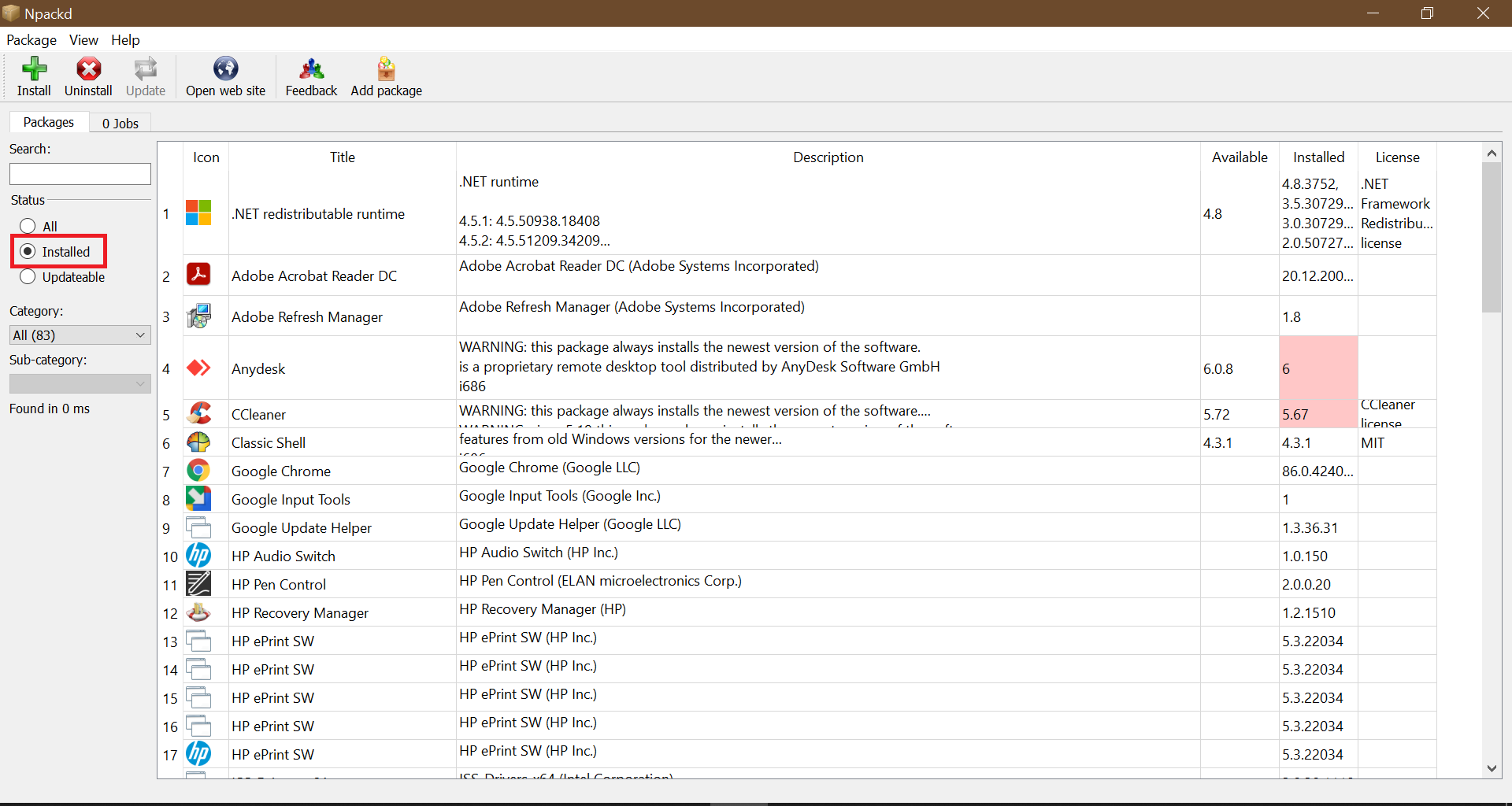 If an update is available for any application, it will show the available software version under the Available column. To update multiple applications on your Windows 10 PC, select the multiple applications by pressing Ctrl keys, then right-click and select the Install option.
It will create a package for your selected applications.
Click on the OK button to download automatically and install it on your PC.
Similar to the uninstall function, you can install multiple new software on your PC at once. Navigate to All radio box under Status level, and select the multiple apps by pressing Ctrl keys. Right-click and select the Install option to create your new package and install it on your PC.
To uninstall multiple software at once, navigate to installed apps, select multiple apps by pressing the Ctrl key, then right-click and select the uninstall option.
Download Npackd
Npackd supports both Windows 32-bit and 64-bit operating systems. You can download the latest version of this software from here.