If you want to install / reinstall/clone your Windows 11/10/8.1/8/7/Vista & Windows Server without CD/DVD/USB Drive, WinToHDD is the best freeware. But, WinToHDD does not allow you to install any third-party software during the installation of Windows. Ninite can be used as supplementary to WinToHDD. Once you have installed a new Windows or reinstalled the Windows operating system, you must perform many tasks. Once OS installation is completed, you will start searching and installing your favorite apps from the internet. Here, Ninite becomes very handy. It allows you to install all your favorite software in one go. It also skips the reboot process in between the installation of the software.
Ninite includes software like Web Browsers (Chrome, Opera, Firefox), Messaging (Zoom, Discord, Skype, Pidgin, Thunderbird, Trillian), Media ( iTunes, VLC, AIMP, foobar2000, Winamp, MusicBee, Audacity, K-Lite Codecs, GOM, Spotify, CCCP, MediaMonkey, HandBrake), Runtimes [Java (AdoptOpenJDK) x64 8, Java (AdoptOpenJDK) 8, Java (AdoptOpenJDK) x64 11, .NET 4.8, Silverlight,  Air], Imaging ( Krita, Blender, Paint.NET, GIMP, IrfanView, XnView, Inkscape, FastStone, Greenshot, ShareX), Documents (Foxit Reader, LibreOffice, SumatraPDF, CutePDF, OpenOffice), Security (Essentials, Malwarebytes, Avast, AVG, Spybot 2, Avira, SUPERAntiSpyware), Online Storage (Dropbox, Google Backup and Sync, OneDrive, SugarSync), File Sharing (qBittorrent),  Evernote, Google Earth, Steam, KeePass 2, Everything, NV Access, Compression (7-Zip, PeaZip, WinRAR), and Utilities (TeamViewer 15, ImgBurn, RealVNC, TeraCopy, CDBurnerXP, Revo, Launchy, WinDirStat, Glary, InfraRecorder, Classic Start).
Apart from the software mentioned above, Ninite also allows you to install the Developer Tools. E.g. Python x64 3, Python 3, Python, FileZilla, Notepad++, JDK (AdoptOpenJDK) x64 8, JDK (AdoptOpenJDK) 8, JDK (AdoptOpenJDK) x64 11, JDK (Amazon Corretto) x64 8, JDK (Amazon Corretto) 8, JDK (Amazon Corretto) x64 11, WinSCP, PuTTY, WinMerge, Eclipse, and Visual Studio Code.
When you need to install many apps on your PC with a single click, Ninite may be your first choice. You don't need to download and install the latest software one by one. Ninite will manage everything for you. It downloads all the required apps on your behalf. The app installer is a quick and easy way to download bulk applications reliably and securely.
Ninite stores the official download link in-app, and when you trigger to install, it downloads all the software at once for you and then starts the installation process. It also takes care of optional adware during installation. During the installation of software, adware is blocked by Ninite.
How to Use Ninite on Windows 11/10?
Step 1. Browse the Ninite online tool.
Step 2. Select the apps which you want to install on your Windows 10 PC.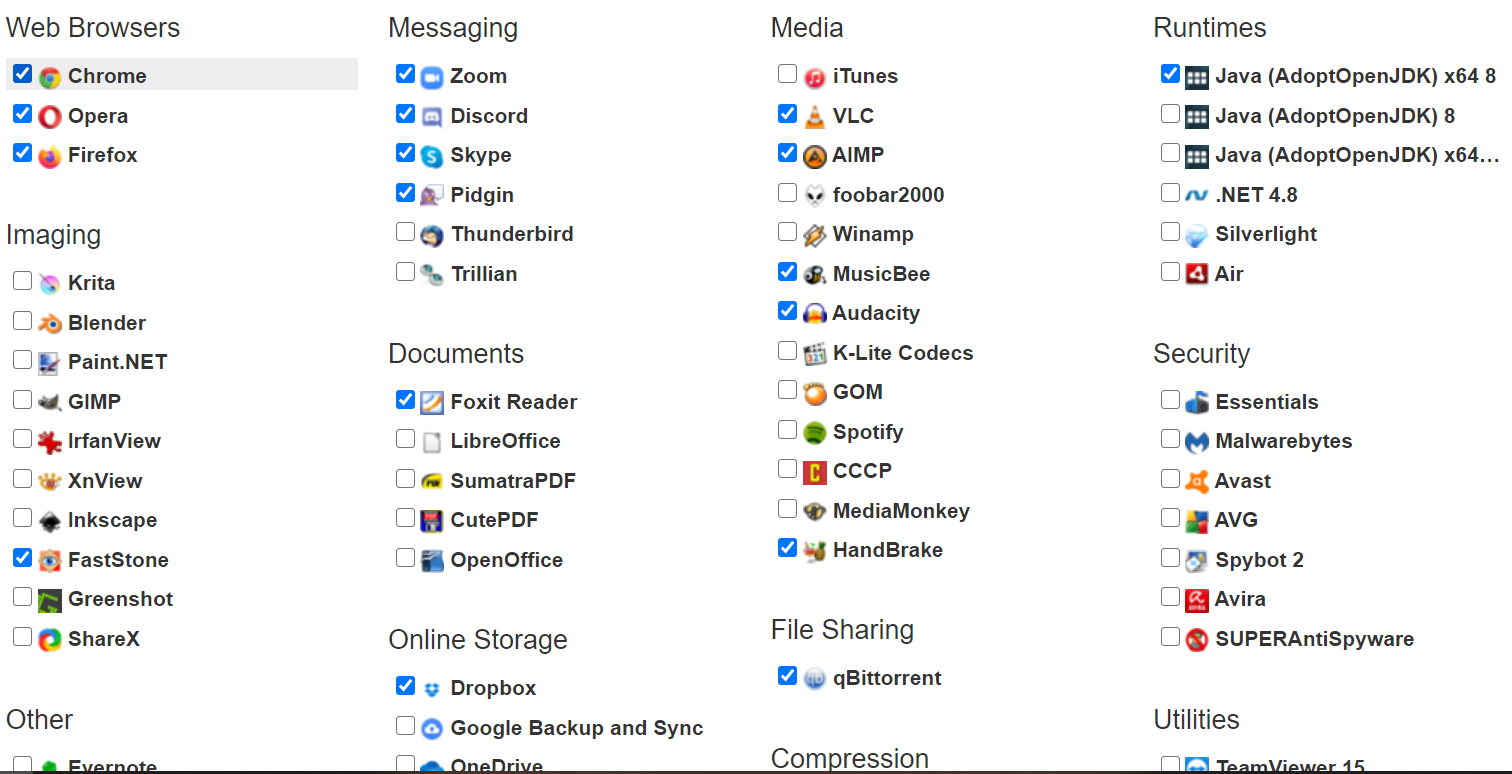 Step 3. Once you have selected the required apps, which you want to install on your computer, click Get
Your Ninite.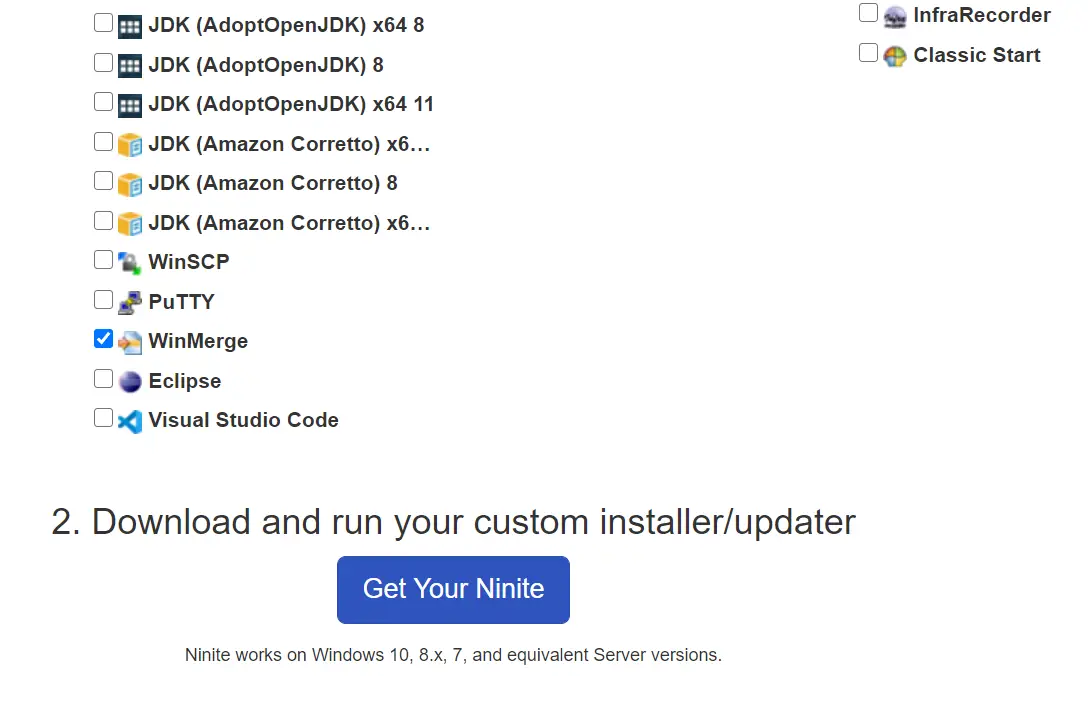 Step 4. It will now start downloading the customized installer.
Step 5. Once the customized installer is downloaded, run the installer and leave the rest to Ninite.
What is the advantage of Ninite?
The Ninite automatically installs the applications using default settings at default locations.
It detects and ignores adware during the software installation.
The app automatically detects the 32-bit / 64-bit system and installs the relevant program only.
It detects your PC language and automatically downloads apps in the computer's language only.
Compatible with Windows 11/10/8.1/8/7/Vista & Windows Server.
It automatically ignores the existing installed apps unless they need updating.
Very easy to use.
It always downloads the latest version from respective official websites.