Notepad has been a part of the Windows operating system for a long time. Over time Windows OS has improved a lot over time, but Notepad has not seen any significant improvement till Windows 11/10. It is similar in look and function as we have seen in Windows XP.
This gearupwindows article will show you how to save a Notepad file as a PDF on Windows 11/10 PC. The Notepad app in Windows 11/10 saves files as text with the .txt extension with the default configuration. In other words, we can say the Notepad application of Windows 11/10 does not allow you to save a document in PDF format; you are only entitled to keep the Notepad file in text format.
There is nothing wrong with the ".txt" format, and you can still save your document and share it with someone else. But, the ".txt" form is not as popular as PDF. After receiving a text file on another platform other than Windows, your friend or co-workers may be in trouble. PDF is such a popular format that it can be opened on any operating system, even on an Android smartphone.
To share a document, we recommend converting it into a PDF file first. If you are using Windows 11/10, you don't need to install a third-party application to convert a Notepad file into a PDF file. Even using the built-in function of Windows 11/10, you are ready to go. Let us see how you can convert a text file into PDF format.
How to Save a Notepad File as PDF in Windows 11/10?
Follow these steps to save a Notepad File as a PDF in Windows 11/10:-
Step 1. Open the text file in the Notepad app that you want to save as a PDF.
Step 2. After opening the file in Notepad software, click on the File menu and then select the Print option to open the Print dialog box.
Step 3. In the Print dialog that opens after performing the above step, select Microsoft Print to PDF as the printer in the "Select Printer" section.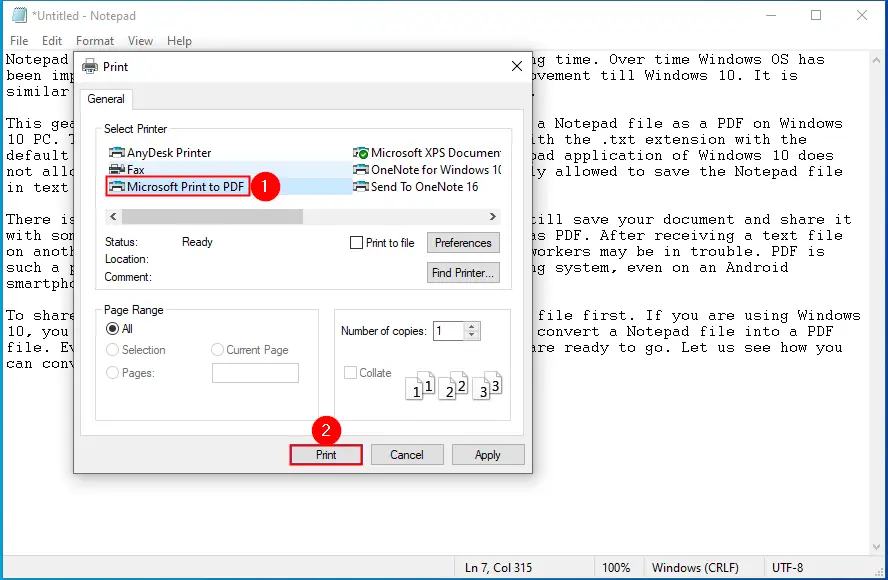 Step 4. Click on the Print button.
Step 5. The "Save Print Output As" dialog box opens. Type a name for the PDF file in the File name field. Next, click the Save button.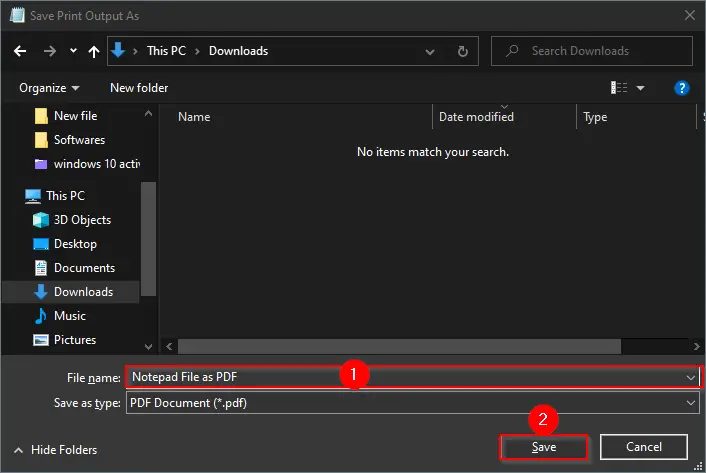 After completing the above steps, you will have a PDF file on your selected location for your Notepad file. You can use a dedicated PDF tool or web browser to read this PDF file.
Conclusion
In conclusion, Notepad may not have seen any significant improvement in Windows 11/10, but it still remains a useful application for many users. By default, Notepad saves files in text format, but it is possible to convert a Notepad file into a PDF file without installing any third-party software. Converting a text file to a PDF file can make it easier to share and open on any operating system or device. With the built-in Microsoft Print to PDF function, it is a straightforward process to save a Notepad file as a PDF file in Windows 11/10.