If you are looking for a way to restore the Windows 10 Taskbar and File Explorer in Windows 11, Explorer Patcher may help you. This freeware application adds a .DLL to C:\Windows, and all the necessary files will be downloaded automatically on your PC to make it possible.
According to the developer, this project aims to bring back a productive working environment on Windows 11.
You can access the GUI configuration option of Explorer Patcher to customize the classic functionality based on your needs and preferences. For that, right-click on the Taskbar and select the Properties option. Numerous customization is possible on a Windows 11 PC, so do not hesitate to check it out.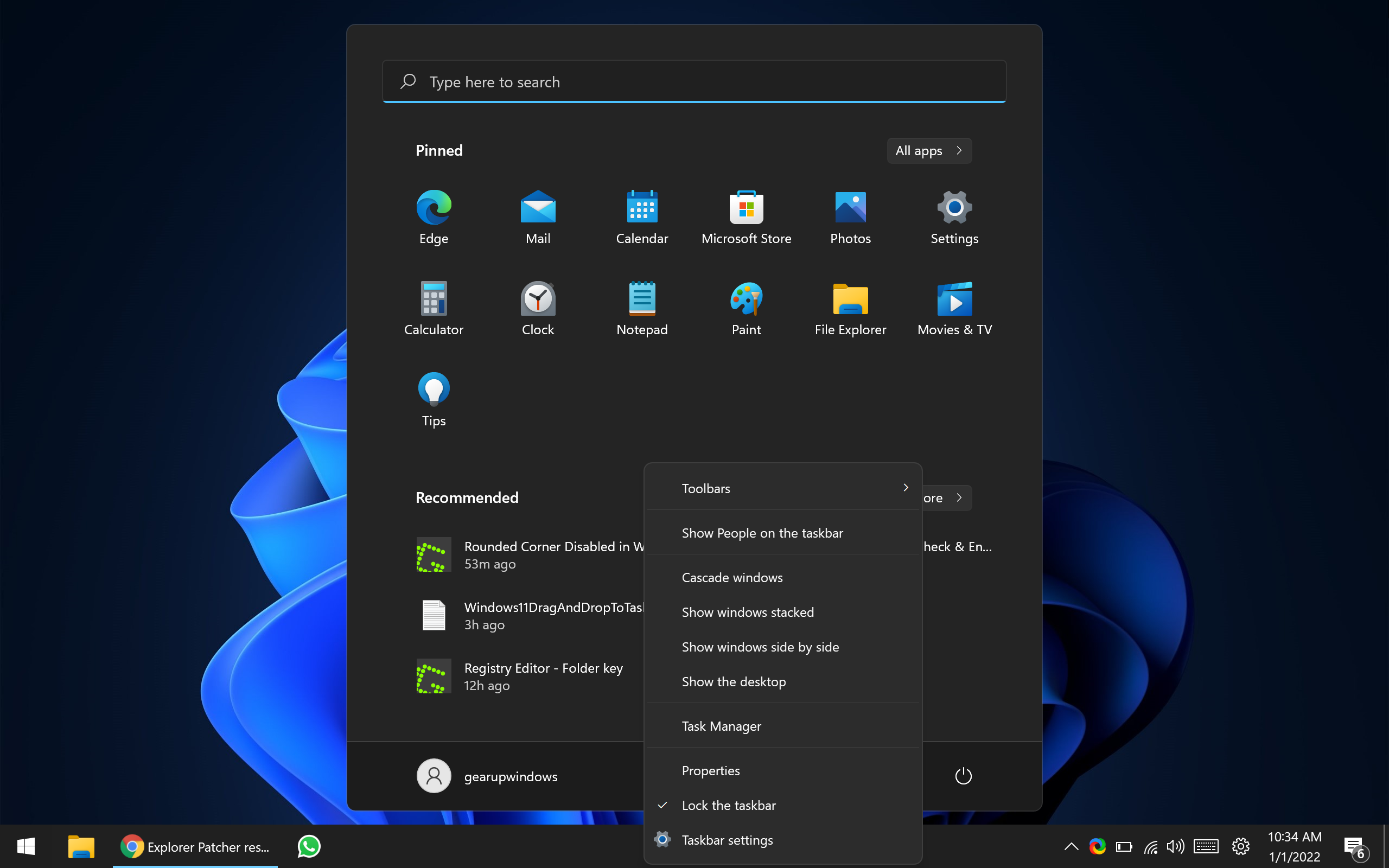 Using the Explorer Patcher freeware tool, you can customize the following:-
Taskbar
Windows 10 Style taskbar.
Add more taskbar options in Windows Settings app.
Customize notifications area icons.
Customize system icons in the notification area.
Show/hide Search button
Show/hide Task view button.
Show Desktop button.
Automatically hide the taskbar.
System Tray
Skin taskbar and pop-up tray menus.
Center tray icon pop-up menus.
Flyout behavior for tray icon pop-up menus.
Show/hide touch keyboard button.
Show seconds in the clock.
Hide Control Center button.
File Explorer
Disable the Windows 11 command bar.
Disable the Windows 11 context menu.
Disable navigation bar.
Disable modern search bar.
Hide Search bar.
Start menu
Open Start on monitor containing the cursor.
Open Start at logon.
Open Start in "All apps" by default.
Positioning on screen.
The maximum number of frequent apps to show.
Window switcher (Alt+Tab)
Choose whether to include desktop in the window list.
Ability to set the opacity of the window list
Set row height, etc.
Others
Open the time and date flyout when pressing Win+C (instead of Microsoft Teams).
Set default shutdown action for Alt+F4 on the desktop.
Show Command Prompt instead of PowerShell in the Win+X menu.
Download Explorer Patcher
You can grab Explorer Patcher from GitHub.