You can create and manage partitions on your PC HDD or SSD with the built-in Windows 11/10 partition manager, but if you want more advanced features, you should use a third-party partition manager such as IM-Magic Partition Resizer Pro.
IM-Magic Partition Resizer Pro for Windows 11 and 10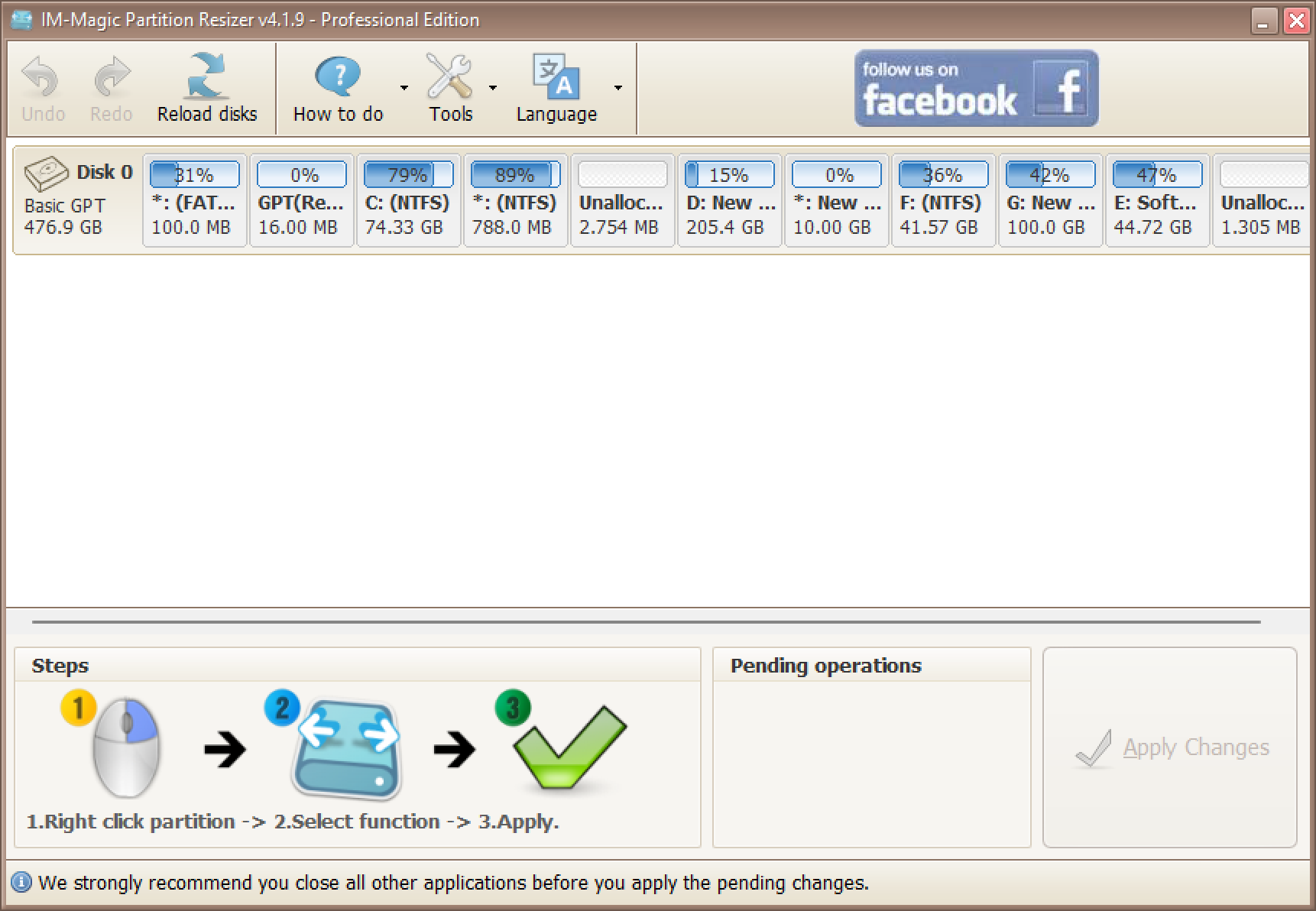 You can extend any partition without losing files with IM-Magic Partition Resizer Pro. It allows you to move, shrink, merge, and expand any partition without destroying any data. With a few clicks, you can rearrange the disk partition territory and keep your files untouched. 100% successful resizing!
There may be several reasons why you may want to resize the partitions, such as the "C" drive running out of space. By using this application, you can increase the boot volume to prevent your system from reformatting the disk, reinstalling the operating system, and moving your data. Resizing the system partition is a straightforward task, even for tech-inexperienced people.
This application provides you with 100% of safety during the whole partitioning process, even when your computer is accidentally shut down during the resizing process. The program has an optional roll-back feature, so if something goes wrong, it will never hurt your files or partitions.
You can shrink a large disk volume that holds too much free space without formatting. Extend partitions without losing data with IM-Magic Partition Resizer. It is 100% safe to use Partition Resizer on the same disk when your disk partitions run out of space or have plenty of free space.
IM-Magic Partition Resizer Pro Features
Partitions can be extended, resized, and moved.
Partitions can be copied, wiped, and merged.
You can convert MBRs to GPTs, logical disks to primary disks, and more.
Compatible with Windows 11/10/8/7/Vista/XP/2000.
Support for WinPE/Portable/Bootable CDs.
When changing disks, roll-back technology protects OS and data.
Free License for IM-Magic Partition Resizer Pro
With Magic Partition Resizer, you can resize partitions in a regular window. It automatically displays the drives it finds in the main window, along with their file system and space. It is compatible with Windows XP to 11.
To avail of the free license of IM-Magic Partition Resizer Pro, download this application from its official website. Install it on your computer as regular software. Upon installation, launch this software and click on Activate in the toolbar and enter the following license in order to activate it:-
A697BB95E660F944123217247FB99F82D46FDE49B68BD966FF5B
That's it!
Conclusion
In conclusion, IM-Magic Partition Resizer Pro is an excellent tool for managing your computer's partitions effectively. Whether you want to extend, shrink, move or merge partitions, this utility ensures a seamless process while maintaining 100% safety for your data. Its roll-back technology further secures your files and operating system during disk alterations, making it a reliable choice even for those who are not tech-savvy. Available for all versions of Windows from XP to 11, this application not only offers advanced partition management but also ensures ease of use. So, take advantage of the free license and experience hassle-free disk partitioning with IM-Magic Partition Resizer Pro.
You might also be interested in a free IObit Smart Defrag 8.5 Pro license.