Can I extend a partition without losing data? How do I force a partition to extend? While Windows 11/10 offers a built-in partition manager that helps you create and manage partitions on your PC HDD or SSD, but if you want advanced features, you should opt for a third-party tool. EaseUS Partition Master is a free utility that lets you easily migrate OS, merge, and split partitions. On Windows 11/10 PC, it is also possible to create multiple partitions on a USB flash drive without using a third-party tool. You can also refer to our guide to resize or increase Bootcamp Partition without deleting Windows.
IM-Magic Partition Resizer for Windows 11/10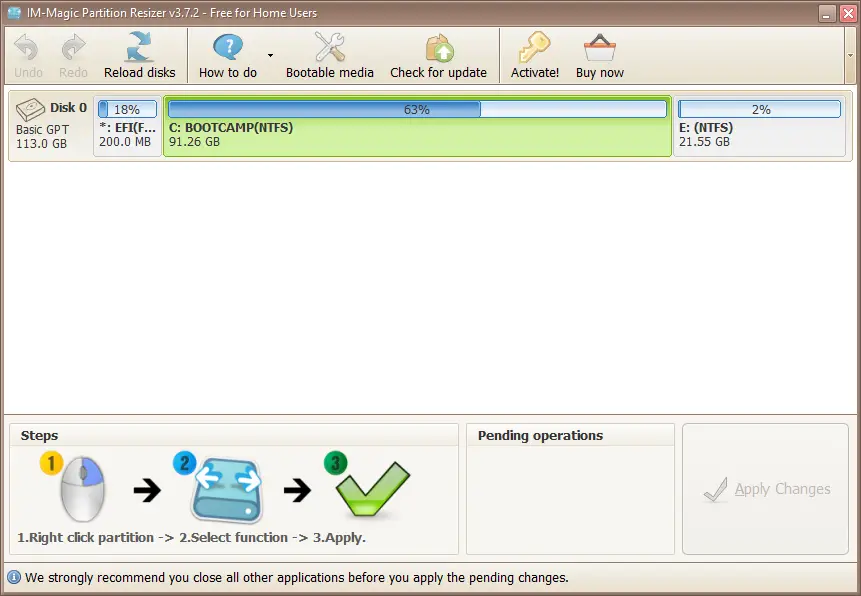 In this gearupwindows article, we will introduce a new free partition manager, IM-Magic Partition Resizer. IM-Magic Partition Resizer is a completely free application for personal use that helps you expand, move, shrink, and merge partitions without destroying the data. A few clicks of your mouse will move the fences to rearrange the disk partition territory, and also, IM-Magic Partition Resizer will keep your files untouched. A portable version of this program is also available, which means there is no need to install it on your PC. You can download and keep this tool on a USB flash drive, and when required, you can start arranging or resizing your Windows partitions.
The IM-Magic Partition Resizer not only supports Windows 11/10; you can even utilize this application to resize or move the partitions on Windows 8, 7, Vista, and XP. Once you use this utility, you are going to love it.
This program supports FAT12, FAT16, FA32, NTFS, Ext2, Ext3, Ext4, and exFAT file systems. It helps you with UEFI/EFI boot, MBR disk & GPT disk, and RAID when it comes to storage. You can even use this software with traditional hard disk drives, solid-state drives (SSD), SSHD, etc.
Everything is crystal clear in IM-Magic Partition Resizer. You can access all its features by just right-click on any existing partition. It allows you to perform the following operations on an HDD or SSD:-
Resize or Move Partition
Merge Partition
Copy Partition
Delete Partition
Format Partition
Check Partition
Defragment
Change Cluster Size
Change Drive Letter
Change Label
Explorer Partition
View Properties
Hide Partition
Wipe Partition
IM-Magic Partition Resizer can also resize the "C" drive partition where Windows is installed. This tool helps you increase the boot volume to save your system from reformatting disk, reinstalling the operating system, and moving data to other places. Resizing the system partition using this software is an easy task.
Download IM-Magic Partition Resizer
You can download IM-Magic Partition Resizer from here.