In order to keep Windows running at optimal speed, we recommend performing registry cleaning at least once a month as part of its nature. Although several free registry cleaners are available over the internet, finding a good and working registry cleaner is difficult. Even if your PC is running slowly, you can run a registry scan to improve the overall performance of your PC. The majority of free registry cleaners will scan your PC but not clean it without paying money. In other words, they're paid but advertised as free.
It comes in both a free and paid version. As you know, free versions of any software always have limitations, so if you can afford it, you should opt for the paid version.
There's good news: you can get the Wise Registry Cleaner Pro tool for free for a year. The company has hosted a giveaway and is offering the application for free for the next one year. That means you can download this software and optimize your PC for free for one year without any restrictions.
Wise Registry Cleaner Pro for Windows 11 and 10
The program is fully compatible with Windows 11 and 10. It comes with a totally clean user interface. It offers several features and these are the following.
Cleaning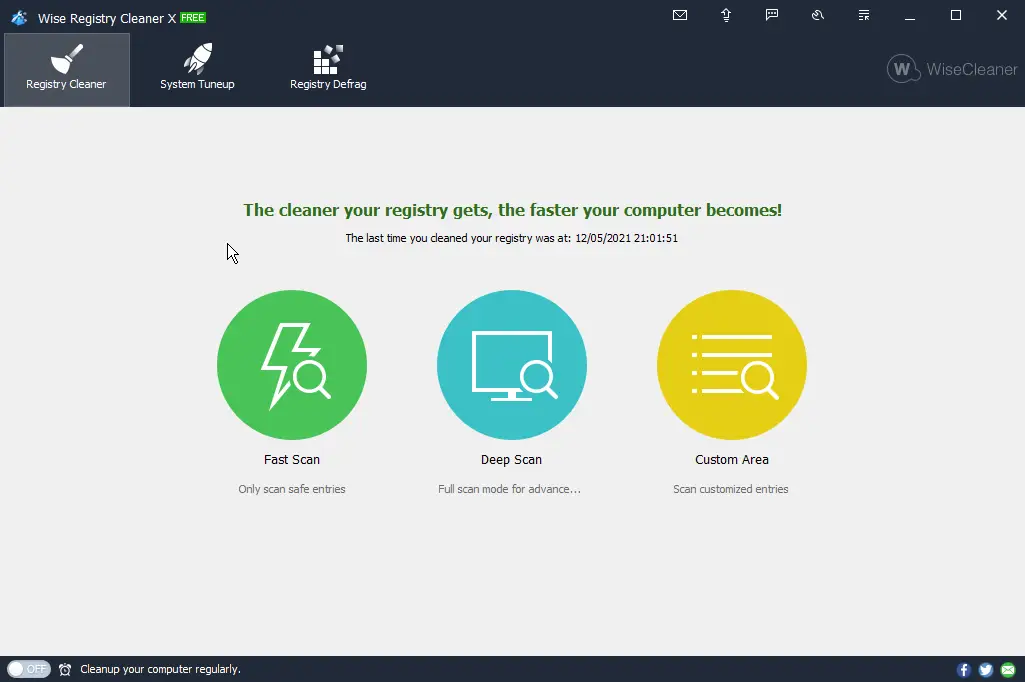 This tool works as advertised. Because Windows is a complex operating system, its registry keeps growing as you use it. Because of this, obsolete entries eventually pile up in the registry, reducing performance and causing system crashes. After scanning the Windows registry, Wise Registry Cleaner Pro locates errors and residuals, cleans, and defrags them. Removing these residual and corrupted registry items will make your machine run faster and more smoothly.
Backup & Restore System
A registry cleaner and defragmenter tool for Windows, Wise Registry Cleaner is the best and safest on the internet. It automatically backups the registry file before any cleaning is performed. By using these backups, you can restore your system to an earlier state.
To compact the Windows Registry, Wise Registry Cleaner also defrags it. Before defragmenting the Windows Registry, it creates a system restore point automatically. Using this system restore point, you can revert your computer back to a previous state if something goes wrong.
In addition, you can manually create a full registry backup and system restore point on your PC by accessing the Menu and choosing the Backup option.
Scheduled Automatic Registry Cleaning
Besides manual registry cleaning, Wise Registry Cleaner lets you schedule registry cleaning daily, weekly, or monthly according to your preferences.
On the main interface of Wise Registry Cleaner, click the toggle next to "Clean up your computer regularly" to schedule registry cleaning. Once you set up the automatic registry cleaning, the program will automatically clean up the registry when the scheduled time is up.
One-click Cleaning
You can create a desktop icon called 'Clean with 1-click' using this software.
You can do this by selecting the option "Create a 'Clean with 1-click' icon and placing it on the desktop." Once you have configured the one-click registry cleaner, you can clean the registry without opening Wise Registry Cleaner.
Optimizes System Settings for Better Performance
In addition to speeding up system startup and shutdown, improving stability, operating speed, Internet speed, and extending SSD lifespan, Wise Registry Cleaner Pro also optimizes Windows registry settings to improve system performance. Your computer's performance will improve after a single-click optimization.
You can restore the registry settings to the defaults at any time since it automatically creates a backup of the Registry file.
Scanning Modes
When you have performed a deep scan, you can then use a fast scan weekly. Wise Registry Cleaner Pro offers two scan modes: Fast Scan and Deep Scan. In the Custom Area option, you can customize the items for scans and select all or just one, such as invalid ActiveX and COM components, obsolete startup program entries, invalid software paths, and image file execution.
Custom Area allows you to exclude certain areas of your Windows Registry from scanning.
Compatibility
In addition to Win 11, 10, 8, 7, Vista, and XP, the application also supports 32-bit and 64-bit versions of Windows.
Download Wise Registry Cleaner Pro Free
You can download the giveaway version of this latest Wise Registry Cleaner Pro from here. Once you download and install the setup file, there is no need to enter the activation key. The application is pre-activated.
Enjoy!!!