There are a few freeware apps to create a bootable USB flash drive. However, there are plenty of CD/DVD burning tools available. Once you have created a bootable CD/DVD or USB flash drive and you want to test whether it is bootable or not, this post is useful for you. There is no need to change the computer or laptop BIOS settings to check the bootable pen drive/CD/DVD. Your needs can be fulfilled by a freeware tool, MobaLiveCD.
The best part of the MobaLiveCD is that it checks bootable CD/DVD and can check the USB flash drive. MobaLiveCD is a free and portable tool that does not require a system restart. It virtually starts Windows OS without actually installing it on your computer or laptop.
How to Check if a USB Drive is Bootable or Not in Windows 11/10?
To check if a USB flash drive is bootable or not in Windows 11/10, perform the following steps:-
Step 1. Download the MobaLiveCD freeware tool.
Step 2. Right-click on the downloaded file and select Run as administrator.
Step 3. Once it is up and running, click the "Run the LiveUSB" button.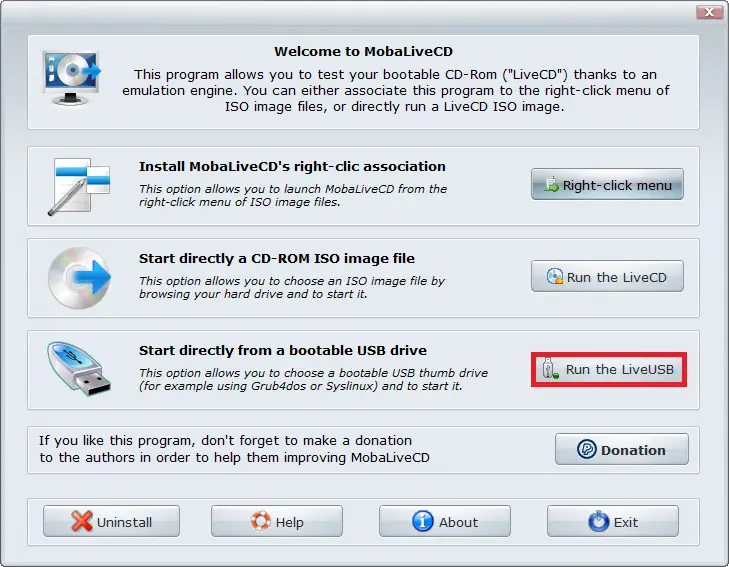 Note: This freeware tool can also check if the CD/DVD is bootable. To check the CD/DVD's bootability, you can use the button "Run the LiveCD."
Step 4. Once you click the "Run the LiveUSB" button, it will ask for the USB thumb drive location.
Step 5. Select your USB flash drive and click on the OK button.
Step 6. A new window opens and asks you, "Do you want to create a hard disk image for your virtual machine?" Click the No button to continue.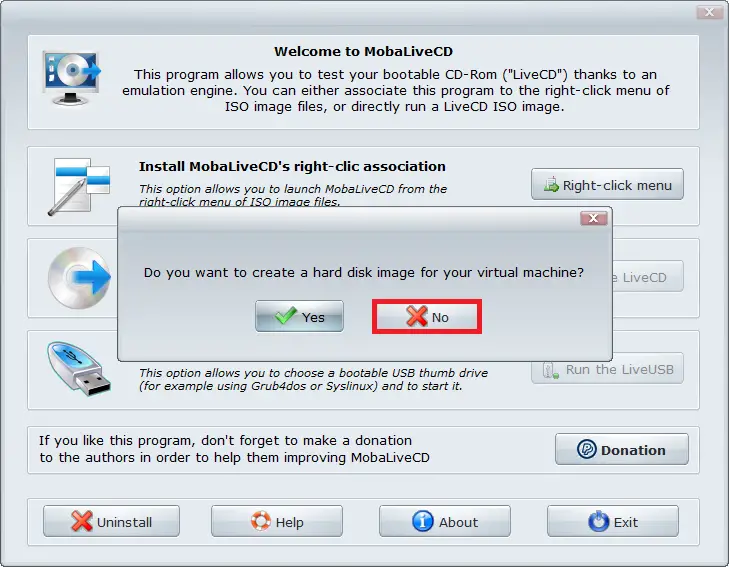 Step 7. You'll see a command prompt windows appear with a little boot-up text. This means the virtual machine is attempting to boot from the selected drive.
Step 8. After a few seconds, you will see the Windows installation is in progress. This means the selected drive is bootable, and you can close the running window now.
Once you have tested that your USB flash drive is bootable, change the BIOS of the computer on which you want to install Windows and start installing a fresh OS.
If the process freezes or hangs at the command window, then the selected drive is not bootable.
Download MobaLiveCD
You can download MobaLiveCD from here.
Conclusion
In conclusion, MobaLiveCD is a reliable and convenient freeware tool for checking the bootability of both USB flash drives and CDs/DVDs without the need to change BIOS settings or install Windows. It offers a simple and straightforward process, allowing users to determine if their selected drive is bootable or not. By using MobaLiveCD, users can ensure the successful installation of a fresh operating system on their desired computer or laptop.