Dynamic Wallpaper feature was introduced in the Mojave Update in macOS, which was one of the noticeable functionality. It is a pretty cool feature that lets you rotate the wallpaper automatically on the desktop background within specified time intervals. macOS wallpaper lover will grab it immediately. You don't need to switch platforms to use the Dynamic Wallpaper feature in Windows 10.
Dynamic Wallpaper on Windows 11 or 10
WinDynamicDesktop is an excellent app available on the Microsoft Store that lets you apply macOS Dynamic Wallpaper on Windows 11 and 10. Just download and install this free application to use macOS Dynamic Wallpaper on your PC.
Once WinDynamicDesktop is installed on your PC, it will ask you to "Configure Schedule." While configuring the schedule, make sure that you enter your current location. The application allows setting up specific sunrise and sunset timing by selecting the "Use specific sunrise and sunset times" option.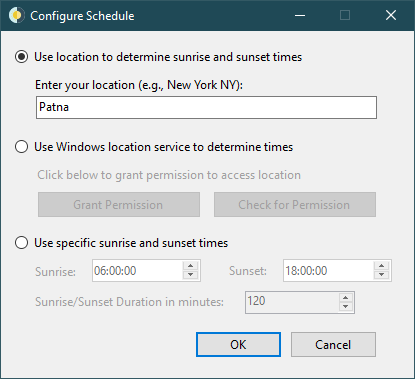 Once you set your current location to determine sunrise and sunset times, clicking the OK button will prompt you if the location is correct. Click the Yes button to continue.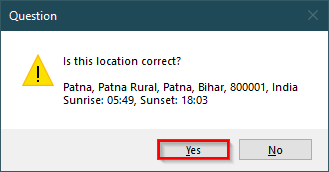 Now, the application will welcome you with some of the most incredible dynamic wallpapers on the market. These include Big Sur, Big Sur Abstract, Catalina, Dome, Iridescence, Mojave Desert, Monterey Abstract, Peak, Solar Gradients, The Beach, The Cliffs, The Desert, The Lake, Tree, and Ventura Abstract.
Select a theme of your choice and click on the Download button (file size maybe 15 MB to 200 MB). Once the wallpaper is downloaded, click the Apply button to enjoy macOS Dynamic Wallpaper on Windows 11 or 10.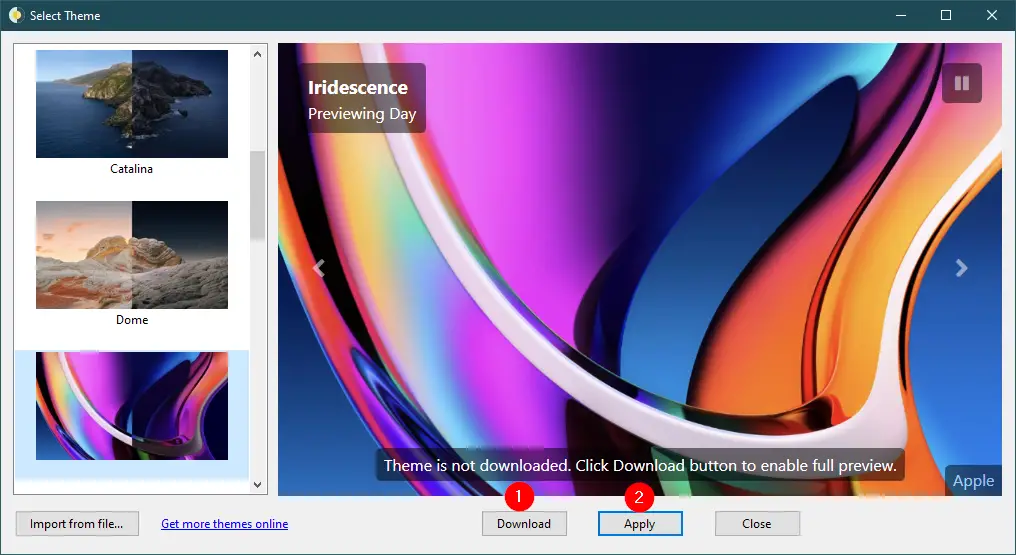 Suppose you want to go back to the default Windows theme for some reason; there is no need to delete the application. Right-click on the WinDynamicWallpaper icon from the taskbar, click Select Theme, select None, and then click Apply.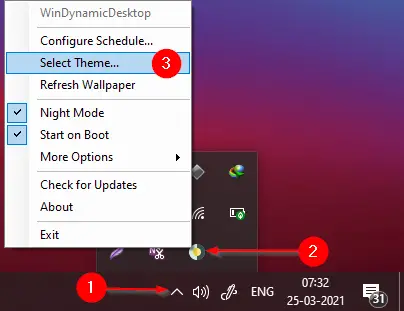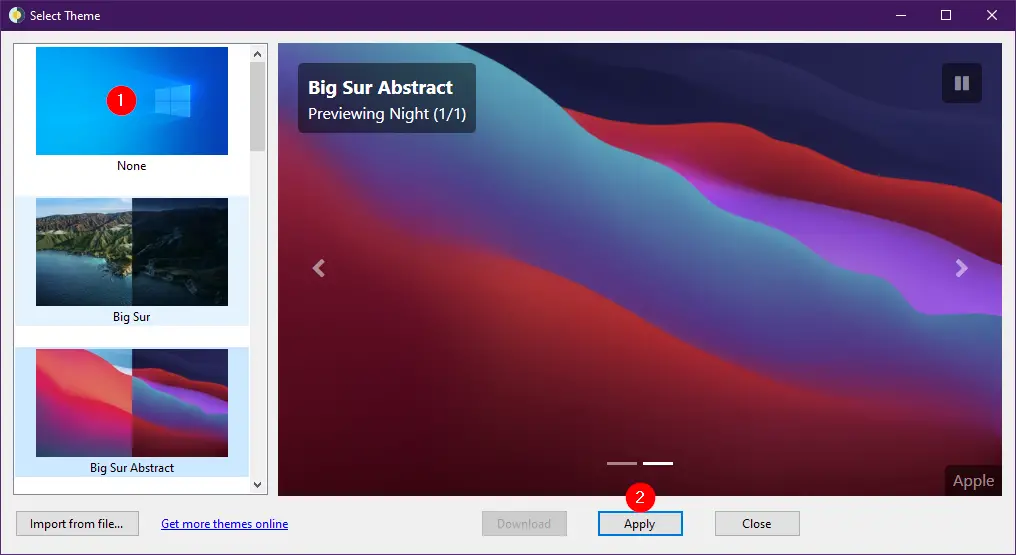 Download WinDynamicDesktop
WinDynamicDesktop is available for download from the Microsoft Store. It is also available on GitHub, which supports Windows 11, 10, 8, and Win 7 operating systems.
Conclusion
In conclusion, the Dynamic Wallpaper feature introduced in the Mojave Update of macOS is a pretty cool functionality that allows users to rotate wallpapers on their desktop backgrounds automatically within specified time intervals. With the WinDynamicDesktop app, Windows 11 and 10 users can also enjoy this feature without switching to macOS. By configuring the schedule and selecting their preferred dynamic wallpapers, users can easily download and apply them on their Windows PCs. The app is free, has a neat and clean user interface, and does not slow down the PC in any way. Therefore, if you are a macOS Dynamic Wallpaper enthusiast but use a Windows PC, WinDynamicDesktop is an excellent option to consider.
You might also be interested in extracting wallpapers from Windows 10/8/7 theme.