Notepad and Wordpad are very old app, and might you were using them for a long time. A limited set of features are available in Notepad; hence most Windows users prefer to use an online text editor or purchase the Microsoft Office suite. Still, Notepad has not lost its importance, and many of us use it as a note keeper. It is quite simple to use; press Windows + R to open the Run dialog box, type Notepad, and hit Enter from the keyboard to open it. Write whatever you want and save it on your PC. One can add spelling check support on Notepad and WordPad using a third-party tool TinySpell.
Notepad comes inbuilt on all versions of Windows as a default text editor along with Wordpad. On Windows 10 operating system also, it comes pre-loaded, and one can access it. In the earlier version of Windows up to Windows 8.1, it was impossible to uninstall the Notepad from their PC; however, Microsoft has added support to install or uninstall Notepad from Windows 10. One can install or uninstall the Notepad text editor from the Settings app.
As brought out above, Notepad is an inbuilt text editor on Windows 10, and if you are unable to find it on your PC, it is a high chance that someone else has uninstalled it. One can install Notepad using the Settings app. Still, if your Settings app is not working or cannot install Notepad, you will be happy to know that Microsoft has added Notepad in its Store. In other words, it is now possible to install Notepad from the Microsoft Store also.
How to install Notepad on Windows 10 from Microsoft Store?
Step 1. Click on the Start button of Windows 10 and type Microsoft Store.
Step 2. On the available search results, click on the top entry "Microsoft Store" to launch it.
Step 3. On the Microsoft Store app, click on the Search on the top right corner and type in Notepad.
Step 4. In the available search, click on the Windows Notepad entry.
Step 5. Verify the publisher and then click on the Install button.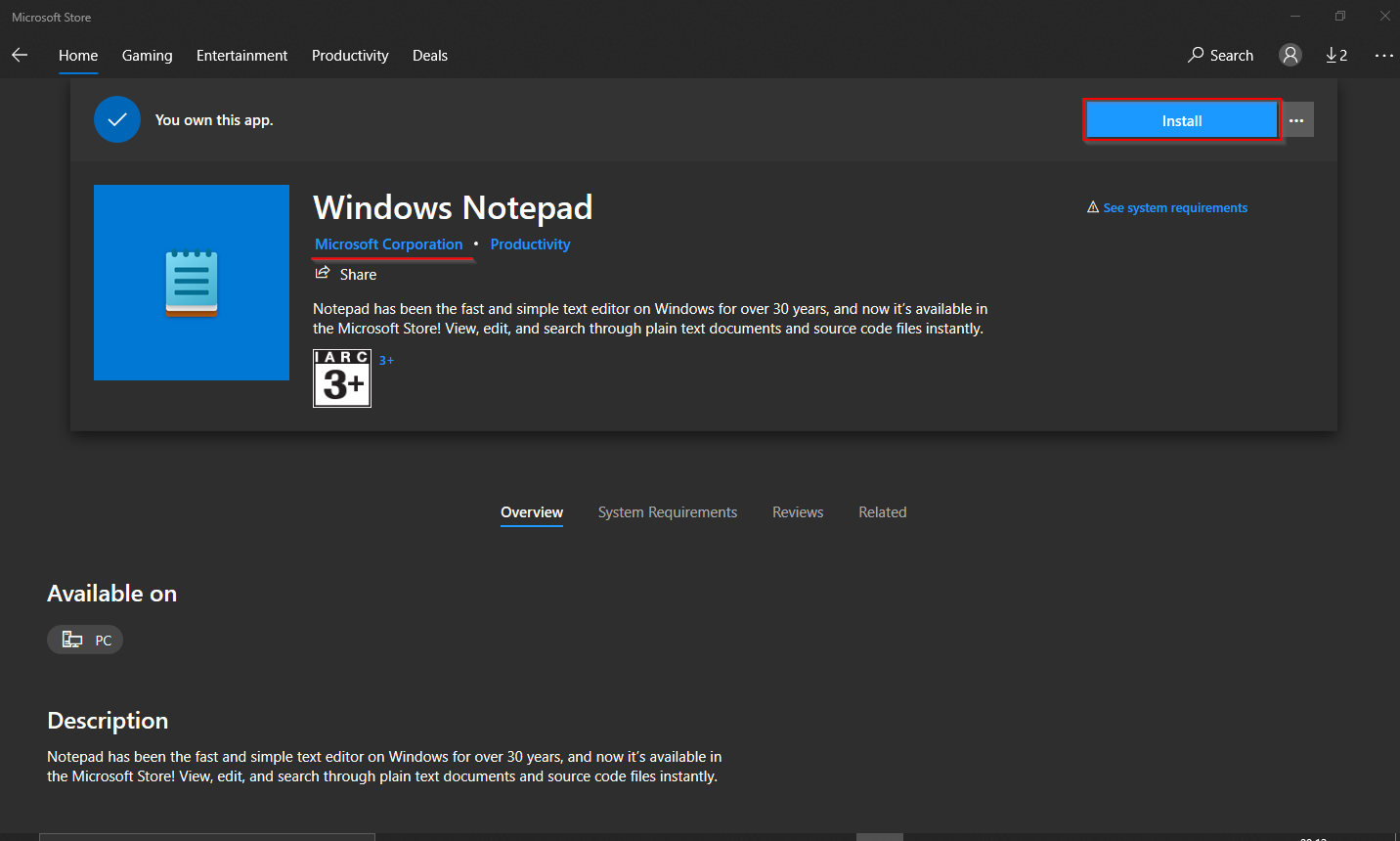 Step 6. After installation is completed, click on Launch to open the Notepad.
You can even search for Notepad in Windows 10 Search and open it.