Microsoft has added a new feature on Windows 10 to autocorrect misspelled words and word suggestions with hardware keyboards. However, this function is not available on its predecessors. All popular versions of Windows operating systems, including Windows 11/10/8/7/Vista/XP, come with a built-in word processor program, Notepad, and WordPad. Most Windows users download a freeware third-party utility Notepad++ to replace the built-in word processor because of the lack of a spelling check feature in Notepad and WordPad.
While Notepad and WordPad are good to take some notes, it lacks many features, and spelling check is one of them. If you often use Notepad/WordPad and miss the spell check feature every time you type some words on it, we recommend you install a tiny utility, TinySpell.
TinySpell for Windows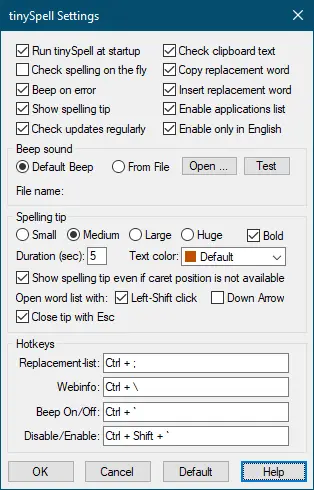 TinySpell is a freeware app that comes without adware, spyware, or nagware. It comes with a clean and easy user interface. It is hardly one MB in size. Once you install it on your PC, it will sit in the Windows notification tray, and you can access its settings by the double-clicking icon on the notification tray. Under Settings, you can configure tinySpell to play a beep sound when you misspell any word.
With the default settings of tinySpell, you can view word suggestions for a misspelled word by pressing the left Shift key. However, you can enable the down arrow key to view word suggestions for a misspelled word through its settings.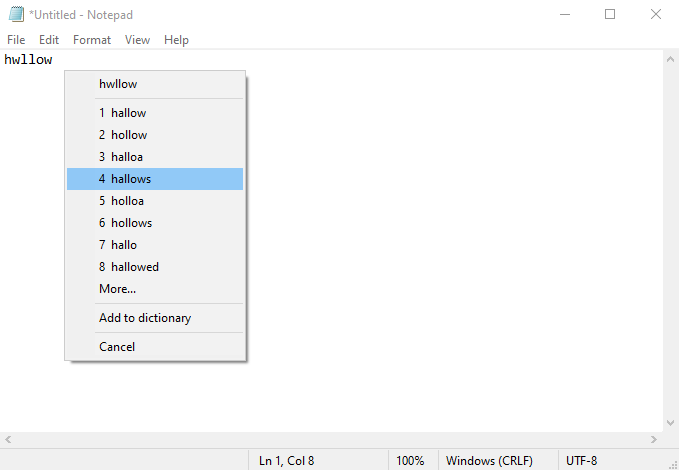 tinySpell also comes with a custom dictionary, where you can also add your own custom words to tinySpell's dictionary. To add your own word to its dictionary, right-click on the tinySpell icon in the system tray, clickDictionary to open it, click Addbutton, and then enter a word that you would like to add to the custom dictionary.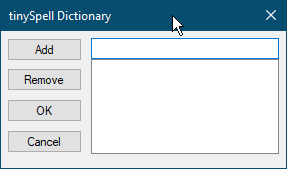 TinySpell offers a spelling check service for all Windows programs. But if you want to use it to work with Notepad and WordPad only, you can configure tinySpell to work with desired programs. To do so, right-click on the tinySpell icon in the system tray and then click Applications to configure tinySpell to work with certain apps only.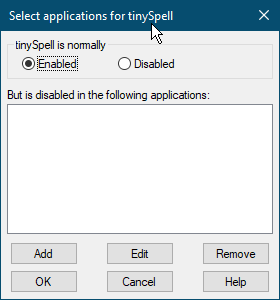 All in all, tinySpell is a very beneficial program for those users who prefer using Notepad or Wordpad without worrying about spelling mistakes. It is compatible with Windows 11,  10, 8, and 7 operating systems.
Download TinySpell
You can download the tinySpell free app from its official website.