If you are still using the old version of Windows OS, for instance, Windows 7 or Windows 8, and want to test Windows 10 by installing on another partition on your PC, it is a better idea to install it without purchasing the license key of Windows 10. Once you are satisfied after using Windows 10 for a month or more, you can activate it by purchasing the license key from the Microsoft store. In other words, you can preview Windows 10 by installing it on a separate partition of your PC without actually disturbing your files and folders.
Is it possible to install Windows 10 without having a valid product key?
For those Windows users wondering how it is possible, let me clear that Microsoft allows you to install Windows 10 without actually inserted the product key. During the installation of Windows 10, you can skip the product key option and complete the installation process.
Is it illegal to install Windows 10 without having a valid activation key?
Since Microsoft itself includes the option to skip the license, there are no legal issues to install Windows 10 without a valid license or activation key. Microsoft provides sufficient time to understand and learn Microsoft Windows 10 before actually purchasing the license key. But one should note that installing Windows 10 successfully without a product key won't automatically activate your copy of Windows 10 unless you use a legal product key (OEM product key). Furthermore, if you use Windows 10 without activation, some features may be disabled on your PC. To gain full access to Windows 10, you need to purchase and activate a copy of Windows 10.
How do I install Windows 10 without entering a product key?
Step 1. Create a bootable USB flash drive of Windows 10 and start installing Windows 10 from it.
Step 2. During the installation of Windows 10, when you get the following screen asking you to enter a product key, click on the link "I don't have a product key" to continue installing Windows 10 without any valid product key.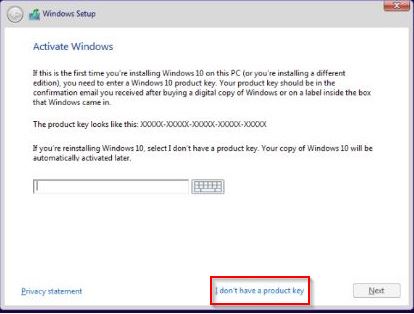 Once the installation is completed, you can activate your copy of Windows 10 by entering a genuine product key to access all the features. One should note that don't use the same license key which you are using on another PC.  Once you are online, Microsoft will deactivate the license.
You might also be interested in a guide to recovering Windows 10 product keys from BIOS/EFI using Windows 10 Product Key Tool.