ImgBurn is a popular and free disc-burning software that allows users to create, burn, and copy CD, DVD and Blu-ray discs. The software has been around since 2005 and has since become a staple among disc-burning enthusiasts due to its extensive range of features, user-friendly interface, and overall reliability. In this article, we'll take a closer look at ImgBurn and what makes it such a great disc-burning solution.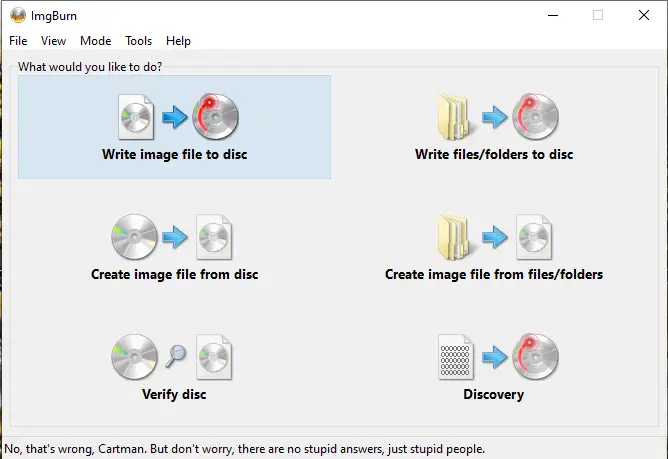 Features
ImgBurn offers a comprehensive set of features that make it a versatile disc-burning software. One of the standout features is the ability to burn ISO files to disc, which makes it easy to create a bootable CD or DVD. ImgBurn also supports a variety of disc image formats, such as BIN, CUE, DI, DVD, GI, IMG, ISO, MDS, NRG, and PDI.
In addition to burning disc images, ImgBurn allows users to create their own ISO files from files and folders on their computers. This is a useful feature for users who want to create a backup of their data or create a disc image for distribution.
ImgBurn also includes options for burning audio CDs and DVD video discs, as well as creating and burning data discs. The software offers a range of options for disc burning, such as multisession discs and support for dual-layer discs.
Interface
One of the strengths of ImgBurn is its user-friendly interface. The software is easy to navigate and includes a variety of options for customizing disc-burning settings. The main menu includes options for creating, writing, verifying, and discovering discs, making it easy for users to find the feature they need.
The software also includes a preview pane that allows users to preview their disc image before burning it to a disc. This is a helpful feature for ensuring that the disc image is correct and that there are no errors or issues.
Overall, the interface is clean, intuitive, and easy to use, making it accessible for both novice and experienced users.
Reliability
ImgBurn is known for its reliability and stability. The software is regularly updated and maintained, which ensures that it remains compatible with the latest hardware and software. Additionally, ImgBurn includes error-checking features that help prevent disc-burning errors and issues.
The software also includes a log feature that records all burning activities, making it easy for users to troubleshoot issues and identify the cause of any problems that may arise during the burning process.
Download ImgBurn
You can download ImgBurn from its official website.
Conclusion
ImgBurn is a comprehensive disc-burning software that offers a range of features, an intuitive interface, and reliable performance. It's a great choice for users who need a versatile disc-burning solution for their CD, DVD, and Blu-ray needs. Best of all, it's completely free, making it accessible to anyone who needs to burn discs.