IObit Smart Defrag 8.3 Pro is a disk defragmentation tool that enables you to optimize the performance of your hard drive by efficiently rearranging fragmented data. The software is compatible with various Windows operating systems, including Windows 11, 10, 8, and 7, and is capable of quickly analyzing and defragmenting drives. It includes features such as background defragmentation and a scheduler for automatic defragmentation, as well as a game optimizer for enhancing gaming performance. It is important to use the software properly and ensure compatibility with your system before installing and utilizing it.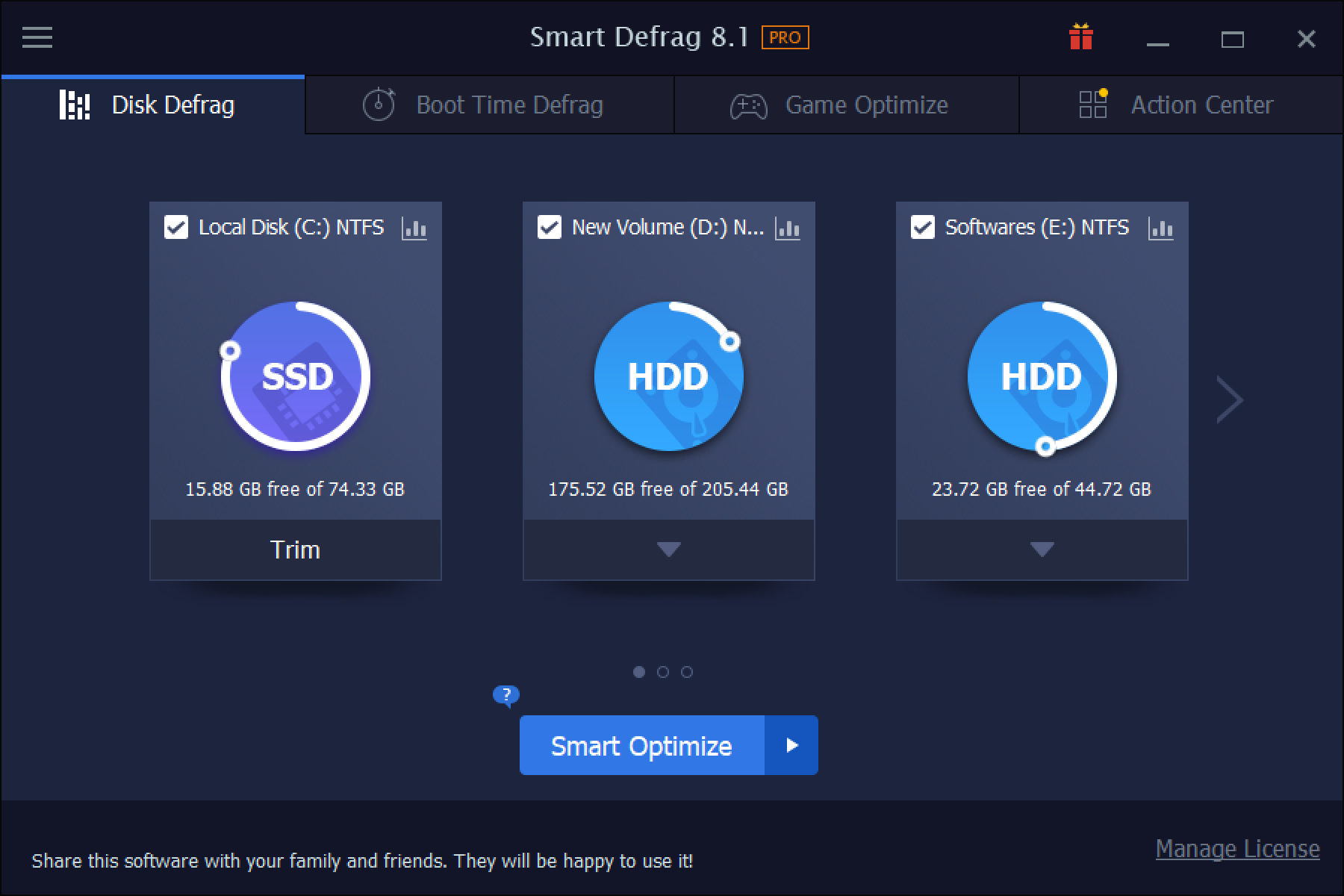 If you are using an SSD, defragmentation of your disk is not necessary. However, if you have a traditional hard drive installed on your Windows desktop or laptop, it is essential to defrag it on a regular basis.
When you first start using a new hard disk and transfer data or install software, the contents will be stored in contiguous sections of the drive. However, as you use your computer and move or delete files and folders, the data becomes scattered across different sections of the drive. This causes the hard disk to become fragmented, with bits of files located in various places, and ultimately slows down your PC's performance as Windows has to search for them in many locations.
Defragmenting reorders the contents of your hard disk, leading to a faster PC. While the built-in disk defragmenter in Windows does a decent job of optimizing your drive, we recommend using a third-party tool such as IObit Smart Defrag 8.3 Pro for more effective results.
Iobit Smart Defrag 8.3 Pro for Windows 11 and 10
Smart Defrag is a disk optimizer that provides a reliable, stable, and user-friendly solution for achieving optimal performance from your hard drive.
Unlike traditional defragmentation tools, Smart Defrag not only defragments your drive but also streamlines your files intelligently based on frequency of use, resulting in faster disk data access. It operates silently in the background and can defrag your drive automatically.
Smart Defrag 8.3 Pro, the latest version of the application, boasts a redesigned user interface that is compatible with high-resolution displays. Its improved defrag engine can defrag both HDD and SSD drives to speed up disk access and improve durability.
Using the Boot-time Defrag feature, you can also defrag the Windows registry and files, freeing up more RAM and ensuring system stability. The Auto Defrag and Scheduled Defrag features ensure that your disks are always optimized for peak performance, while the Disk Health module allows you to monitor your disk status in real-time.
Iobit Smart Defrag 8.3 Pro Free License
If you wish to activate IObit Smart Defrag 8.3 Pro without incurring any charges, begin by downloading the most recent version of the Smart Defrag Installer from the official website. Next, install the application on your computer in the usual manner.
Once you have launched the software, select the "Enter Code" option located beneath the Activate Now button and enter the following license code: –
E681C-44DEF-3D319-C04B8
Good luck.