We generally use the traditional method to install Windows operating systems by CD / DVD. Now, these days are gone. A few software are available for free to download, supporting creating a bootable USB for any version of Windows, including Win 11/10 OS. Although, Microsoft has officially released a tool that is called Windows USB/DVD Download Tool.
ISO2Disc is one of the best software that helps you create a bootable USB drive for your Windows 11, 10, 8.1, and Windows 7 from an ISO file. The user interface is straightforward. It can be used for 64-bit as well as 32-bit operating systems.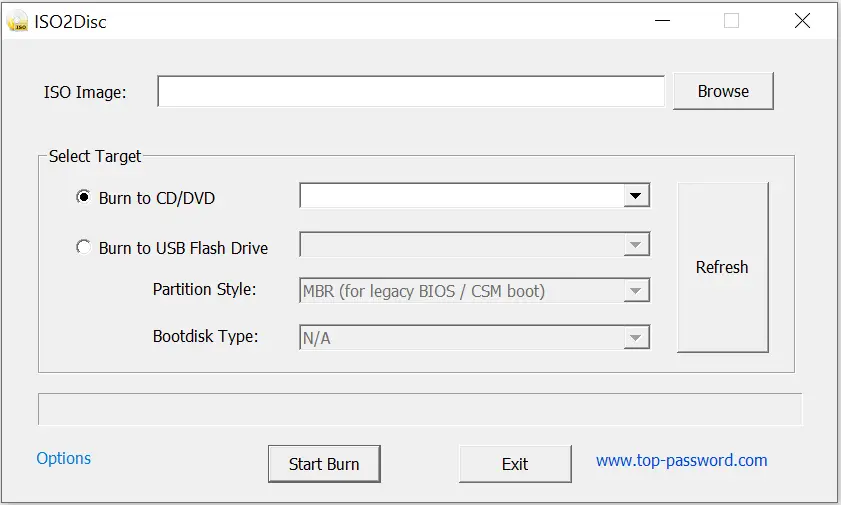 As you can see in the above image, a straightforward option is to create a bootable CD / DVD, and the USB drive is available. Just browse and select the ISO file location of your operating system you want to burn, and select target as CD / DVD or USB flash drive.
How to Create Bootable USB & Windows To Go Drive?
Step 1. Download the ISO2Disc freeware tool.
Step 2. Install on your Windows PC and run the software from the Desktop shortcut.
Step 3. Connect USB Flash Drive to your PC.
Step 4. Select ISO Image of OS you want to burn in USB flash drive, and in "Select target," choose "Burn to USB Flash Drive."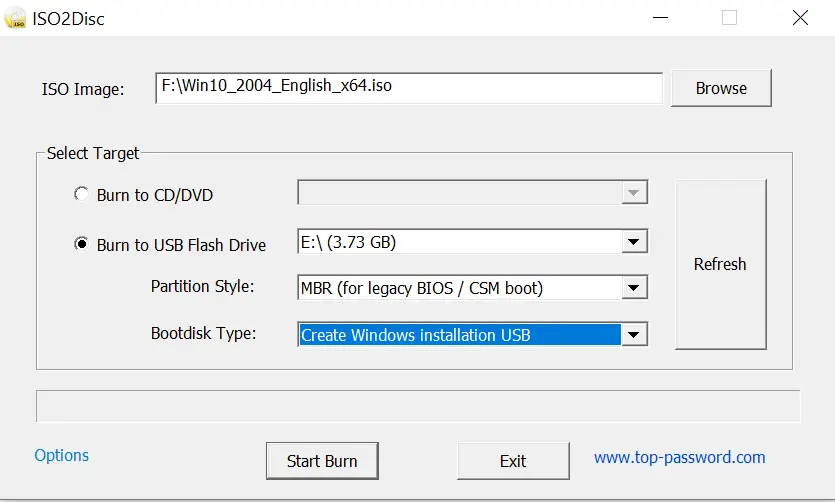 Step 5. It will automatically detect the USB drive; if not, click the Refresh button to detect it.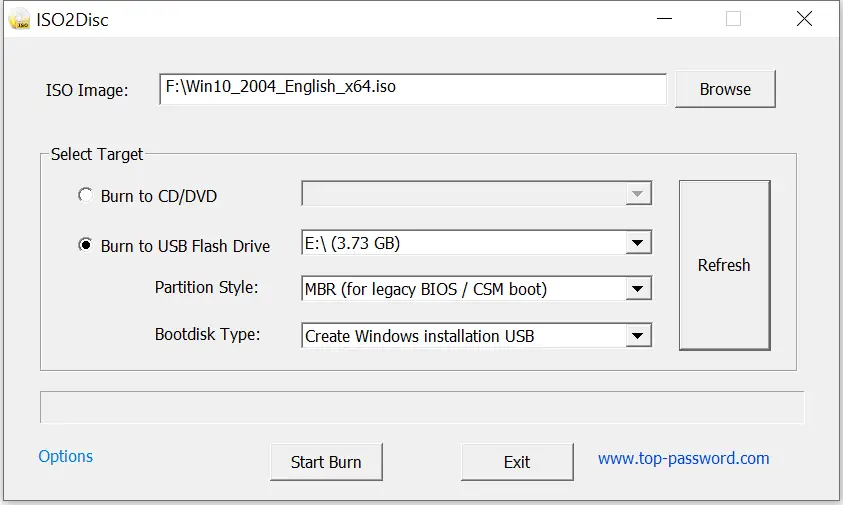 Step 6. Finally, click the "Start Burn" button.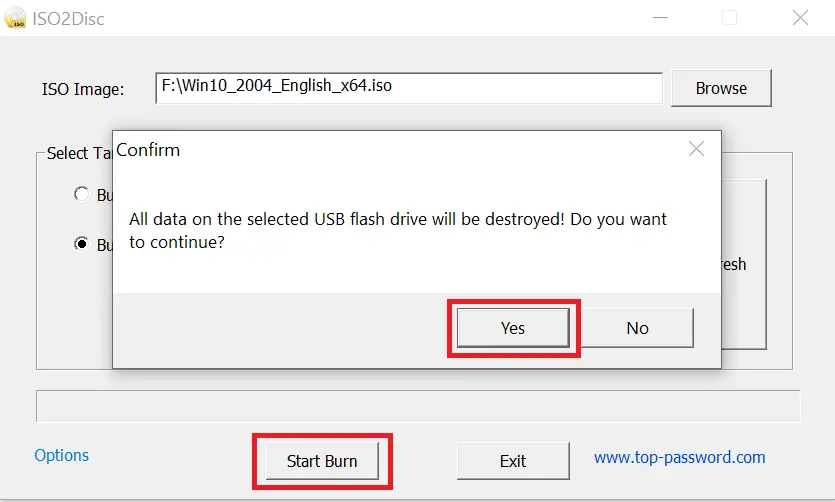 Step 7. It will give a warning message, "All data on the selected USB flash drive will be destroyed! Do you want to continue?"
Step 8. Press the "Yes" button to continue.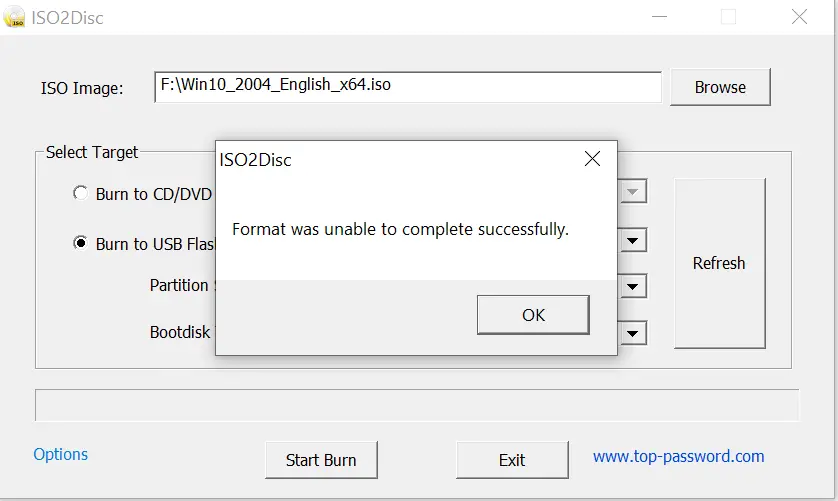 Step 9. You will get a message, "Format was unable to complete successfully."
Note: It displays the wrong message. But, it formats the USB drive successfully.
Step 10. Again, press "Start Burn" to start the process of creating a bootable USB flash drive.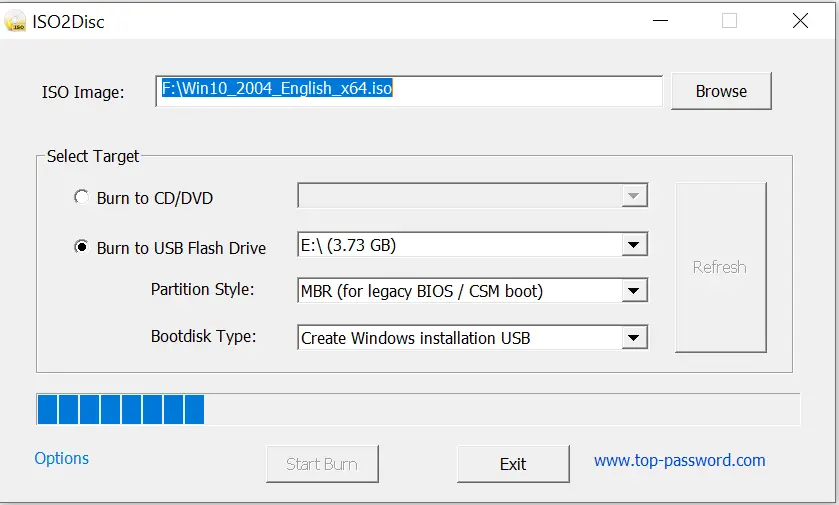 Step 11. You will see the progress bar of completion.
It will take a few minutes to complete the process of burning the USB drive, depending upon your computer speed.
Note: To create a Windows To Go USB Drive, you need to change Bootdisk Type to "Windows To Go (Install Windows to USB)." Other options you can leave as default. You need to know that the Windows To Drive option will not appear when selecting Windows 7, Vista, or Windows XP ISO files. The Windows To Go feature is available on only Windows 8, 8.1,  10, and 11.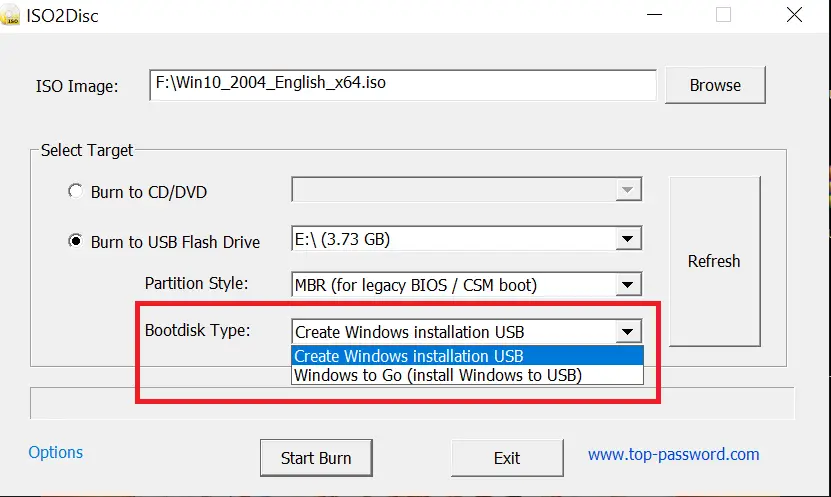 You should also know that Microsoft's Windows To Go feature has been officially removed in Windows 10, version 2004, and later operating systems because the Windows To Go feature does not support feature updates and therefore does not enable you to stay current. It also requires a specific type of USB (USB 2.0 or USB 3.0) that is no longer supported by many OEMs.
Advantages of ISO2Disc
Simple and user-friendly interface.
Supports the burning of ISO image files to CD, DVD, and Blu-ray Disc.
Supports burning ISO image files to USB flash drive, memory stick, and other USB storage devices.
Support for creating a bootable CD/DVD or USB flash drive from any bootable CD image, including Windows Setup ISO, Linux, Ubuntu, Windows PE, BartPE, and another customized boot image.
Support for creating a Windows To Go USB drive, enabling you to boot and run Windows from a USB drive.
Support to create a bootable USB flash drive with either GPT or MBR partition table.
Ability to add/remove RAID/SCSI/SATA/IDE drivers to your WIM image.
Free to use for both personal and commercial use.
Compatible with Windows 8/7/2008/Vista/XP/2000/2003.
Download ISO2Disc
You can download the ISO2Disk from its official website.