There is so much software available over the internet to backup and restore drivers on Windows PC. DriverBackup is also a Driver backup and restoration utility. It is portable, easy to carry, or you can just upload it to the cloud to use with any PC. This portable Windows DriverBackup software offers restoration, backup, removal, command-line options, automatic restoration from CD/DVD, and path formatting features. It also includes an interactive command-line builder.
DriverBackup for Windows 11/10
DriverBackup is a portable and free utility. It is a convenient tool to get the OS drivers if you have lost your driver's CD.
To start using, DriverBackup software, download and unzip it in a folder. Double-click on the DrvBK file to launch the DriverBackup app.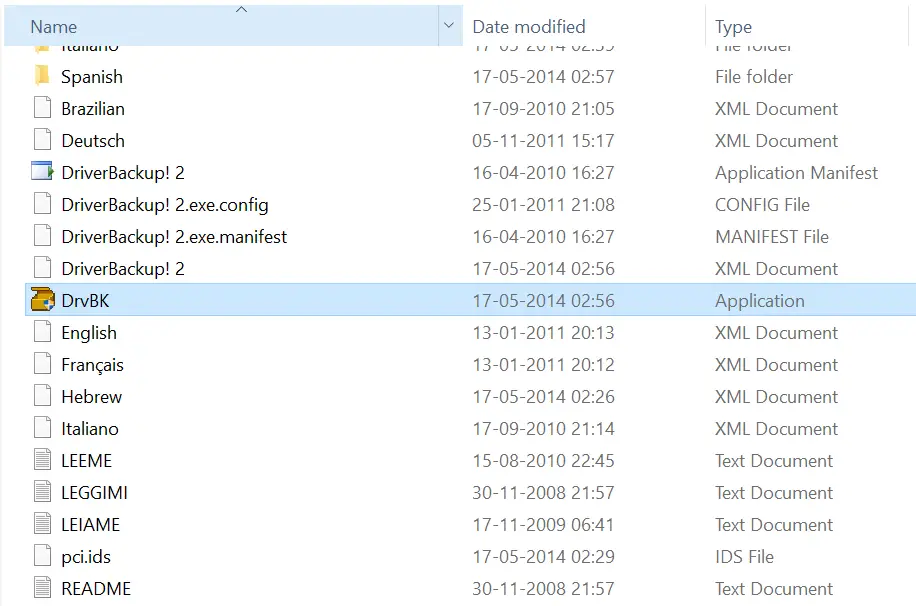 Once the DriverBackup is launched, you can see all the drivers, including the third-party drivers, in a discreet view. It allows you to choose which drivers to back up and which to skip. The view is similar to the Device Manager with an additional checkbox. It allows you to backup all drivers, only OEM drivers, and only third-party drivers. You can also filter and do a selective backup of only a third party or only OEM. Windows 11/10 installs the system drivers most of the time, so better backup selective drivers to save space.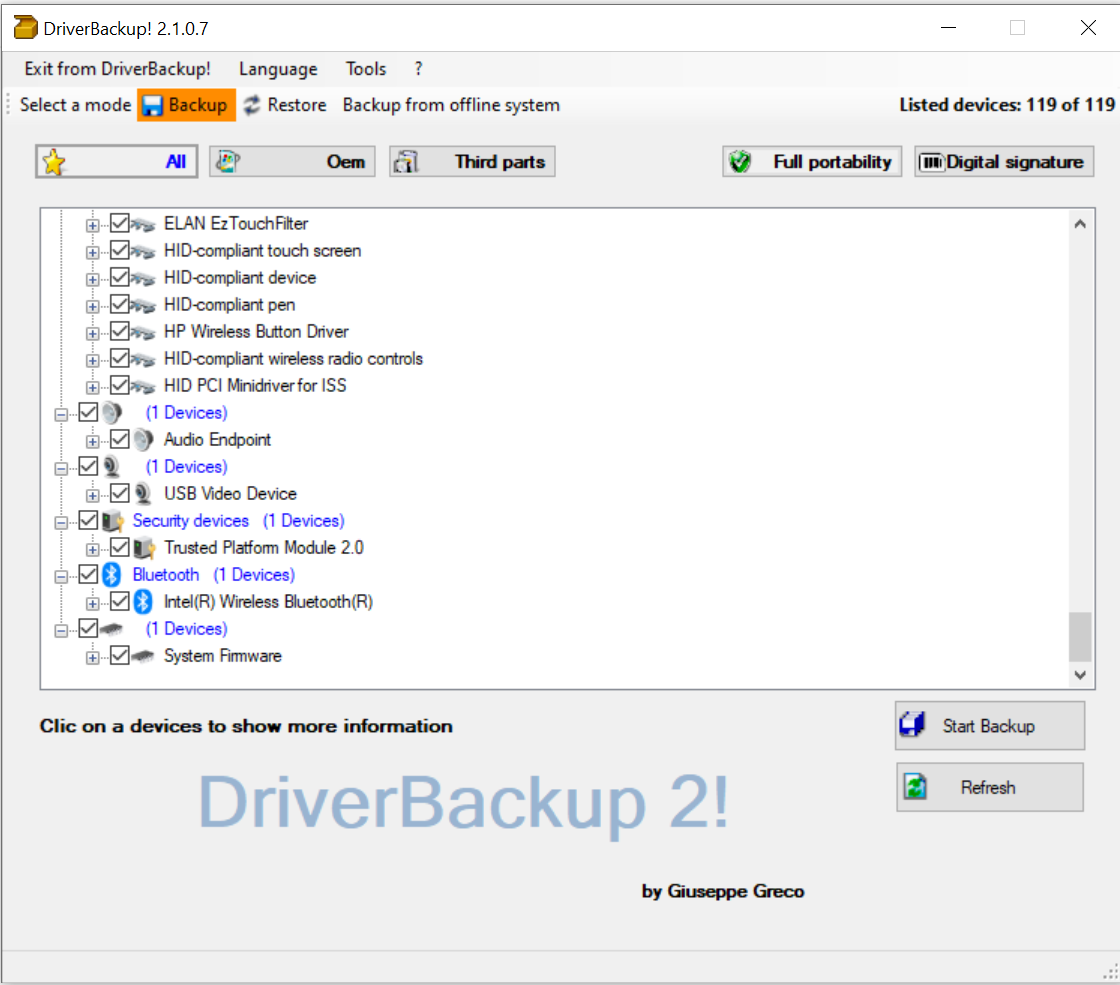 During Backup, the DriverBackup allows you to choose Full portability. This button offers devices that are totally compatible with backup and restore. Similarly, you can select the Digital Signature option if you want to backup drivers with a digital signature.
Once you have decided which drivers to backup, click on the Start Backup button. This will allow you to choose the backup path, add a description, name the backup file, date format, and so on.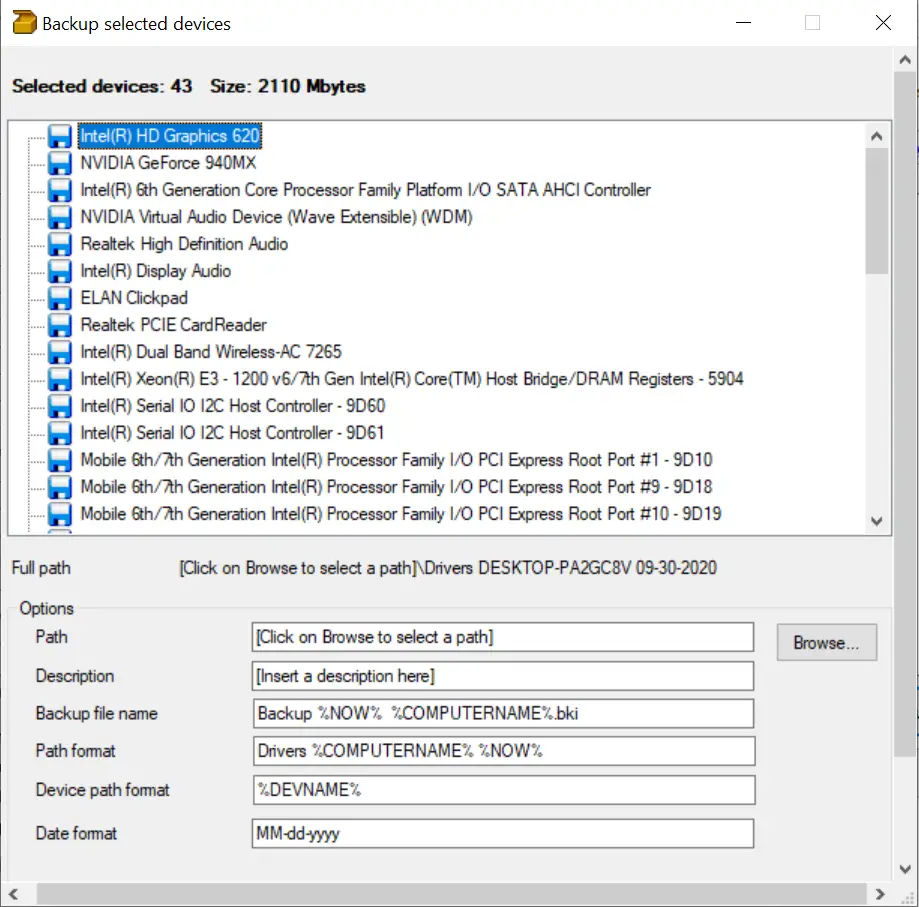 You will find two Backup options here:-
Allow DriverBackup to overwrite files in the destination path if required. (Unrecommended) – You should check this option to overwrite files in the backup path if required. Otherwise, the program may give an error.
Generate a file for automatic drivers' restoration – This option generates executable files for automatic drivers' restoration. These files include a batch file "Restore.bat" and "Autorun.inf" that enable autorun in removable devices.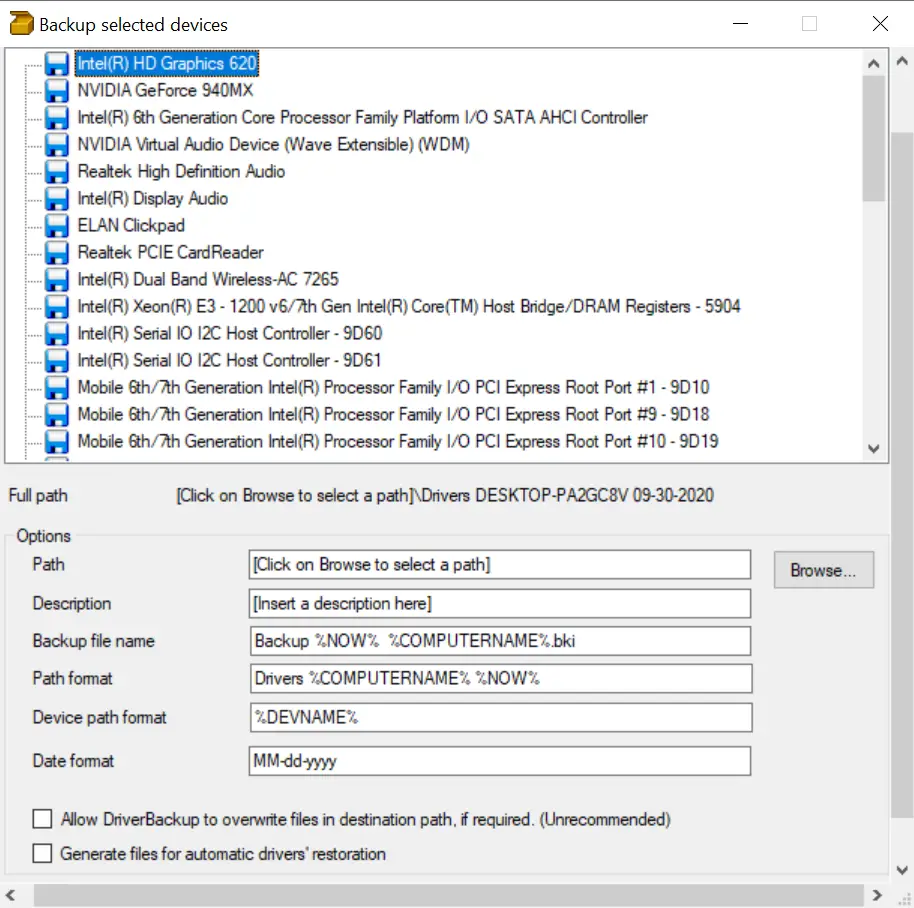 Facilities that are provided in DriverBackup software:
Backup & restore of Windows drivers, including third-party devices.
Drivers' backup is possible from offline or non-booting systems.
It is convenient if you lose the driver's disk and have no idea about the hardware.
Compatible with 64-bit systems.
Automatic generation of autorun files for drivers' restoration. Advantageous option to create a DVD or Autorun USB drive to install the software on the PC.
Download DriverBackup
You can download the DriverBckup software from sourceforge.net.