While every modern browser comes with a built-in download manager, it has limitations in speed. Most of the time, if you are trying to download a large file, there are chances of getting a broken file on your PC. Those who are looking for an impressive download manager may want to try JDownloader 2, a freeware tool.
JDownloader 2 for Windows 10 & 11
JDownloader 2 is one of the best download managers in the market and comes with a simple interface. You can see a complete list of download managers that Gearupwindows recommends on our website. All the download managers have been tested on Windows 11/10 64-bit operating systems and should also work on other operating systems.
JDownloader 2 is another example of a free download manager that comes with impressive features. Many other free download managers are available on the internet, but finding a good and working one may be difficult for you. We personally test every tool before placing them on our blog.
Some basic functions, such as pause/resume download and setting bandwidth limit, should be available in every basic download manager. JDownloader 2 also passes these basic feature tests.
Another unique feature of JDownloader is its ability to fill CAPTCHAs automatically. This feature is useful when you visit a website that requires you to fill in the CAPTCHA; this app will do that for you and save your time and effort. JDownloader 2 is available for all platforms, including Windows, macOS, Linux, and other Java.
Downloading
When it comes to downloading a file using JDownloader 2, we found a lack of features in this tool. Unfortunately, after installing, it does not integrate itself into the web browser, and you cannot integrate it into the web browser through its settings. That means you need to copy the download link by right-clicking on the link and then pasting the link in this download manager to download the file. In other words, if you are browsing a webpage and want to download a file by clicking on it, the file will download using the built-in download manager of the web browser; JDownloader 2 will not grab the link and download it automatically. You need to manually copy and paste the link in the download manager to download the file.
To download a file using JDownloader 2, right-click and copy the link you want to download. Click on the "Add New Links" button under the Downloads tab. Now, the tool will automatically paste the link into itself. If not, paste the link manually.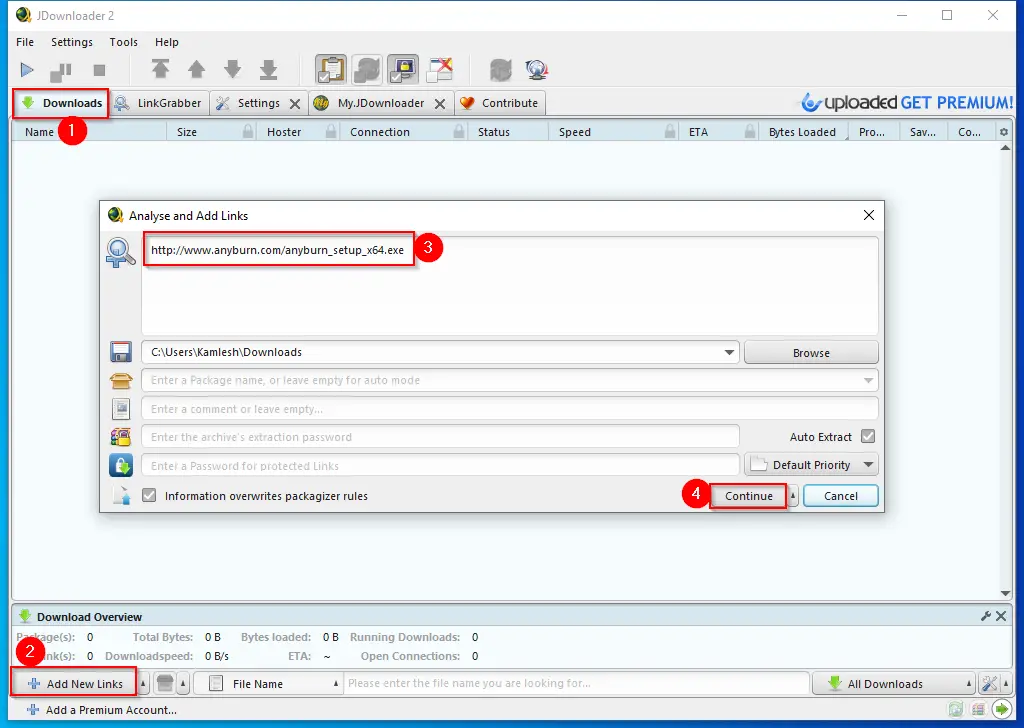 Finally, click on the "Continue" button. The tool will take you to the "Link Grabber" section, where you'll see your file. Right-click on it and select "Start Downloads."
The software will take you to the "Downloads" tab, where you can see the progress of your file.
Link Grabber
Link Grabber is a unique feature of this tool, especially if you want to download all links from a web page. To get all the links from a webpage into JDownloader, copy the webpage URL in this program. It will analyze all the links and show them in the LinkGrabber tab. To download any of them, right-click on the particular link and select "Start Downloads" to grab the video.
Settings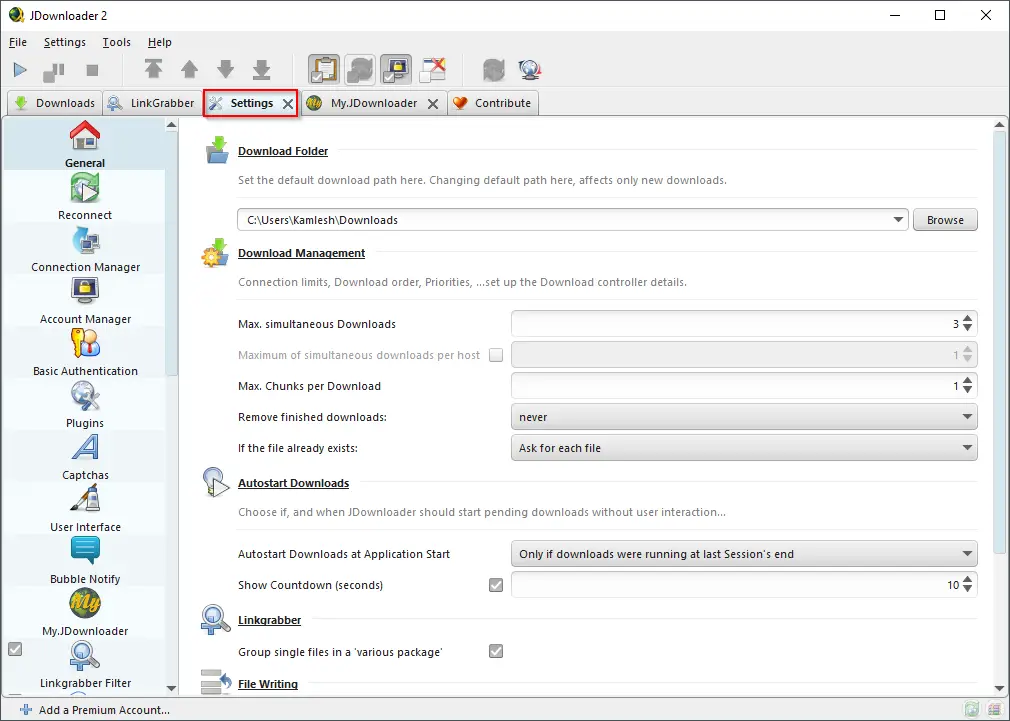 From the Settings tab, you can change the downloads folder location and do a lot more. You can configure the proxy settings and even play around with the Scheduler and the Event Scripter if that's your thing. Additionally, you can set the tool to extract files from a ZIP archive automatically and even customize the user interface. There are many options available to customize JDownloader 2, so take your time to go through and understand everything that is there.
Download JDownloader 2
You can download the free JDownloader 2 from the official website right now.
Conclusion
In conclusion, JDownloader 2 is a powerful and reliable download manager that offers several impressive features. Unlike many other free download managers, it comes with the ability to fill CAPTCHAs automatically and supports various operating systems. While it lacks the ability to integrate itself with web browsers, it offers a user-friendly interface and allows users to download files quickly and easily. Overall, if you are looking for a free and effective download manager, JDownloader 2 is definitely worth a try.