Managing files and folders can often be a time-consuming and tedious task. That's where Multi Commander comes in. Multi Commander is a user-friendly file manager software that aims to simplify your file management experience on Windows. With its intuitive interface, extensive feature set, and customization options, Multi Commander offers a powerful and efficient solution to handle your files and folders. Let's dive into the world of Multi Commander and discover how it can transform your file management tasks.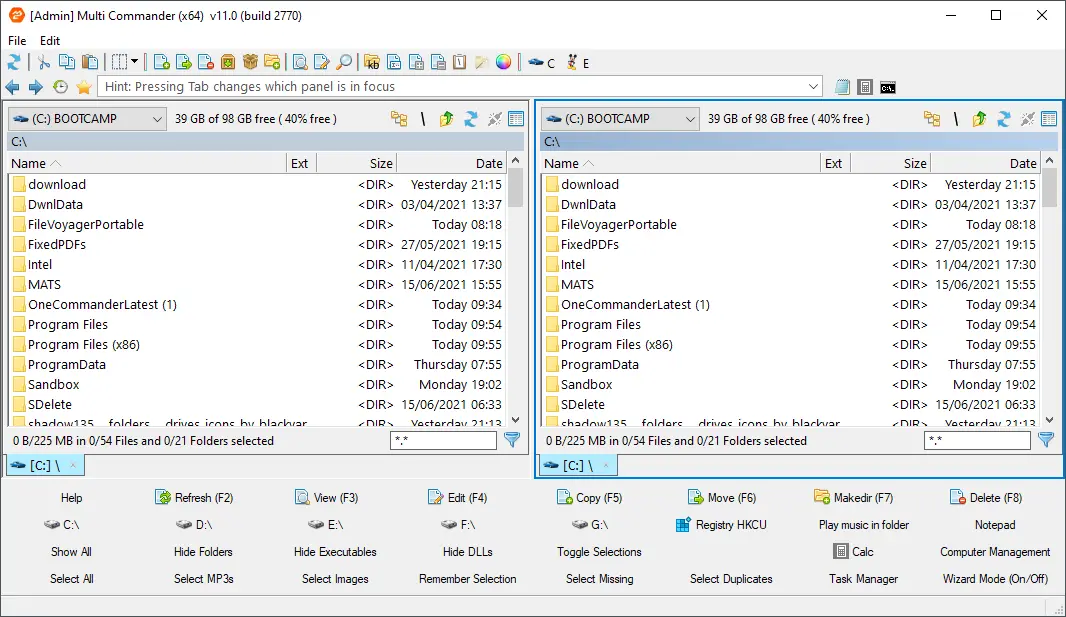 Dual-Pane Browsing
One of the standout features of Multi Commander is its dual-pane browsing capability. This means you can have two folders open side by side, making it easy to navigate and perform file operations between them. Whether you're copying, moving, or comparing files, the dual-pane interface provides a seamless and efficient workflow, saving you valuable time and effort.
Customizable Interface
Multi Commander understands that every user has unique preferences. With its customizable interface, you can tailor the look and feel of the software to match your needs. Customize toolbars, menus, keyboard shortcuts, and even color schemes to create a personalized working environment that suits your workflow and enhances your productivity.
Advanced File Operations
Multi Commander goes beyond basic file management functions. It offers a wide range of advanced file operations to simplify complex tasks. From batch renaming and file splitting to file synchronization and secure file shredding, Multi Commander equips you with powerful tools to handle your files efficiently. These advanced features save you time and effort, allowing you to focus on what's important.
Extensive Plugin Support
Multi Commander supports a variety of plugins that extend its functionality even further. Whether you need additional file viewers, archiving tools, or integration with cloud storage services, Multi Commander has you covered. With its plugin support, you can customize Multi Commander to suit your specific needs and integrate additional tools seamlessly into your file management workflow.
Efficient File Searching
Locating files within large directories can be a challenge. Multi Commander simplifies this process with its powerful file search functionality. You can search for files based on various criteria, including name, size, date, and content. With its advanced search options and quick filtering, finding the files you need becomes a breeze.
Download Multi Commander
You can download Multi Commander from its official website.
Conclusion
Multi Commander is a user-friendly file manager software that offers a wide range of features to simplify and streamline your file management tasks. With its dual-pane browsing, customizable interface, advanced file operations, extensive plugin support, and efficient file searching capabilities, Multi Commander provides a comprehensive solution for handling your files and folders effectively. Whether you're a casual user or a power user with complex file operations, Multi Commander empowers you to take control of your files and enhances your productivity. Discover the power of Multi Commander and revolutionize your file management experience.