Windows 11/10 Pro and higher versions include a BitLocker feature that helps encrypt information so unauthorized users can not read them. Using BitLocker Drive Encryption, Windows lets you encrypt your data so that it remains usable even when shared with others. If you try to enable BitLocker on a PC that doesn't have a TPM, you'll see an error message saying your administrator needs to set a system policy option. This feature is good if you want to encrypt a drive partition or USB disk. However, if you want to just encrypt and hide a folder in your computer, you need software like Wise Folder Hider.
Wise Folder Hider Pro for Windows 11 and 10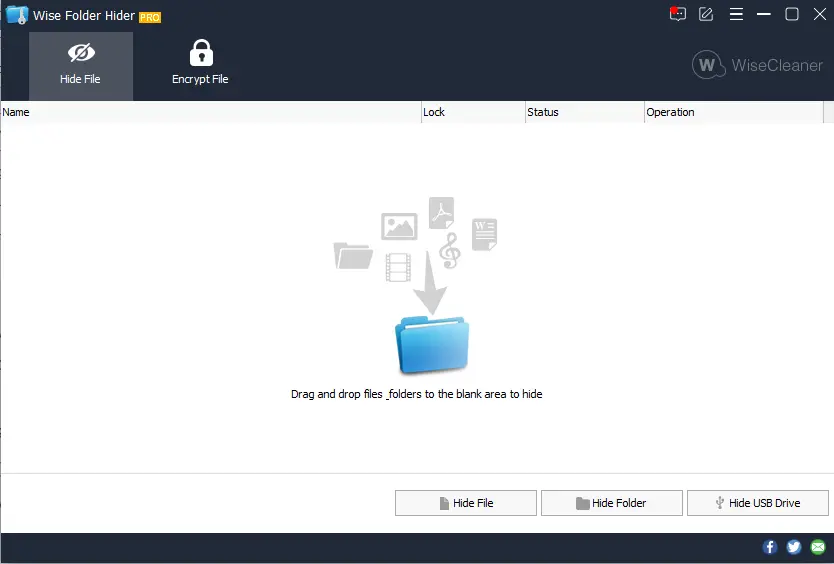 Wise Folder Hider comes in Pro as well as Free versions. The Free version of this program is good for a basic user but has several limitations. It is possible to conceal a folder up to 50MB in size with Wise Folder Hider's free version. It is necessary to purchase a Pro version (costs US 19.95) in order to hide a huge or unlimited-size folder. In case you forget your master password and are unable to log into the program, you will need to upgrade to the Pro plan to recover it.
Our free solutions are always available on gearupwindows.com, and you can still get this tool for free as part of a giveaway.
With Wise Folder Hider Pro, you can easily secure and hide any file or folder on your PC. The file will not be able to be accessed if someone gains access to it by any means. Using a second-level password for a particular file, folder, or drive also increases security. You can keep your private or essential data safe from unauthorized access.
The first time you run this software on your PC, it will prompt you for a master password. Once you have set a password, you can proceed.
It will prompt you for the master password each time you open Wise Folder Hider Pro. By entering the correct password, you can access this program.
You can also hide USB drive data with Folder Hider. It is possible to hide and password-protect your files and folders on a USB stick with a single click when you have sensitive data and need to share it with others. It does not matter if the USB drive is lost; the necessary files will still be available.
The other benefit of this Folder Hider software is that it cannot be uninstalled without unhiding your files. An important thing we noticed is that once you hide a file or folder, it will no longer appear on your PC, even if you change the folder options.
In contrast to other folder hiders, you do not need to remove a hidden file or folder, edit it, and then hide it again in order to modify it. When you click the 'Open' button, the hidden file or folder will become visible to you. When you edit or modify a file and close the app, it will remain hidden again automatically, saving you time. This unique feature comes in handy when you want to hide files you use or edit frequently.
The Wise Folder Hider comes with an easy and very intuitive user interface. It's easy for beginners or novices to use. Once installed on a PC, it automatically integrates itself into the context menu, allowing you to hide files or folders right from the right-click menu without launching Wise Folder Hider.
Free License of Wise Folder Hider Pro
To get the Wise Folder Hider Pro license, you don't need any key. Just download the giveaway version of the app and install it on your computer. Automatic activation of Folder Hider Pro will take place without entering a key.
Good luck.