Zipware is a free, fast, and easy-to-use file archiver for Microsoft Windows that supports all major archiving formats, including the new RAR5 format. It is designed to be simple, stable, and powerful, and can handle both small and large archives with millions of files. Zipware also supports many Linux archive formats, such as tar and gzip.
Whether you need to extract files from an archive or create a new archive, Zipware makes it easy to perform these tasks with just a few clicks.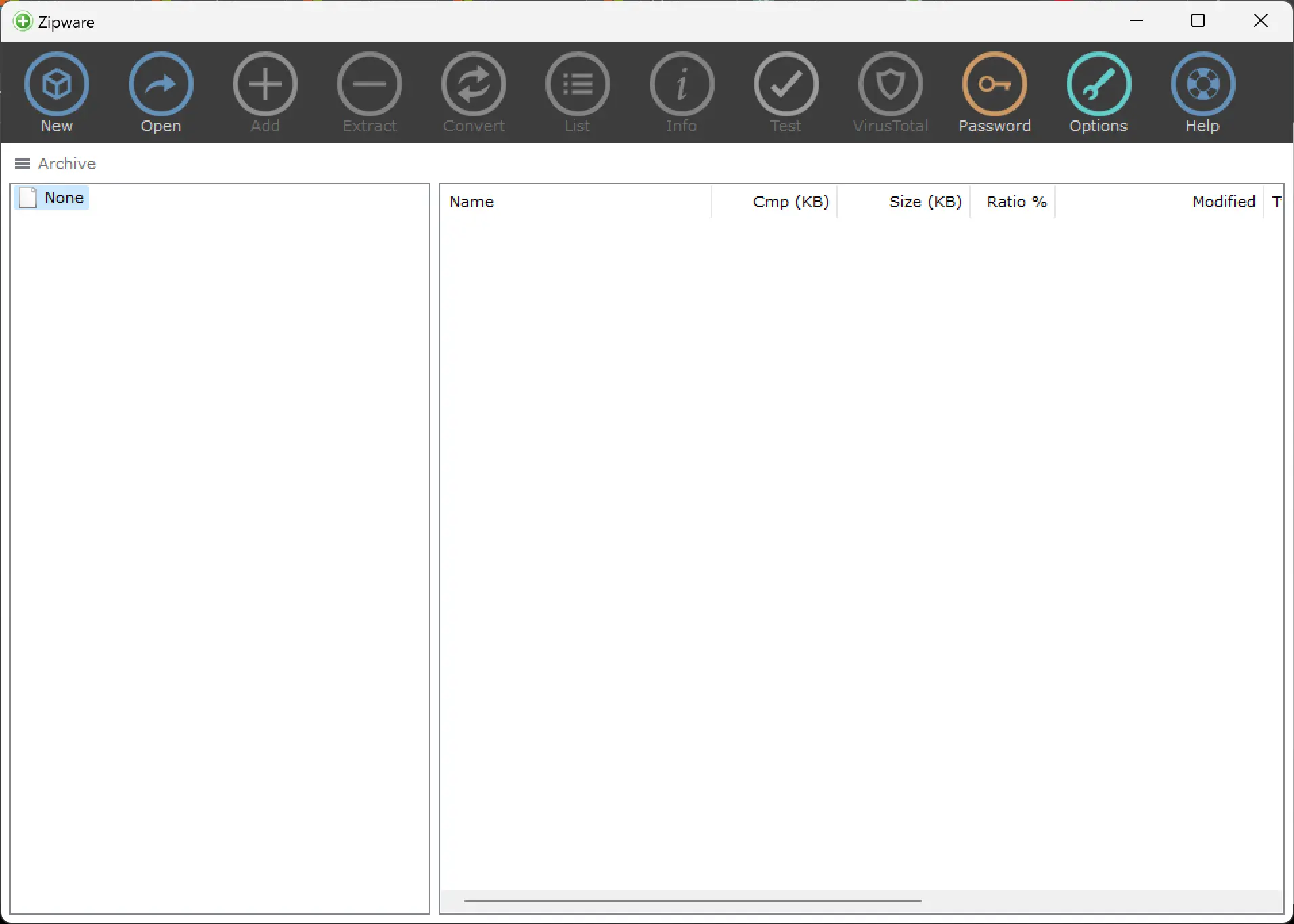 Zipware Features
Here are some of the key features of Zipware that make it a great choice for file archiving:-
Extract Files: Zipware can extract files from popular archive formats such as ZIP, ZIPX, 7Z, RAR, RAR5, ISO, VHD, GZIP, BZIP2, TAR, CPIO, XZ, DEB, DMG, RPM, XPI, and more. You can extract all the files from an archive or select specific files to extract.
Create Archives: Zipware can create archives in popular formats like ZIP, 7-ZIP, and EXE. You can choose the compression level, set a password to protect the archive and split the archive into multiple volumes for easier storage and sharing. You can also create self-extracting archives that can be opened on any Windows computer without needing archiving software.
Convert Archives: Zipware can convert any of the archive formats listed above to ZIP, 7z, or EXE. This feature is useful when you want to convert an archive to a different format to make it compatible with a specific software or platform.
Drag and Drop Support: Zipware has full drag and drop support with Windows Explorer, which means you can drag and drop files or folders into Zipware to create a new archive or extract files from an existing archive. This feature makes it easy to manage archives without leaving the Windows Explorer window.
Windows Explorer Integration: Zipware has an integrated context menu that allows you to perform all archiving functions from Windows Explorer. You can create a new archive, extract files from an archive, or open an archive using Zipware from the context menu. You can also calculate the checksum of a file, scan it for viruses, and view the properties of an archive from the context menu.
Checksum Calculation: Zipware can calculate the checksum of a file using MD5, SHA-1, SHA-256, or SHA-512 algorithms. This feature is useful when you want to verify the integrity of a file or compare two files to see if they are identical.
Password Manager: Zipware has a built-in password manager that allows you to store passwords and other confidential information securely. You can use this feature to keep track of your login credentials, credit card details, or other sensitive information.
Digital Certificate: Zipware's program files are signed by a Verisign/Symantec digital certificate to prevent tampering after publication. This ensures that the software you download from the Zipware website is genuine and has not been modified by a third party.
Zipware runs on Windows 11, 10, 8, 7, XP, Vista, Windows Server 2019, 2016, 2012, and 2008, and supports both 32-bit and 64-bit Windows operating systems. It also requires Microsoft .NET Framework 4.0 or later, which is a free software component that comes pre-installed with most modern versions of Windows.
Download Zipware
You can download Zipware from its official website.
Conclusion
In conclusion, Zipware is a versatile and reliable file archiver that can handle all your archiving needs. Whether you need to extract files from an archive or create a new archive, Zipware makes it easy to perform these tasks with just a few clicks.
In addition to Zipware, users can also utilize other popular archiving software such as 7-Zip, Bandizip, Ashampoo ZIP Free, Hamster Zip Archiver, ZipGenius, IZArc, and PeaZip.