Auto Start Tool is a portable freeware specially designed to simplify the process of automatically launching an app or script when you log in to Windows 11 PC. It offers three different methods for autostart, including Task Scheduler, Startup folder, and Registry run key. That means, using this application, you can schedule a task, put an app in the startup folder, or make an entry in Registry Editor to automatically start the app after login into your Windows machine.
Auto Start Tool for Windows 11
Although it is possible to start an app or script when you sign in to your computer, the process is too complicated. Using this freeware app, you can simplify the process automation of launching an app or script. As a highlight of this tool, you can consider the support of PowerShell scripts (.Ps1). That means you can run a Powershell script automatically at system startup with all three methods.
To run an app or script using the Auto Start Tool, download it from its official website. Then unzip the file and double-click on the Auto_Start_Tool.exe file to launch it.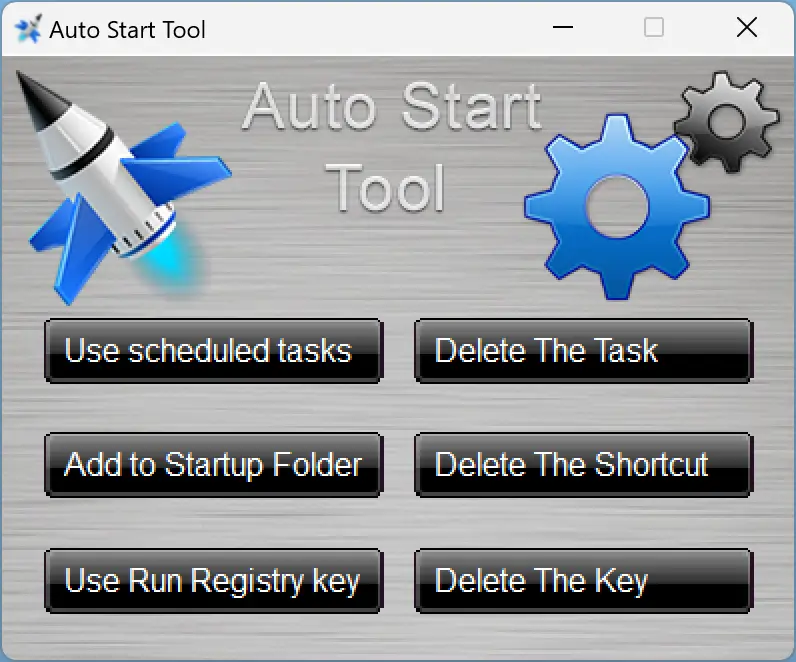 On the software interface, you will see six buttons. Using the left three buttons (Use scheduled tasks, Add to Startup Folder, and Use Run Registry key), you can add an App or Script to run when you log in to your Windows 11 PC. While using the right side buttons (Delete The Task, Delete The Shortcut, and Delete The Key), you can delete the App or Script entry.
To add a program or script to start with Windows login, use any option from the left side, and the File Explorer window will open. Select a program or script in the File Explorer and click the Open button. That's it. Next time, when you sign in to your computer, that script or program will automatically launch. When you don't need that program in the future, delete them.
Download Auto Start Tool
You can download Auto Start Tool from here.