DiskGenius (earlier known as PartitionGuru) is a free Partition Manager and Data Recovery software for Windows computers. It is an all-in-one application that helps you manage your disk partitions and recover deleted files that have even been emptied from the Recycle Bin.
DiskGenius for Windows 11/10
The DiskGenius comes with a simple interface, and you can quickly learn to use different tools in this software. When you launch the DiskGenius, the program scans thoroughly and lists all the existing partitions available on your PC, including Primary and Extended drives. Apart from that, it also furnishes information related to the statistical information of the drive.
The program's toolbar also lets you navigate certain popular options like partition recovery, quick partition, OS migration, etc.
Partition Manager
DiskGenius's free partition manager tool allows you to manage disk and partition. You can quickly create the partition, delete partition, format partition, resize and split partition without losing your data. It allows you to assign drive letters, etc.
Besides that, it can also recover lost or formatted partitions and repair partition tables. To begin with partition manager, open DiskGenius and navigate to the main interface, where you will find the current partitions.
To resize a partition, right-click the partition and select the Resize Partition option in the context menu.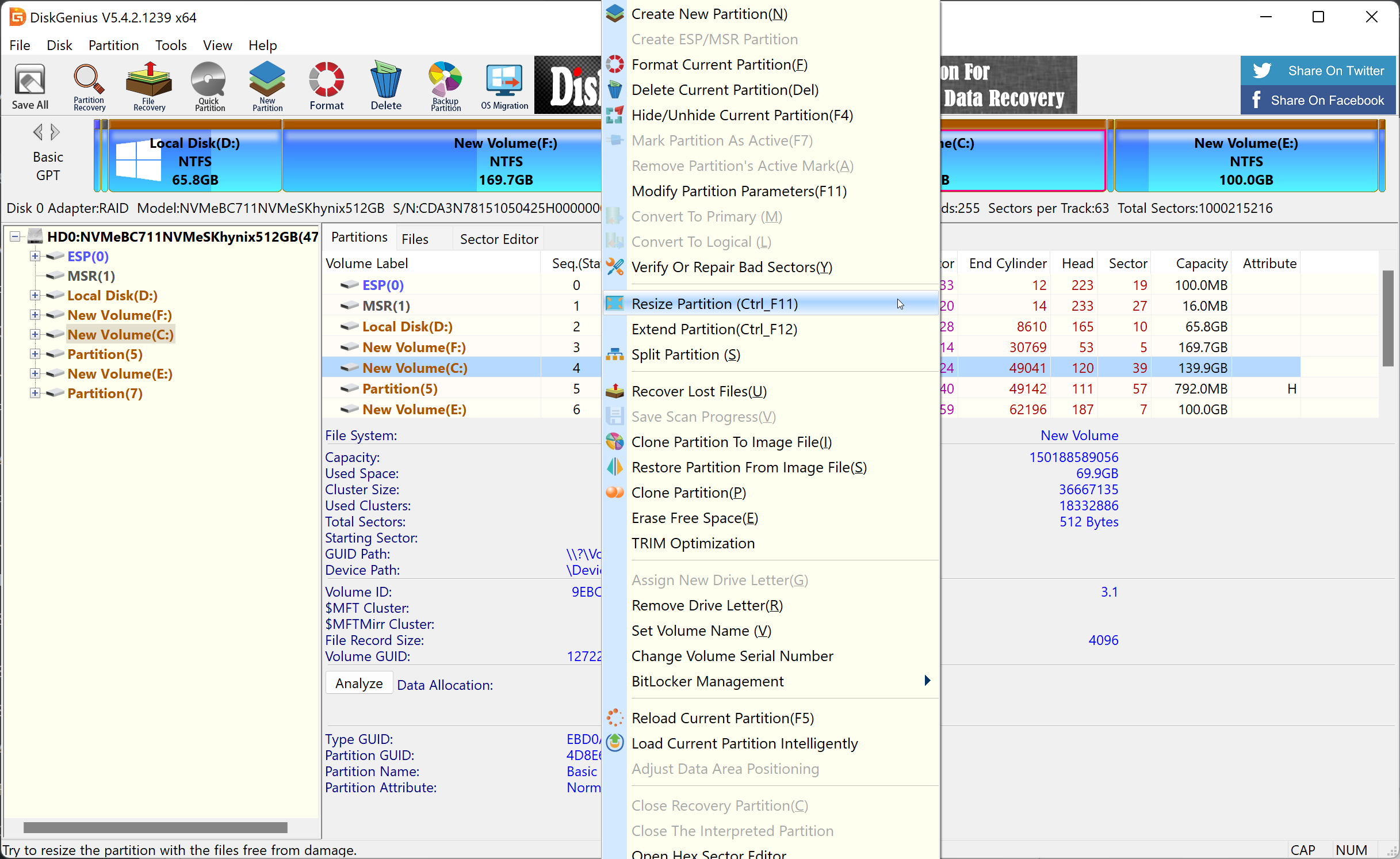 In the pop-up window that appears, enter the new size of the existing partition and select further action from the drop-down menu. For example, my "E" drive size is 100GB, reducing its size to 90GB. Further, we want to keep this space unallocated. You can also select the "Create New Partition" or "Merge to an existing partition" option.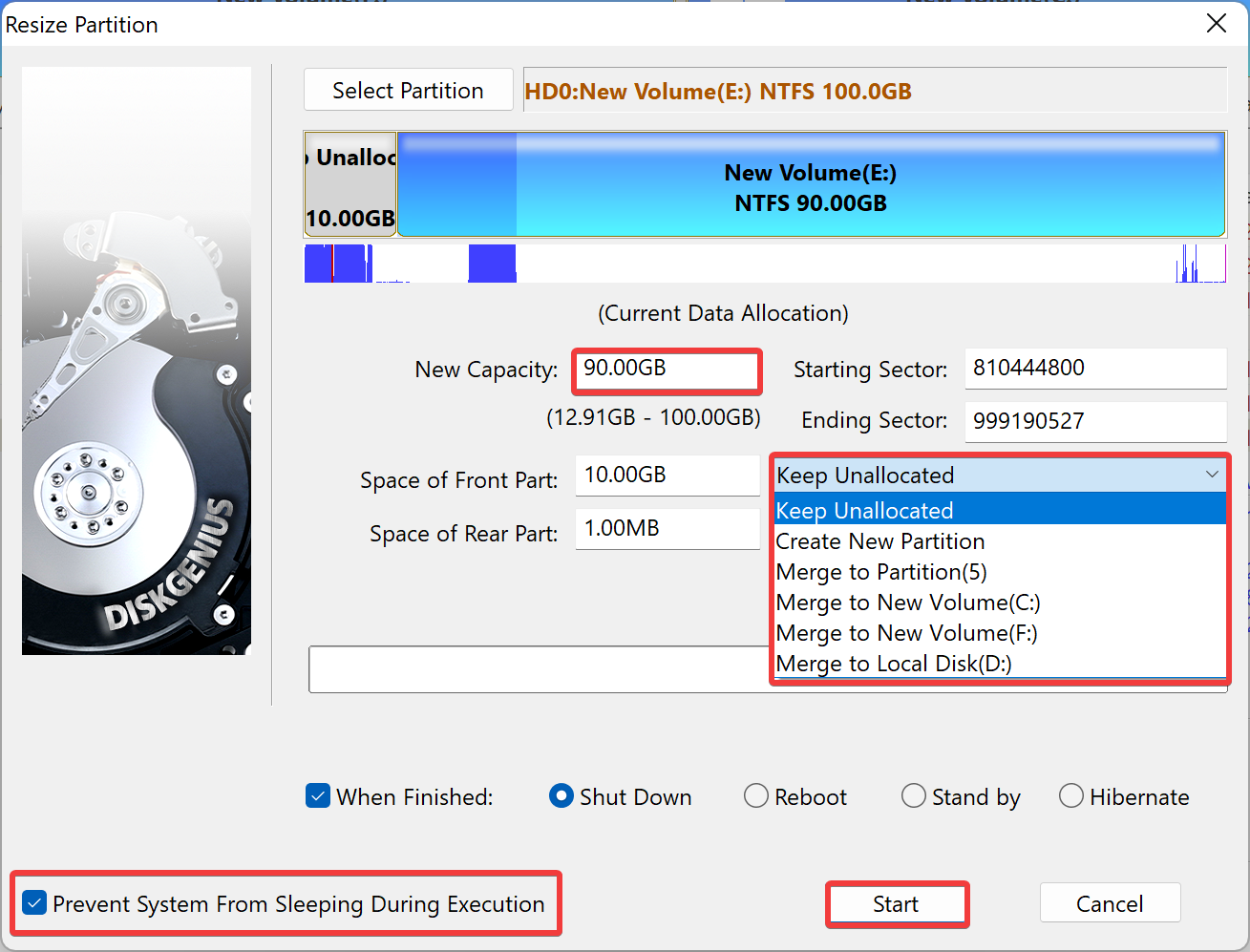 Optionally, you can check the "When Finished" option and select the action after resizing the process, such as Shut Down, Reboot, Stand by, or Hibernate.
Next, check the option "Prevent System From Sleeping During Execution." Finally, hit the Start button to process the resizing of the partition.
A new-up window will appear, read the warning/suggestions carefully and click the Yes button to resize the partition. When the process of partition resizing is complete, you will see the present partition state on the screen.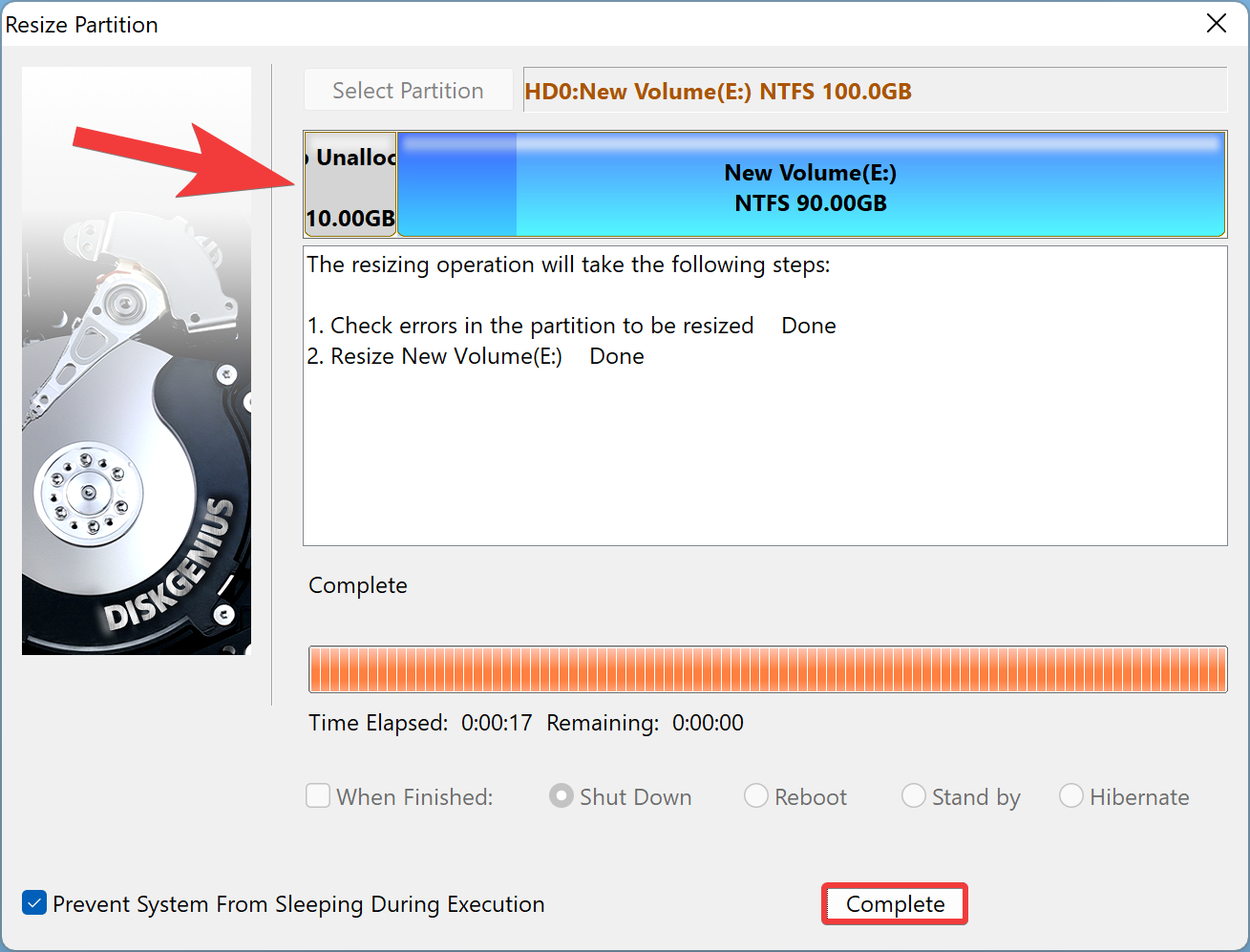 Click the Complete button to exit.
Data Recovery
DiskGenius's data recovery tool allows you to recover lost data. All you need to do is select the "Recovery Partition" or "File Recovery" option in the toolbar, depending on your needs. A new window will appear with several options.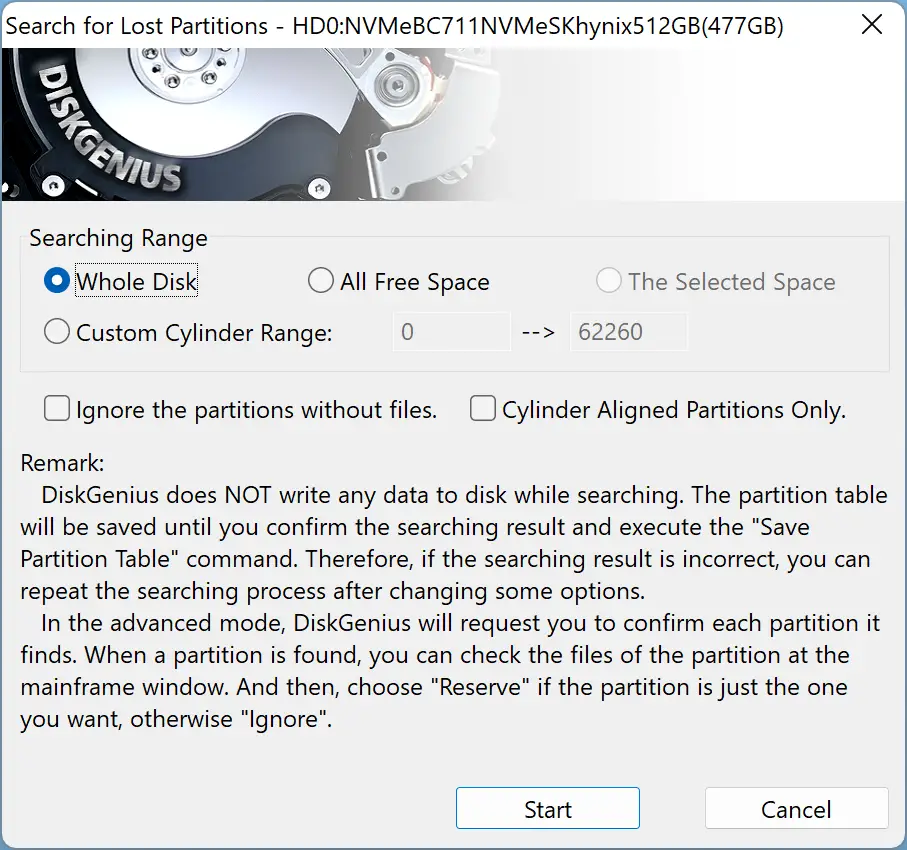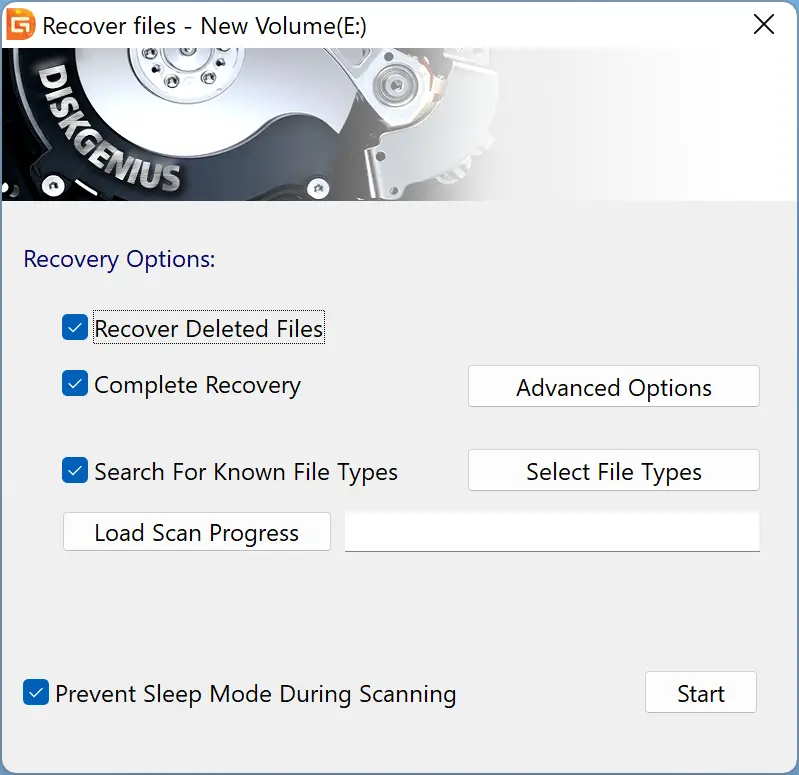 After choosing the desired recovery options, click the Start button to recover the formatted partition or deleted files.
Download DiskGenius
The DiskGenius is compatible with Windows 11, 10, 8, and 7. You can download it from its official website.
Conclusion
In conclusion, DiskGenius is an excellent and free partition manager and data recovery software for Windows users. Its simple interface makes it easy for users to navigate and manage disk partitions and recover deleted files. With its partition manager tool, users can create, delete, format, resize, and split partitions without losing their data. The data recovery tool is also efficient in recovering lost or formatted partitions and files. Moreover, DiskGenius is compatible with Windows 11, 10, 8, and 7 and can be downloaded from its official website. Overall, if you are looking for a reliable and free partition manager and data recovery software, DiskGenius is a great option to consider.