A good defragmentation tool can make your computer run faster. Disk fragmentation is the main cause of slow computers. IObit Smart Defrag's enhanced multi-threading defrag engine and enhanced defrag speed provide a better solution to faster data access and excellent disk performance. As a result, you will be able to launch games faster, copy files in half the time, etc.
Smart Defrag 8.1 Pro for Windows 11 and 10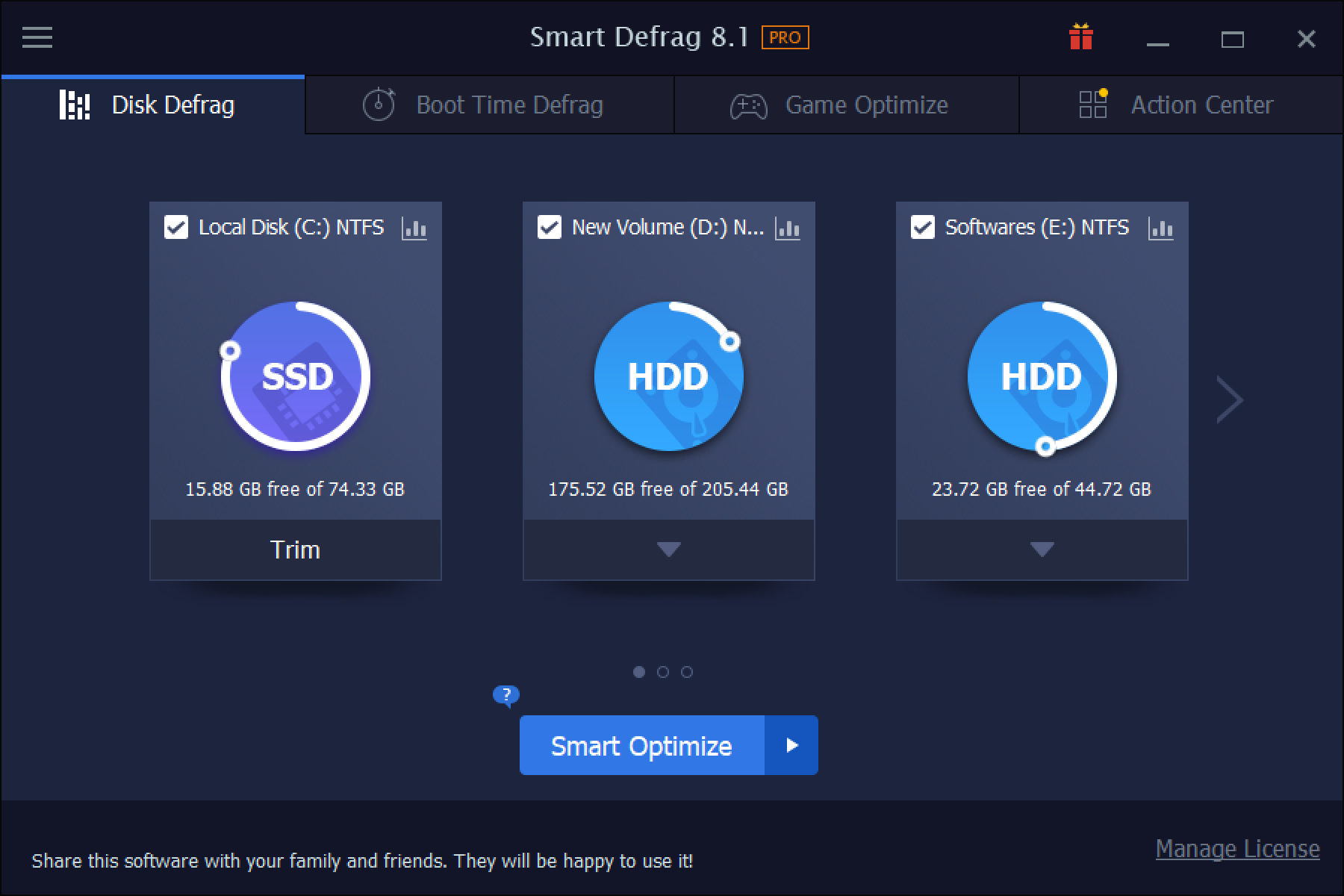 Smart Defrag 8.1 Pro is compatible with every version of Windows, from Windows XP to 11. Also, in this giveaway, you will get a free license for this Pro defragmentation tool. The regular license for this Pro defrag tool is US $19.99, but you can grab it for free. Once you activate your copy of Defrag 8.1 Pro, it will be valid for 180 days or till February 02, 2023.
Why do you need a Pro defragmentation tool?
There are several benefits of using a Pro defragmentation tool. As your computer gets older, it takes longer to start up and begin working. By setting up Boot Time Defrag, files on your hard drive that cannot be moved while the system is running can be defragmented quickly to speed up startup.
With Game Optimize in Smart Defrag, you can optimize your game experience quickly with an ultra-fast engine and simply choose the game you would like to defrag.
Data will eventually be spread across different sections of the drive when you move and delete it over time. As your hard drive becomes fragmented, bits of files start to appear all over the place, and your computer has to search many places for them, and your computer slows down. Although Windows' built-in disk defragmenter does a good job of optimizing your hard drive, defragging will reorder your hard disk's contents. If you use dedicated and flexible third-party software like Smart Defrag from Iobit Software, you'll get better results.
In addition to optimizing your hard drive for peak performance, Smart Defrag is an easy-to-use disk optimizer that is reliable, stable, and user-friendly. Unlike other traditional disk defragmenters that only provide defragmentation, Smart Defrag also intelligently streamlines your files based on using frequency to accelerate disk data access. The software can run in the background silently and automatically defrag your drive.
In addition to accelerating disk access speed and enhancing disk durability, Smart Defrag can defrag HDDs and trim SSDs using the improved IObit disk defrag engine. Also, the software optimizes the file organization algorithm for Windows 11/10 to make it faster to access data. By defragging Windows registry and files, the Boot-time Defrag feature can free up RAM and ensure system stability.
Iobit Smart Defrag 8.1 Pro Free License
To activate the pro copy of Iobit Smart Defrag 8.1, first download a free copy of this tool from its official website. Then, install it on your PC as regular software. Ensure to uncheck the unwanted offers during the installation. Once the application is installed on your PC, launch it by double-clicking on its desktop shortcut icon and entering the following key to activate the Pro features:-
DC30F-90580-5BD07-99CB8
The above code provides 180 days of license or subscription until February 02, 2023.
Conclusion
In conclusion, optimizing your Windows disk performance is crucial for maintaining a fast and efficient computer. IObit Smart Defrag 8.1 Pro offers enhanced features such as multi-threading defrag engine and faster defrag speed to provide excellent disk performance. With this Pro defragmentation tool, you can experience faster game launches, quicker system boot times, and improved overall PC speed. Take advantage of the free license offer and activate IObit Smart Defrag 8.1 Pro to enjoy these benefits for 180 days until February 02, 2023. Download your copy now and optimize your Windows disk for peak performance.
Update: Get a free license for Iobit Smart Defrag 8.5 Pro for a limited period.