PDF (Portable Document Format) is a well-known format that is used to share a document with our friends or co-workers. One can easily and quickly open a PDF document on any operating system, including Linux, IOS, Windows, and Android. Even modern browsers, including the Edge, allow you to read a PDF file without installing third-party software. In other words, if you are using Windows 11/10, you can directly open PDF documents using the Edge. You don't need to install a PDF reader such as Acrobat or Adobe.
In this gearupwindows article, we will share five free and working PDF repair applications. Some are online, and a few of them are offline. These are the following:-
ilovepdf.com
PDF Fixer
pdf2go
Sejda
pdfbear
AvePDF
Free PDF Repair Tools
ilovepdf.com
ilovepdf.com is a free and online application to repair a corrupt PDF file. To fix a corrupt PDF file, simply click on the "Upload PDF file" button and upload a damaged file from your PC or drag a defective file to the application's interface. It even supports uploading a file from dropbox and Google Drive. Depending on how much the PDF file is destroyed, the application will recover them partially or completely. It allows you to upload a single PDF file or more than one at a time to correct them.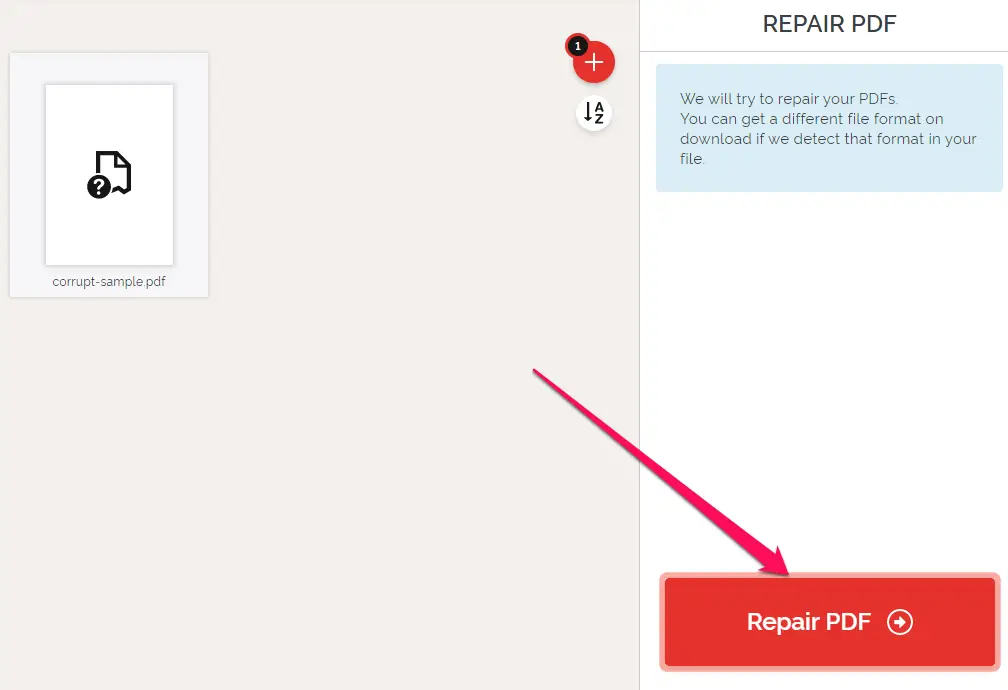 Once you uploaded the corrupt PDF file, click on the "Repair PDF" button to fix it. After the repair is completed, it will start downloading the file on your computer. This tool also allows you to save the repaired PDF file to Google Drive and Dropbox. This is a useful option if you want to share repaired PDF files further with your friend or co-workers or just want to store them online.
You can access ilovepdf.com from here.
PDF Fixer
PDF Fixer is a free and portable software supporting all Windows operating systems, including Windows 10, 8, 7, Vista, and Windows XP. This freeware application is developed for rebuilding damaged or corrupted PDF files. It fixes all the broken parts of a PDF file so that they can be opened further using a PDF tool. It repairs corrupt PDF files by restructuring the damaged PDF data, rebuilding XREF tables, and then restore these damaged PDF documents into readable PDF files.
This portable app is only 19 MB in size and works as advertised. Since it is available in a portable format, you can copy this software in a USB flash drive and use it when you want to repair a PDF file—no need to install it on your computer or laptop.
pdf2go
pdf2go is a free online tool that you can use to repair your corrupt or damaged PDF files. It comes with a simple user interface, and limited options are available. You can upload a PDF file in many ways, for instance, by dragging a file to the application interface, providing a URL, Dropbox, and Google Drive.
After uploading the file onto the pdf2go, click on the Start button to repair it. The developer also includes an add-on for Google Chrome and Mozilla Firefox browsers. If you have several damaged PDF files on your PC or stored online, you can use any of the add-ons to fix the files quickly and easily.
You can access pdf2go from here.
Sejda
Sejda is another free and online PDF repair tool. It comes with a modern design and allows you to upload the PDF file through DropBox, OneDrive, Google Drive, and even a web URL. You can also upload a file from your computer by dragging and dropping them to the application interface.
The developer says all the uploaded files remain private on their website and automatically get deleted after 2 hours. The free service is limited to up to 200 pages of a document or 50 Mb. It allows you to execute 3 tasks per hour. For personal use, I think it is enough.
You can access Sejda from here.
Pdfbear.com
Pdf bear is a free and online application to repair corrupt PDF files. If you have a free corrupt PDF file, then it is good; otherwise, you can purchase a pro plan according to your needs. It allows you to upload a file by just drag and drop to its upload interface, or you can click on the button "Select Files" to select and upload a document from your computer.
Once you upload a defective PDF file, it will repair them within a few seconds. Further, you can download the repaired PDF file to your PC or copy and share the URL of the working PDF file with your friend or family.
You can access the pdf bear from here.
AvePDF
AvePDF is a freeware online tool to repair a corrupted or malformed PDF file. The application allows uploading a file from computer HDD, a Webpage URL, Google Drive, and Dropbox.
After uploading the damaged PDF file, the tool will automatically repair and provide the options to download them to your PC, Google Drive or Dropbox. After saving your document, you can also erase it from the website to remain private. If you do not delete the recovered PDF file, it will automatically be deleted from our servers after 30 minutes.
You can access the AvePDF from here.