Do you love to customize your Windows Desktop? If yes, BumpTop is a good option for you. No more boring desktop you have to see. BumpTop converts your boring Windows Desktop into a 3D desktop and organizes icons in a new fashion. BumpTop transforms it into a 3D desktop that helps you keep organized.
BumpTop is a 3D desktop that keeps you organized and makes you more productive. It replaces your desktop with a visual environment unlike any you've used. It has a cool look.
There is nothing special regarding installing BumpTop; keep pressing "Forward," and you are done. When you launch BumpTop for the first time, you will see a small video tutorial to use BumpTop efficiently. After completing the video tutorial, you will see a shiny new 3D desktop.
BumpTop 3D Desktop
BumpTop comes with several themes included in it that help you personalize your experience. You will find BumpTop's menu right-clicking on the Desktop, but you can still access your normal menu by choosing the More option.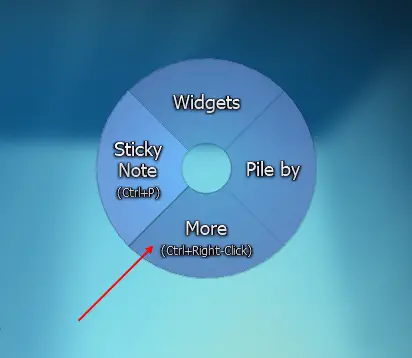 It allows you to make piles of files, photos, and folders just like you do in real life. You can also make piles of files and folders by type or time.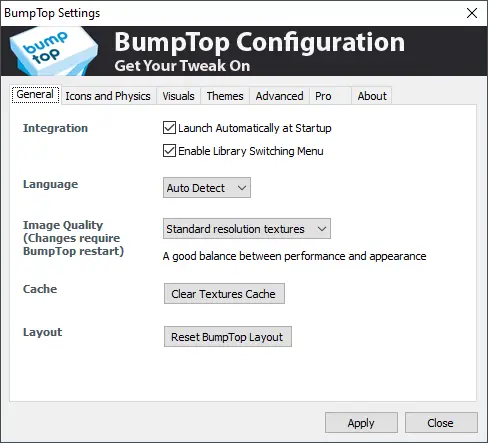 BumpTop settings offer many customization options to choose from, including launch automatically at startup. You can enable the infinite desktop mode to have no boundaries or fixed size for your desktop.
After installing this freeware application, it sits on the system tray area. If you want to quit it for some time and want to access the default desktop of Windows PC, there is no need to uninstall it completely. Simply right-click on its icon on the System tray and click "Exit BumpTop." It will restore the default desktop of your Windows computer.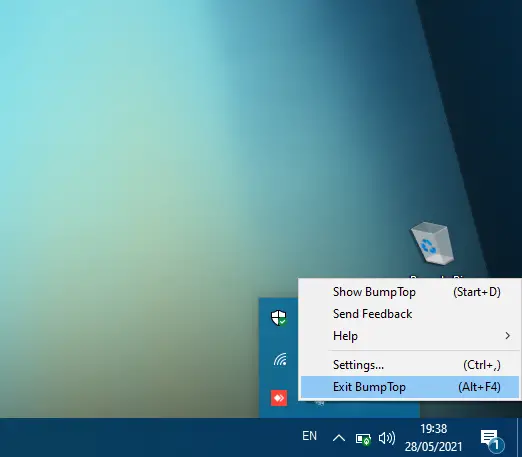 Alternatively, you can press the ALT + F4 keyboard shortcut to quite BumpTop from your PC.
Download BumpTop
It is a freeware utility and works well in Windows 10, 8, 7, and Vista. You can download the BumpTop from here and explore more.