You can now grab the Pro version of Wise Care 365 software totally free, as the firm has hosted a giveaway for this flagship program.
The Wise Care 365 Pro app is made by WiseCleaner, the same company that makes the free Wise Registry Cleaner. If your computer is experiencing slow performance, you should check it out. With Wise Care 365 Pro, you can check your PC, clean your system, tune up your system, protect your privacy, and monitor your system all in one package.
Wise Care 365 for Windows 11 and 10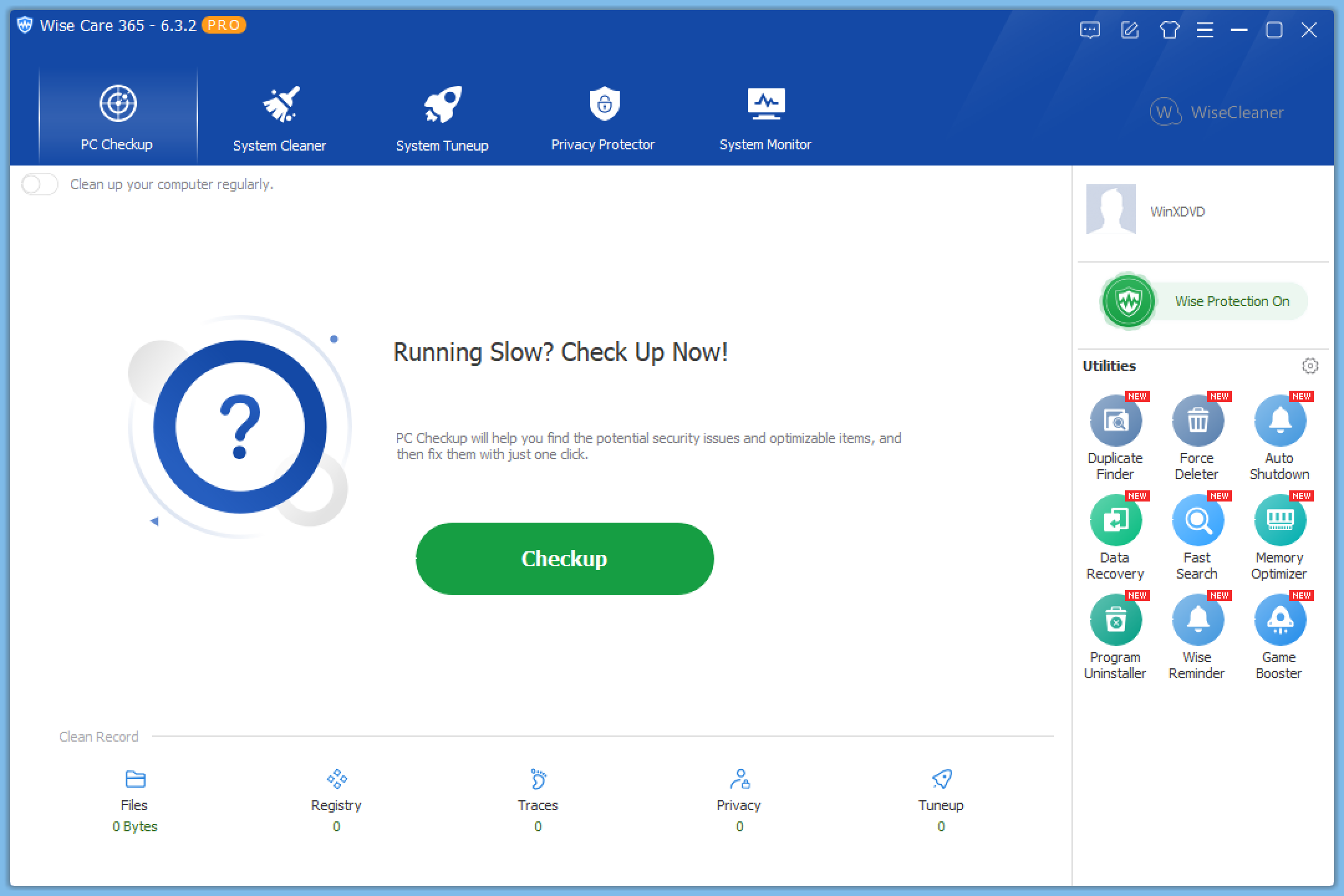 In this giveaway, Wise Care 365 Pro is completely free for one year, and you can use it for as long as you like. After that, you can renew it for USD $30.
This application is approx 16MB in size. After downloading and installing the application, you can open it and execute its features. It includes a variety of system fixing options to optimize your computer's performance.
You can find its main features in the toolbar, such as PC Checkup, System Cleaner, System Tuneup, Privacy Protector, and System Monitor.
PC Checkup
You can use Wise Care 365 to scan your PC if it is running slowly by clicking on the PC Checkup button in the toolbar. The results will include Privacy Traces, Security Projects, Useless Files, Registry Entries, System Tuneup, Computer Trances, and Browsing History.
The Fix button at the top allows you to fix all the issues at once. If you want to review the issues before fixing them, click the upward Allow button.
System Cleaner
You will find several tools on the left side of the screen when you navigate to the System Cleaner, including Registry Cleaner, Common Cleaner, Advanced Cleaner, and System Slimming.
To clean your system, you will need to use each of these tools one by one.
Registry Cleaner: If you want to remove broken or unnecessary registry entries from your computer, you can use this.
Common Cleaner: You can clean Windows system files, metro cache, web browser cache, and other applications with the Common Cleaner option. You can even find and remove traces in your computers, such as Windows and application traces, web browser traces, windows components, and cookies.
Advanced Cleaner: Installed software generates temporary files that can be cleaned using this tool.
System Slimming: Basically, it will clean and slim your system by removing all Windows installation files, Windows installer baseline cache, Windows help files, and wallpaper files.
System Tuneup
In addition to System Cleaner, System Tuneup includes several free tools like System Optimizer, Disk Defrag, Registry Defragmenter, and Startup Manager.
System Optimizer: System Optimizer optimizes startup and shutdown speeds, improves system stability, speeds up the computer, and increases network speed.
Disk Defrag: There is no use of the Disk Defrag tool if you use SSD. However, helpful in case you use HDD.
Registry Defrag: Our recommendation is to run this tool once a month to improve overall system performance and stability.
Startup Manager: If you do not need a startup program or service, use this tool to disable it.
Privacy Protector
Disk Eraser and File Shredder are two tools you can use here. Disk Eraser wipes your HDD/SDD's free space so that deleted files cannot be recovered by any data recovery software. The File Shredder tool allows you to delete files or folders securely from your PC without data recovery software can recover them.
System Monitor
The purpose of this tool is to monitor system performance and other hardware components. By using this tool, you can see which processes use how much system resources (CPU and RAM) as well as the path of a process.
Downloads and Free License for Wise Care 365 Pro
You can download the Giveaway version of Wise Care 365 Pro here. It is pre-activated, which means there is no need to enter the license code.
Conclusion
In conclusion, the Pro version of Wise Care 365 software is now available for free through a giveaway hosted by the company. This comprehensive program, developed by WiseCleaner, offers a range of features to optimize and protect your computer's performance. With tools such as PC Checkup, System Cleaner, System Tuneup, Privacy Protector, and System Monitor, you can effectively scan, clean, tune up, protect your privacy, and monitor your system. The giveaway provides one year of free usage, after which renewal is available at a cost of USD $30. Downloading and installing Wise Care 365 Pro is simple, and its compact size of approximately 16MB makes it convenient for use. By taking advantage of this giveaway, you can enjoy the benefits of a powerful system optimization tool without any additional cost.