What is Context Menu or Right-Click Menu on Windows? Context Menu (also known as Right-Click Menu) is a convenient functionality of a Windows OS that allows to quickly and easily access an application for a selected task. For instance, to delete a file/folder, right-click on it and select the "Delete" option. For those who want to copy a file or folder to another place, right-click on it and select the "Copy" option and then on a new place, right-click and select the "Paste" option from the context menu.
The Context menu also helps you access the "Properties" of a file or folder by right-clicking on it and selecting the "Properties" option. Many tasks can be performed on a Windows PC by just right-clicking on a file/folder. Even on the free space on the desktop, you can select the "Personalize" option to change the appearance of various items of Windows. Apart from the built-in functions of Windows OS, many applications integrate themselves to right-click the context menu and let's operate the software from there itself.
As we can see in the above examples, without Context Menu, we can not move even one step on a Windows PC. But, what actually happens, when we install or play with a lot of applications, most of them integrate themselves into right-click menu, and the context menu gets jumbled or cluttered. When you actually need a correct application to open a file, you have to go through a list of right-click context menus. Hence, we should always keep them clean by removing the unnecessary context menu.
Easy Context Menu for Windows 11/10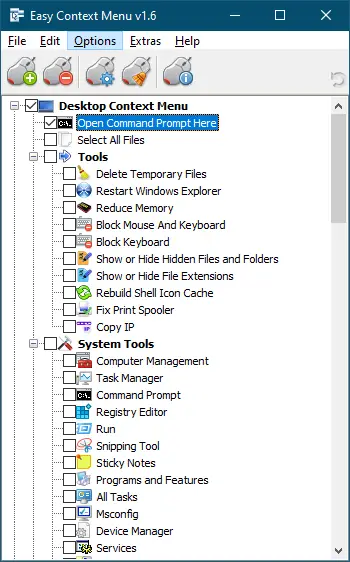 Easy Context Menu is a freeware software from the famous developer team Sordum. This team has also developed popular software, "Drive Letter Changer," to change a Hard Disk partition drive letter with a few mouse clicks.
This free tool helps you add or remove the right-click Context Menu items in Windows 11, Windows 10, Windows 8.1, Windows 8, Windows 7, Windows Vista, and Windows XP (both x86 and x64).
It comes with six main categories and three sub-categories:-
Desktop Context Menu
My Computer Context Menu
2a. Tools
2b. System Tools
2c. Turn Off options
Drives Context Menu
Folder Context Menu
File Context Menu
EXE file Context Menu
How to use Easy Context Menu?
Once you download and extract the "Easy Context Menu" app, you will find two executable files: EcMenu (for 32-bit OS) and EcMenu64 (for 64-bit) OS. Double-click on the correct file to open it.
The "Easy Context Menu" allows you to add various useful commands and tweaks to the Desktop, My Computer, Drives, File, and Folder right-click context menus. This portable app is easy to use. Just download and run it to add any function on the Context Menu of Windows 11/10. Check a function on the app you wish to add in right-click menu and then click on the "Apply Changes" button. Similarly, if you want to remove any function added by the 'Easy Context Menu' tool, uncheck it and then click on the "Apply Changes" button. It will no more appear in the right-click Context Menu.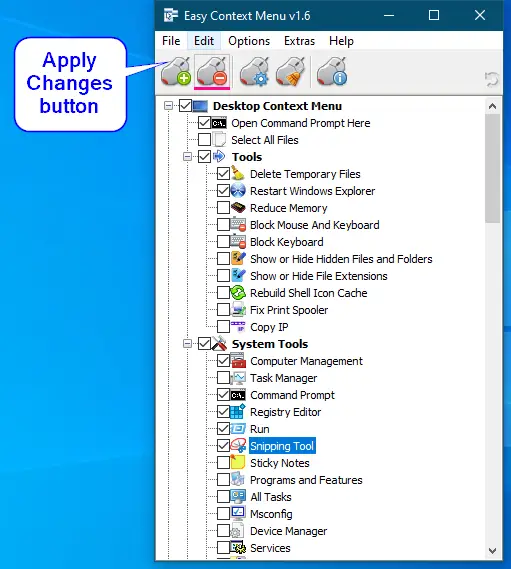 In my example, we have added some context menu items that you can see in the right-click context menu. Now, we can access these tools "Computer Management," "Command Prompt," "Registry Editor," "Run," and "Snipping Tool" by right-clicking on free space on the Windows 10 Desktop.
In the future, if you change your mind and want to remove context menu items that are not useful, you can remove them using this free portable tool. The "Easy Context Menu" freeware application also brings a button to remove all the context items by clicking on it.
You can also change the position of the context menu items by clicking on the "List Editor" button. You can set parameters, icons, move up or down items, and even more.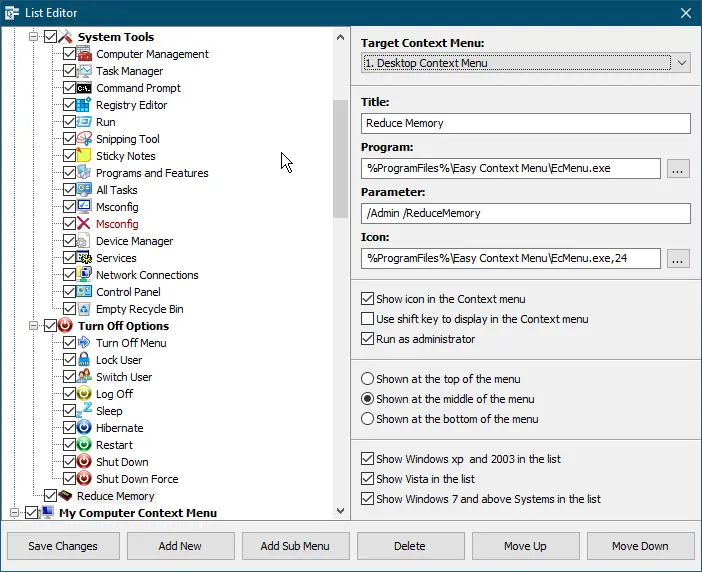 The "Easy Context Menu" lets you clean the right-click context menu items added through any third-party software. To remove the right-click items, click on the "Context Menu Cleaner" button on the toolbar.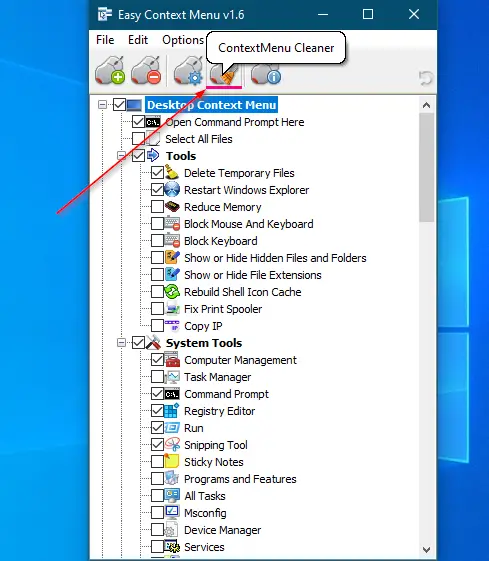 It will open a new dialog box with the title "ContextMenu Cleaner." Select the context menu entry you want to remove from your PC and click on the "Delete" button.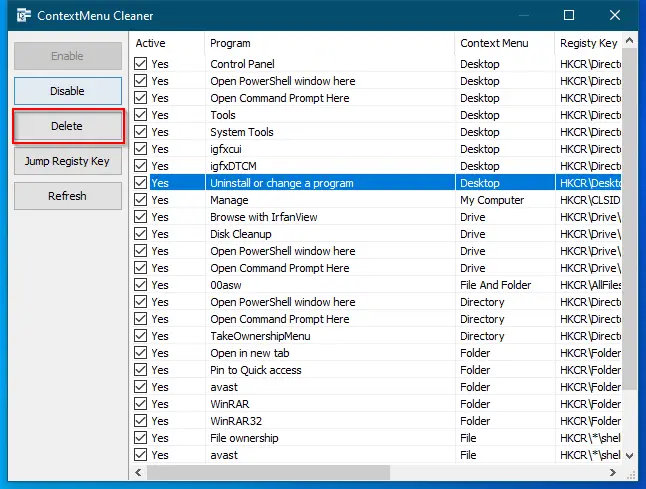 There is also an option on this app to disable the right-click context menu if you don't want to remove it from your computer or laptop. Disable it temporarily, and when needed enable it.
Download Easy Context Menu
This software is useful for adding or remove right-click context menu items in Windows 11/10/8/7. You can download its latest version from its official website.