Before Windows 11, Microsoft kept the taskbar icons aligned to the bottom left of the screen. With the launch of Windows 11, Microsoft decided to align the taskbar items to the center of the screen. If you love the center-aligned taskbar icons and want to implement them on Windows 7/8/10, it is possible using a freeware tool, CenterTaskbar.
CenterTaskbar for Windows 10
CenterTaskbar is a free tool and is available on GitHub. This excellent app has limited features and is specially developed to center the taskbar icons on Windows PCs. This tiny program aligns the taskbar icons to the center of the monitor with ease.
To align the taskbar items to the center of the monitor, download this freeware tool from GitHub and double-click on the executable file. That's it! Now, the taskbar icons are center-aligned on the screen. However, there is a catch on this. There is no option yet to center the Start button and Search icon in the center.
To keep the taskbar icons in the center position, add this program to the startup folder. To do that, right-click on its icon on the notification tray and select Start with Windows option. That's it. Now when you restart your PC, taskbar icons will remain in the center permanently.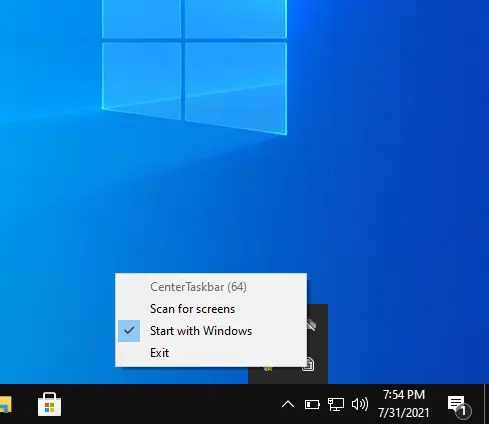 Download CenterTaskbar
CenterTaskbar is a free application and is compatible with Windows 10/8/7. You can download this tiny utility from here.
TaskDock for Windows 10
TaskDock is another freeware application for Windows 10/8/7 that allows you to center the taskbar icons with just a double-click of the mouse. To center the taskbar items, download this free tool from this link and extract its contents using any archiver tool. Now, double-click on this portable utility to center the taskbar.
Falcon10 for Windows 10
Falcon10 is a free and portable tool that is similar in nature to TaskDock and CenterTaskbar. Just download and double-click on it to center the taskbar items on Windows 10. You can download this little tool from GitHub.
Conclusion
In conclusion, while Windows 11 has brought about many changes to the operating system, one of the most noticeable changes is the center alignment of the taskbar icons. However, if you are still using Windows 7/8/10 and want to get this feature, you can use freeware tools like CenterTaskbar, TaskDock, or Falcon10. These applications are easy to use and quickly align the taskbar icons to the center of the screen, giving your desktop a fresh new look. While there may be some limitations with these programs, they are still a great option for those who want to experience the new look of the taskbar icons on their older version of Windows.