It is common for hard drive space to be occupied by high-quality software, games, audio files, video files, and other media files. As high-quality software and media files improve, they require more space for storage as time goes on. Despite having a substantial amount of hard drive space, eventually, you will receive a warning that your system is running low on storage.
The disk space analyzer tool can help remove or move large files or unnecessary data from your hard drive. Once your hard drive becomes full, you can free up some space by deleting or moving unnecessary data to an external drive. Using these tools, you will be able to understand the data format and receive a guide on how to manage it.
Free Hard Disk Analyser for Windows 11 and 10
WinDirStat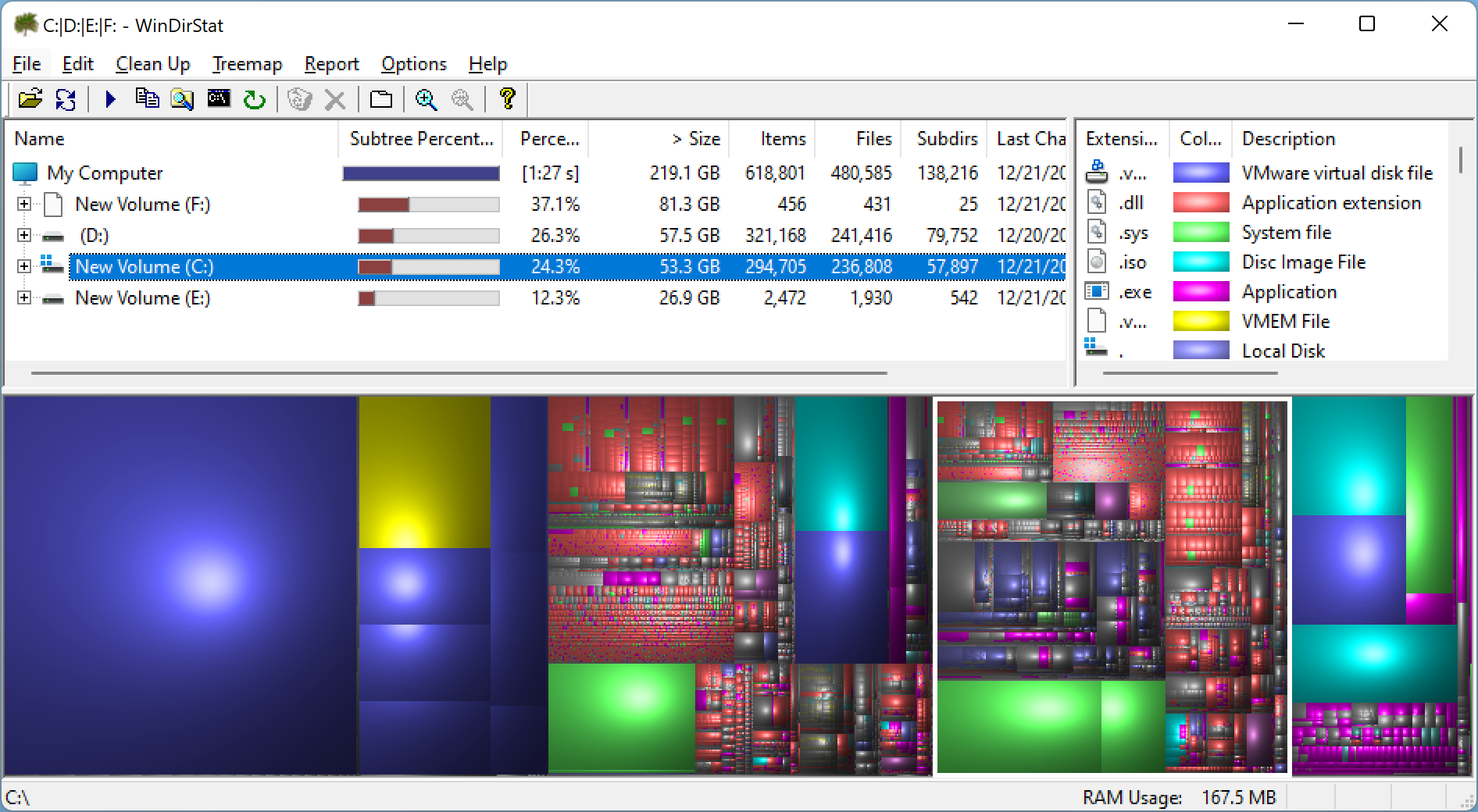 Among the fastest tool for analyzing hard drive space is WinDirStat, a reliable tool with three default panels showing all the relevant information about the hard drive space. According to the hard drive's actual size, this tool presents varying size data treemaps.
There haven't been any updates to WinDirStat since 2007, but it remains one of the most popular tools for analyzing hard drive space and showing the number of files on the hard drive.
Features of WinDirStat are the following:-
Scan an individual folder or whole drive.
Visualize the disk space in unique ways.
It can configure data delete commands.
It runs only on Windows.
Shows treemap.
Built-in cleanup options.
Download WinDirStat
It is compatible with Windows 7, 8, 8.1, 10, and 11. You can download WinDirStat from here.
Disk Savvy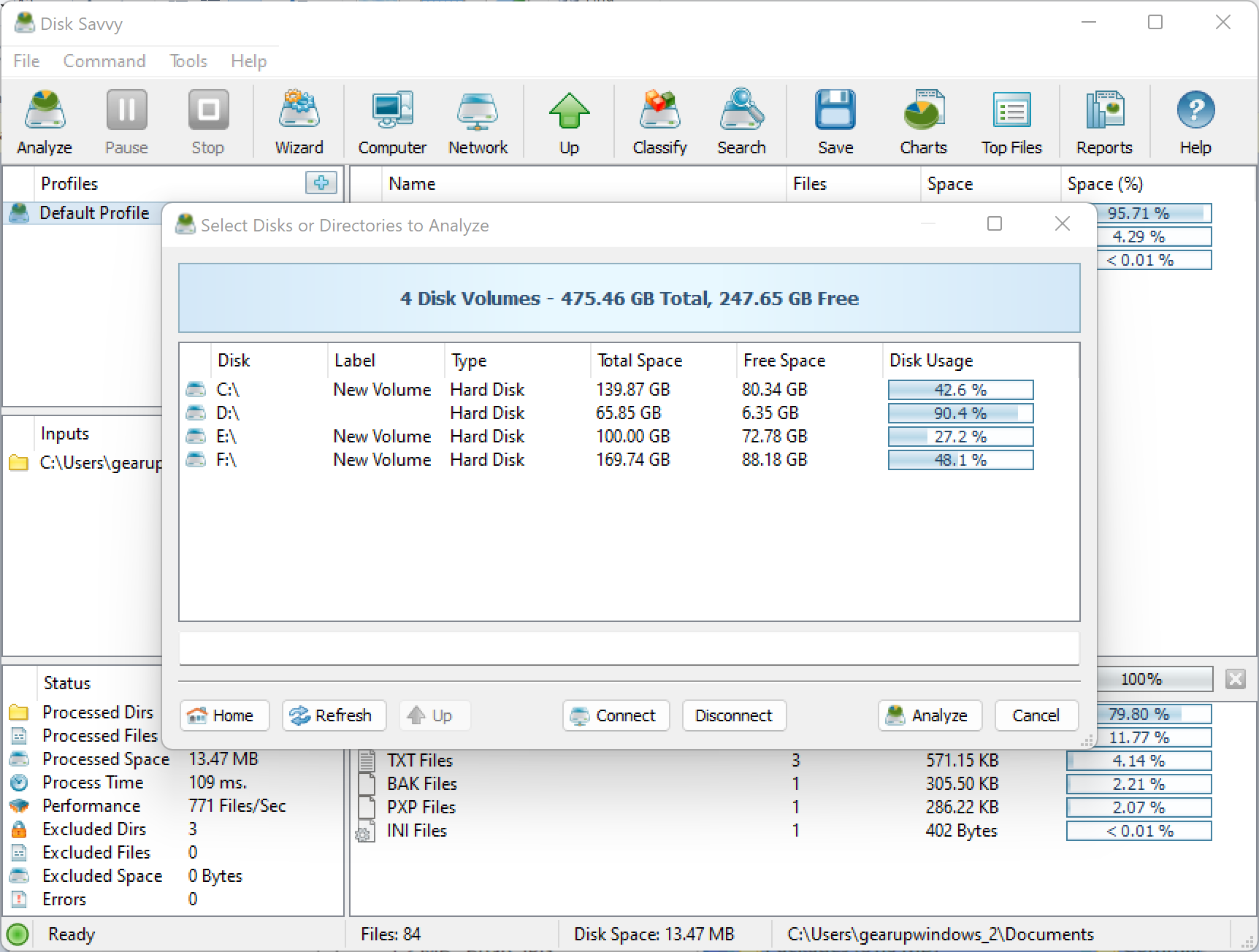 Disk Savvy is an advanced and improved hard drive space analysis tool. It provides plenty of customization options, and it is easy to use. The free version is sufficient for most users. The paid version is necessary for users who need command line support or network drive support.
Users can easily use this tool, and it helps them remove unwanted files from their hard drives. Furthermore, this tool can be used to analyze both external and internal hard drive space. This tool, however, offers a few handy categories for users, such as modification time, user name, extension, creation time, accessed time, etc.
Features of Disk Savvy are the following:-
Easy to use.
Several ways are available to categorize the files.
Works within File Explorer.
Simultaneously scan multiple locations.
Newer versions get regular updates.
Only 500,000 files are possible to scan at a time.
See the top 100 large files.
Plug-in support.
Download Disk Savvy
Disk Savvy is compatible with Windows 7, 8, 8.1, 10, and 11. You can grab it here.
JDiskReport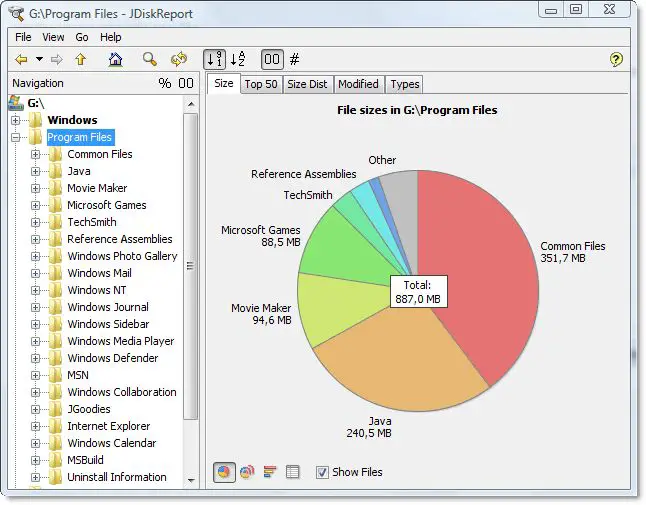 A number of useful features come with this tool, and its interface is sleek. JDiskReport is an analyzer of hard drive space that displays the storage percentages of files by showing them in a bar graph, list view, or pie chart. With this tool, users can see when data was modified, and they can also see which files they never used or rarely used. Consequently, you can delete those files quickly.
Nonetheless, the right pane of this system represents the data analysis ways, while the left pane represents the scanned files and folders. This tool does not allow you to delete files within the program; it scans slower than other disk analyzer tools. It is available for Linux, Windows, and Mac.
The features of JDiskReport are the following:-
For new users, it represents the ideal and interactive interface.
Use pie charts and make the presentation reliable.
Change the UI look using the built-in themes.
Shows the use of disk space from five perspectives.
Usable on Windows, Linux, and macOS.
Slower compared to the other tools.
Download JDiskReport
You can download JDiskReport from its official website.
TreeSize Free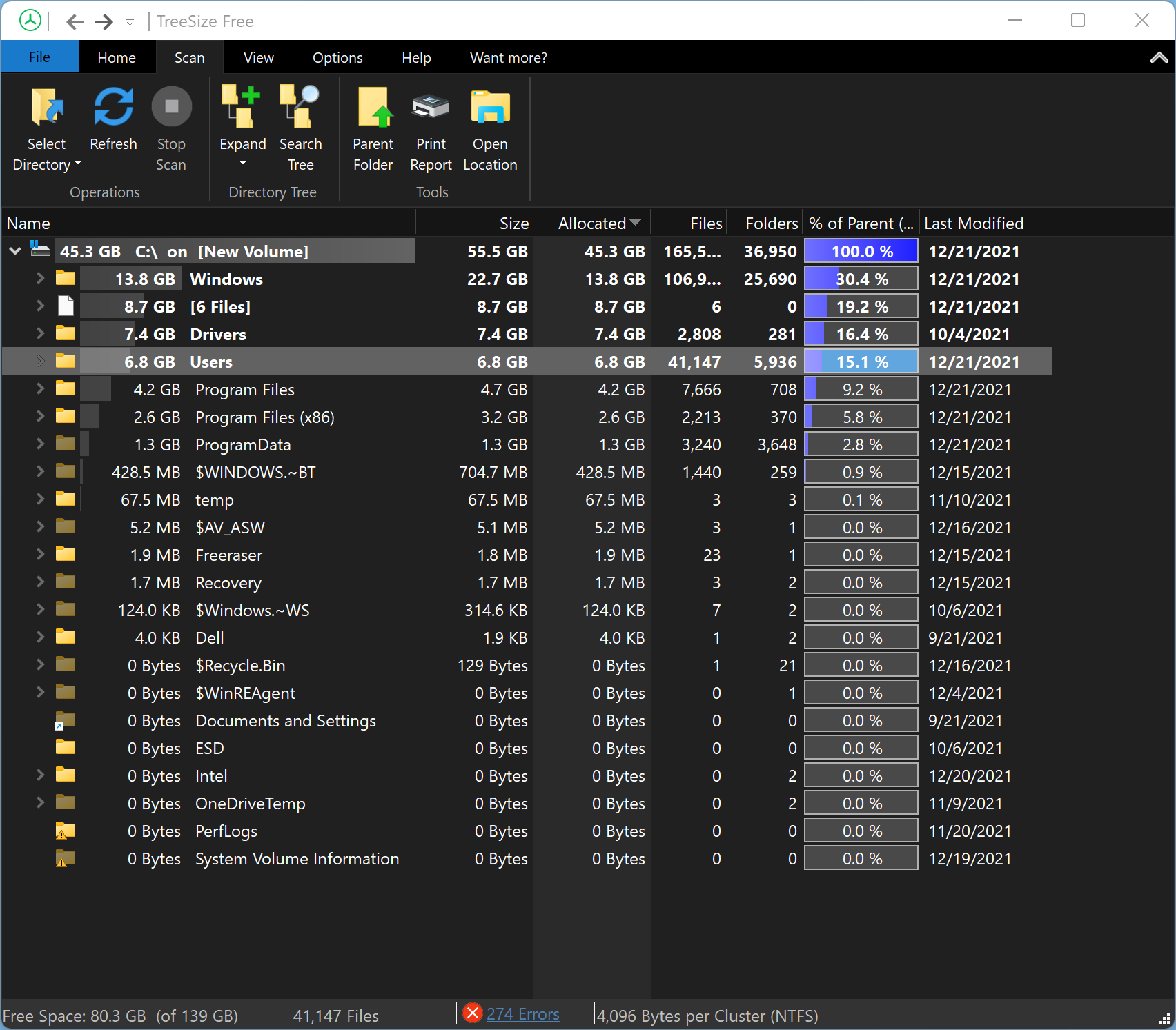 A hard drive space analyzer tool such as TreeSize Free offers users a unique perspective for analyzing the data. By deleting the unwanted files and folders from the program, users can free up drive space and identify the largest folders on the drive and which are taking up the most space.
There is a free and paid version of TreeSize, but the free version is quick and straightforward, and the accessible version will appeal even to people who are not fans of charts, tiles, and treemaps.
The features of TreeSize free software are the following:-
Simple and user-friendly interface and easy to use.
From within the program, the users can remove the file.
Supports both external and internal hard disk drives.
Scan the entire hard drives as well as the individual folders.
Available portable option.
Represent data in percentage or GB.
Download TreeSize Free
You can download TreeSize Free from jam-software.
WizTree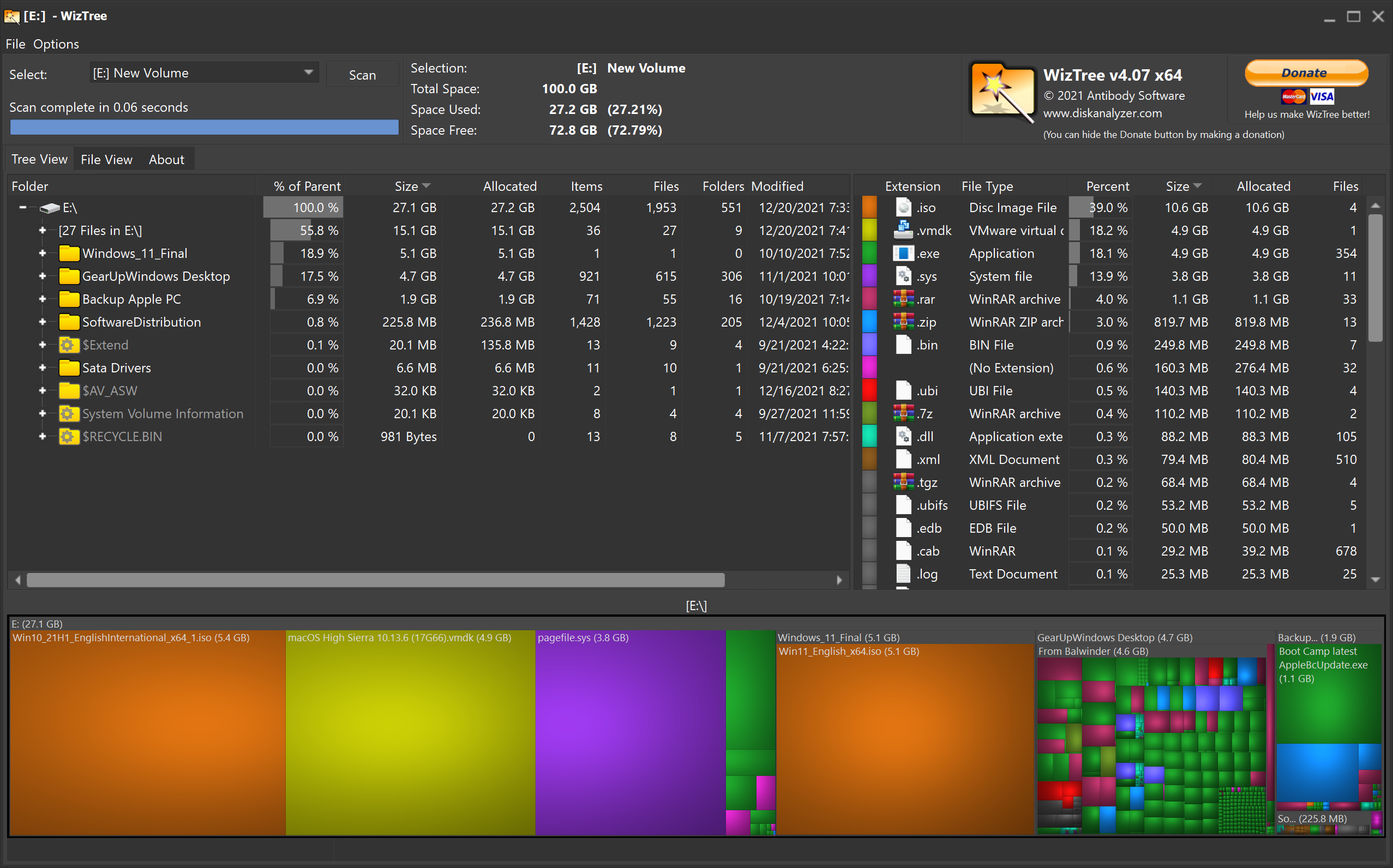 Compared to WindDirStat, WizTree displays results much faster than WindDirStat. However, WizTree scans the hard drive space using the Master File Table, the fastest of the tools on the market. Although the software's window contains an animated donate button, it isn't a problem.
One of the unique features of this tool is that it works very fast and represents the analyzed data in GBs. It formats the data according to the large or minor file conditions. Moreover, compared to the other available data analyzer tool, this shows additional information related to files and folders. In addition to the percentage size, it displays the last modified date of each folder, the total number of files and folders in each folder, and the total number of items in each folder.
In this software, the "File View" section displays the specific areas of files with all the details. Moreover, you can use the search bar to pinpoint your necessary files quickly.
The unique features of this hard drive space analyzer tool are the following:-
Incredibly fast.
Show the data's extensive details.
Handy File section.
Speedy data processing.
Download WizTree
Grab WizTree here.