In order to view a .docx file, we need to use the MS Office Word application. Microsoft Office Excel cannot be used to open a .doc file because it only can open XLS extension documents. However, there are a number of programs that can open multiple file formats on Windows. If you are looking for a document viewer application that should open multiple file format documents, you have come to the right place.
In this gearupwindows article, we share some good and free software that acts as a universal file viewer for Windows 10. You can use these apps to view over 100 different file formats. Among the many things you can view with this software are videos, webpages, subtitle files, document files, presentations, common images, camera raw images, etc.
You can use the free apps if you don't have an MS Office program installed on your PC and have a document in .docx or .xlsx format.
Free Universal File Viewer for Windows 11/10
The following is the freeware that lets you open multiple file format documents on Windows 10:-
Free Opener
Universal Viewer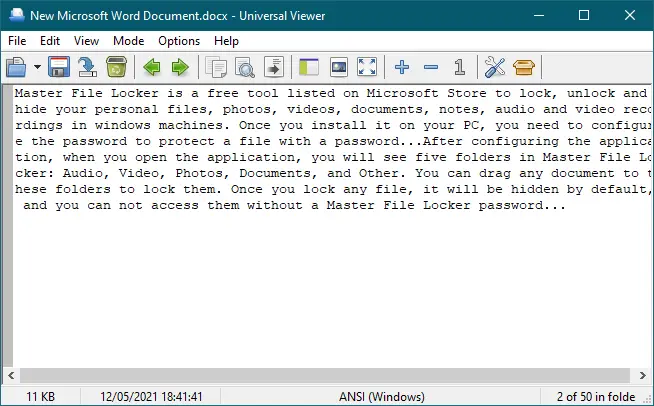 This free and universal file viewer lets you view a variety of files. With this freeware, you can view or open text files, graphics files, camera raw images, multimedia files (audio/video), Microsoft Office Word, Microsoft Excel Spreadsheets, PDF, and Internet files. This utility shows a text view even if you open an unknown file formation with it.
Universal Viewer supports a wide range of file formats, including CBR, CBZ, HTML, MHT, DJVU, XML, AVI, MP4, MP3, MKV, DOC, DOCX, XLS, XLSX, PNG, JPG, BMP, PSD, WMF, TIFF, XPS, PDF, and others. File sizes up to 4GB can be opened with this software. The software offers various view modes, such as Text, Hex, Binary, Internet, etc.
In addition, you can export a file from one supported format to another with the "Save As" feature; for example, you can save a PNG file as a JPG.
Download, unzip, and start using it right away. Since it's portable, you don't have to install it on your PC.
You can download the latest version of Universal Viewer here.
File Viewer Lite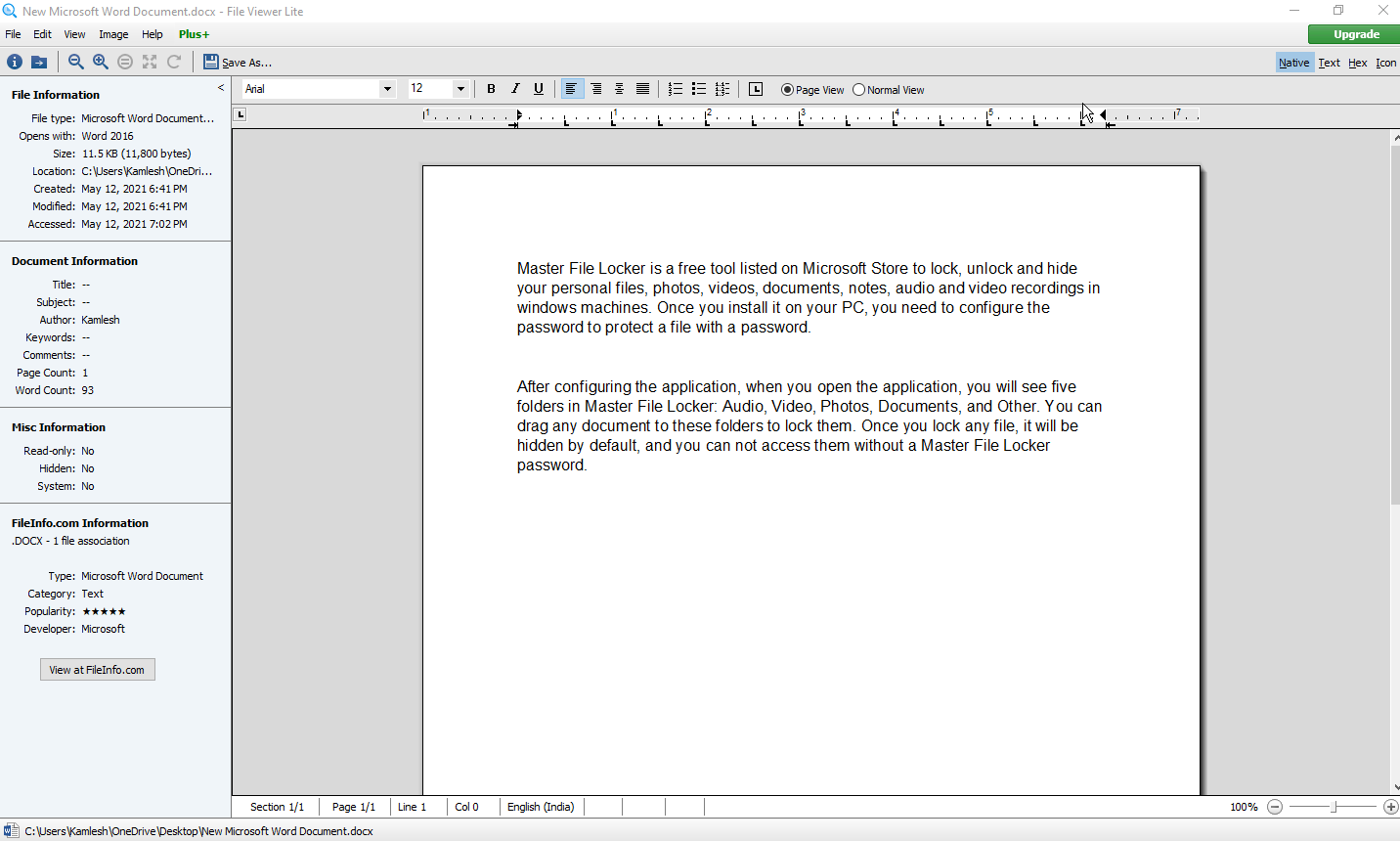 A free universal file viewer like File Viewer Lite lets you view over 150 different file formats simultaneously. Aside from documents (DOC, DOCX, DOT, DOTX, DOCM, DOTM, KEY, PAGES, PDF, RTF, TXT, and WPS), it also supports spreadsheets (XLS, XLSX, XLSM, and CSV), audio files (MP3, FLAC, WAV, OGG, etc.), video files (MP4, AVI, FLV, etc.), camera images (SRF, RAW, ARW, DNG, etc.), graphic files (PNG, JPG, PSD, SVG), font files (TTF), and web files (CSS, HTML, XHTML, etc.).
In addition to its drag-and-drop functionality, "File Viewer Lite" displays file metadata information in a side panel when you open a document.
Additional features of this free tool include the ability to view images, adjust brightness and contrast, sharpen, remove red-eye, rotate an image, crop an image, and adjust the image size.
Moreover, installing this tool integrates with Windows Context Menu, which allows you to open different documents by right-clicking and selecting "Open with File Viewer Lite." With the context menu feature, it is an easy and quick way to view documents across a wide range of file formats.
You can download the latest version of File Viewer Lite from here.
Open Freely
With Open Freely, you can view PDF documents, Microsoft Office documents (Word, Excel, and PowerPoint files), audio and video files (WMV, AVI, FLV, MPG, MPEG, MOV, MP4, MP3, etc.), and Windows System files (EXE, DLL, BPL, SCR, CPL, OPX, etc.). In an editable document, the program opens a toolbar with formatting and editing controls typical of a lightweight word processor.
A variety of options are included in Open Freely's free application, including cropping, resizing, rotating, copying, printing, and saving images. Once a file is opened with Open Freely, all these options appear automatically. You can save your files in multiple file formats after opening a file using this tool, as it comes with the free K-Lite Codec Pack. Once you open a file using this tool, you can save it in dozens of other formats as well.
You can download the latest version of Open Freely from Cnet.
Free Opener
You can open and view more than 350 types of files with Free Opener, another universal file viewer application. By installing this app on your PC, you can easily and quickly view your Microsoft Office documents, Excel spreadsheets, and other files if you don't have Microsoft Office installed.
You can also open and edit DOC/DOCX, XLS/XLSX, and CSV files without installing additional software. Freeware utility that can view almost any popular file, including DOC, AVI, DOCX, ZIP, JAR, RAR, PDF, XML, HTML, SWF, 7Z, PHP, XLSX, MKV, TXT, PSD, WMV, CR2, CRW, CR2, CRW, GIF, MSG, NEF, TIFF, JPG, MOV, MP4, LOG, PNG, CSS, MP3, HTM, BMP, JS, XLSM, WA, ICO, REG, RAF, FLV, XLS, JPEG, RAW, ARW, MID, ERF, CF2, ERF, ERF, MEF, MRW, X3F, X3F, CSV, CS, INI, CSV, and more.
You can download the latest version of Free Opener from file horse.
FreeFileViewer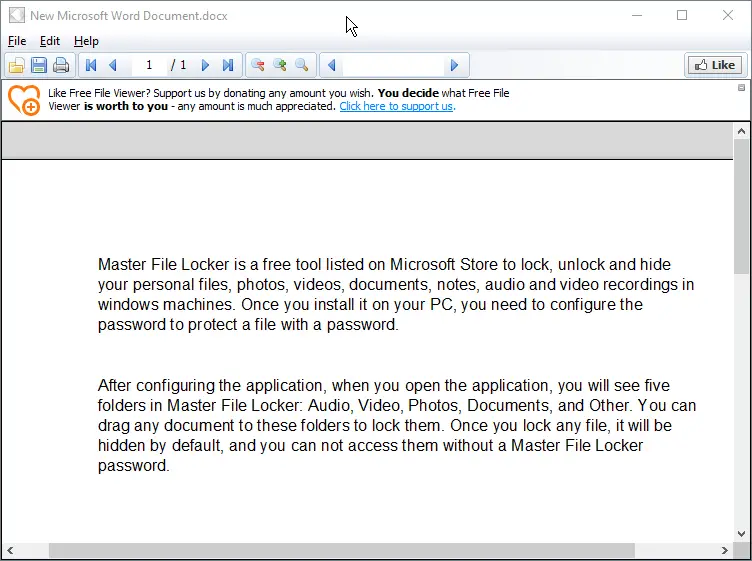 For Windows 11/10, FreeFileViewer is another free universal file viewer. You can view documents such as DOC, DOCX, PDF, TXT, XLS, and XLSX; images such as JPG, PNG, GIF, and PSD; videos such as FLV, MP4, MOV, MPG; audio files such as FLAC, MP3, OGG, WMA, as well as other file formats like BIN, CFG, DAT, DIZ. This software supports over 200 file formats and can be customized to suit your needs. Just go to the Edit menu and use the Preferences option.
The program also has some easy features, such as page navigation, zoom-in, zoom-out, and search boxes. It also has a Print function.
You can download the FreeFileViewer here.
File Viewer Plus
You can open and view over 200 file formats with File Viewer Plus, which is available in the Microsoft Store. Among the types of files, you can open documents (docm, XML, Docx, dot, dotm, dotx, epub, ODT, PDF, RTF, TXT, WPS), spreadsheets, presentations, archives, and many others.
With its own file explorer, you can open multiple files in different tabs. Additional features include zooming in, zooming out, rotating, finding, selecting, and taking a printout of a file.
You can download the latest version of this tool from here.
Conclusion
In conclusion, while the MS Office Word application is the recommended software for viewing .docx files, there are several free universal file viewer options available for Windows users. These applications support multiple file formats, including documents, spreadsheets, images, audio, video, and more. Some of the recommended file viewer tools are Universal Viewer, File Viewer Lite, Open Freely, Free Opener, FreeFileViewer, and File Viewer Plus. These tools offer various features and functionalities, allowing users to open, view, and even edit files without the need for specific software installations. Whether you need to access a .docx or .xlsx file or explore a wide range of file formats, these universal file viewers can serve as convenient alternatives.