A computer with outdated drivers may encounter several problems, including a backdoor through which a hacker can gain access to your PC. If your system constantly crashes, freezes, or suffers from any other type of driver issue, you should get Driver Booster 10.5 Pro immediately.
Driver Booster 10.5 Pro for Windows 11 and 10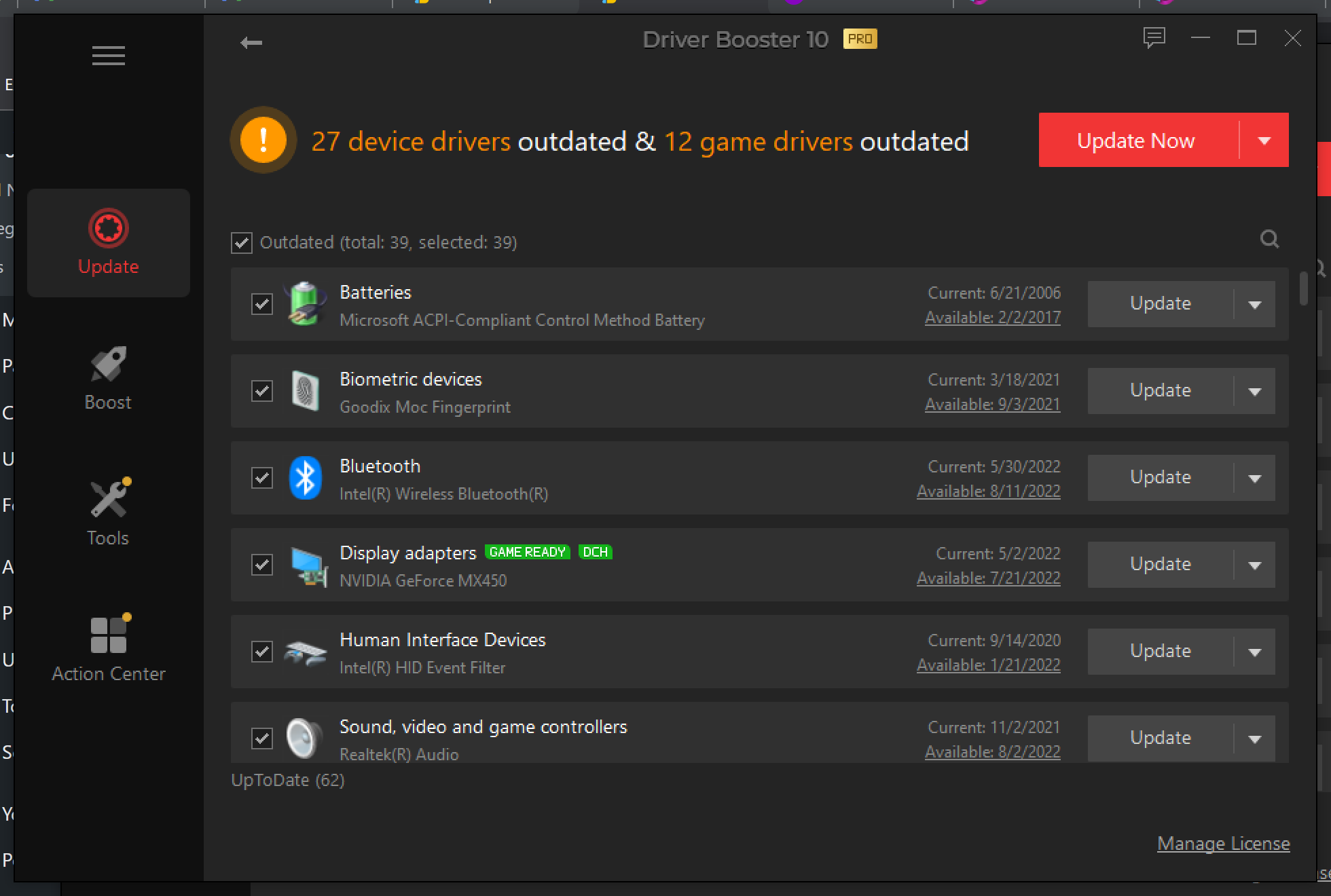 A free license for three months is currently being offered by IObit's Driver Booster 10.5 Pro with support for Windows 11, 10, 8.1/8, 7, Vista, and 7.
PC devices can stop working at any time if they are outdated, broken, or missing drivers. Driver Booster 10.5 will allow you to check, download, and install the device drivers as quickly as possible. With Driver Booster, your PC system and external devices will work smoothly again. Even when the internet isn't available, Driver Booster can install graphic card drivers, display adapters, or any missing drivers for you offline.
The application detects broken and outdated drivers quickly and finds the exact correct match for the system and devices. With more than 6.5 million drivers and devices from 1200+ major manufacturers in the driver database, all driver sources are from the original hardware manufacturers and have passed Microsoft's WHQL and IObit tests.
Crashing, freezing, no sound, the keyboard stuck, and frequent network drops; these all inconveniences are due to driver issues. In addition to solving these common Windows problems once and for all, driver booster speeds up browsing and downloading for smoother system performance by providing built-in tools to resolve sound, video, graphic, and Wi-Fi connectivity issues.
With Driver Booster, AMD/NVIDIA/INTEL graphics card drivers can be completely uninstalled, along with all remaining display driver leftovers, safely and securely. This driver removal is essential if you want to install new drivers, delete drivers that are causing problems, or upgrade your GPU, such as from AMD to Nvidia.
Moreover, the speed of scanning and driver installation is even faster in Driver Booster 10. It keeps things simple and easy with a "one-click" interface design. For absolute convenience, you can also activate the Auto Driver Update to receive the latest driver updates in real time.
Download Driver Booster 10.5 Pro
In order to activate the Driver Booster 10.5 Pro, first download and install the Free version of this application from its official website. Ensure to uncheck the unwanted offers during the installation. Once the software is installed on your computer, launch it as a regular tool. Now, enter the following code to convert this app to a Pro one:-
5BA57-82B0B-1AA25-C3540
344F3-D086F-EF7AD-8FA40
07CB7-C38C6-5B122-05440
19AF0-E05BA-7613D-A2F40
EC714-E8FD8-CCB79-19140
3326C-4EAD0-A9290-EB740
7A4A7-27FA2-BBDDB-CBE40
67314-06F5B-1061F-55EB0
4A833-0FF38-A2F7E-42840
40BAA-6EA71-D39F1-A1540
Now, you can enjoy 1 year of uninterrupted service.
Conclusion
In conclusion, having outdated drivers on your computer can lead to various issues, including security vulnerabilities that hackers can exploit. Therefore, it is crucial to keep your drivers up to date with a reliable tool like Driver Booster 10.5 Pro. This software offers a wide range of features to detect, download, and install drivers quickly and easily. With its extensive driver database and compatibility with various Windows versions, Driver Booster 10 Pro provides a hassle-free solution to driver-related problems, resulting in smoother system performance. Moreover, the availability of free licenses for a limited time makes it an even more attractive option for users. Therefore, if you are experiencing any driver-related issues, it is highly recommended to give Driver Booster 10.5 Pro a try.
Update: The firm has hosted a new free giveaway for IObit Driver Booster 11 Pro. Grab it as soon as possible.