RAR is a popular file compression format used to compress and archive files on a Windows operating system. While RAR files can be easily extracted using a file compression utility like WinRAR, there may be instances where you need to convert a RAR file to an ISO format. An ISO file is a disk image file that contains an exact copy of the contents of a CD, DVD, or Blu-ray disc. Converting a RAR file to ISO allows you to burn the contents of the RAR file onto a disc or mount it as a virtual drive. In this article, we will show you how to convert RAR to ISO on Windows 11 or 10 using AnyToISO.
How to Convert RAR to ISO on Windows 11 or 10?
To convert RAR to ISO on Windows 11 or 10, use these steps:-
Step 1. First, download and install AnyToISO on your Windows 11 or 10 computer.
Step 2. Once you have installed AnyToISO, open the software by double-clicking on the desktop icon or searching for it in the Start menu.
Step 3. When the software opens, switch to the "File Extract/Covert to ISO" tab.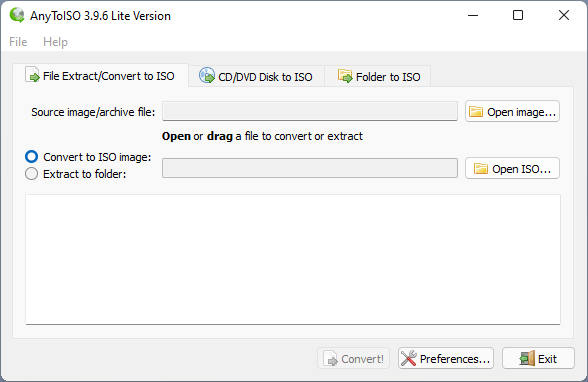 Step 4. Then, click on the "Open image" button. This will open a file explorer window where you can browse your computer and select the RAR file that you want to convert to ISO.
Step 5. By default, this application will create an ISO file for the selected RAR file in the same location. In case you want to change, click on the "Open ISO" button and select a different output folder.
Step 6. Once you have selected the RAR file and the output path, click on the "Convert" button.
AnyToISO will start the conversion process and create an ISO file from the RAR file.
When the conversion process is complete, AnyToISO will display a message confirming that the RAR file has been successfully converted to ISO. You can then click the "OK" button and navigate to the destination folder to view the converted ISO file.
Conclusion
Converting RAR to ISO is a straightforward process that can be easily done using AnyToISO on Windows 11 or 10. By following the steps outlined in this article, you can convert RAR files to ISO and enjoy the benefits of having a disk image file that can be burned onto a disc or mounted as a virtual drive. AnyToISO is a versatile and easy-to-use file converter that can handle a wide range of file formats and is a valuable tool for any Windows user.