Is it true that you utilize your browser program download manager to download files, software, videos, and audio? Don't you discover the internet interruption and files get broken? What do you do when you lose the connectivity of the internet, and your download gets dropped? Wouldn't you say the opportunity has already come, and it is high time to move to a decent download manager to deal with all your web downloads?
There are numerous free pleasant download supervisors accessible on the web, and one of them we will examine today in this post is Neat Download Manager. But, in any case, before that, we should realize for what reason do we need a download manager.
Download managers or directors give you great download speed; they sort out your downloaded records. Above all, even you can interrupt and resume your download according to the connectivity issues. The majority of good download managers permit different downloads in one go, as Neat Download Manager does.
Neat Download Manager for Windows 11/10
Neat Download Manager is one such instrument overcome with all issues related to downloading the program or videos. It is an extraordinary application compared to other free download managers accessible on the web. A tiny utility barely takes any space on your Windows framework and makes it truly speedier and simpler for you to download different records from the web. In other words, we can say Neat Download Manager for Windows 10 accelerates your download speed. It is a straightforward program that works for all Windows PC including Windows 11, Windows 10, Windows 8, Windows 7, Windows Vista, and Windows XP.
Neat Download Manager Features
Speeds up your Downloads up to your total usable bandwidth.
It uses an optimized Dynamic Segmentation Algorithm to speed up download speed.
Organize your Downloads based on Download Status (Complete, Incomplete) and File Type such as Video, Document, etc.
Supports HTTP, HTTPS, and FTP protocols.
Supports HTTP Proxy and SOCKS protocols.
Supports HTTP Authentication and Proxy Authentication (Basic, Digest, NTLM)
Pause/Resume capabilities available.
Can resume crashed Downloads.
It comes with browser extension support to send Download Links directly to Neat Download Manager that lets you download Video, Audio, or file types from any WebSite.
It lets you set BandWidth Limit on your Downloads even when Download is in progress.
It lets you set the maximum Connection Number on your Downloads even when Download is in progress.
Supports download .ts files of an HLS video and, in the end, merge all segments into a single .ts file.
Supports renew expired Download links.
Works as a Drag and Drop in Mac; you can check out the official video.
The most effective method to utilize Neat Download Manager:
Neat Download Manager is a simple program that comes with a clean user interface. It is straightforward to use, and you don't require certain tech information to utilize it. It requires scarcely a moment to download and introduce Neat Download Manager on your PC.
Whenever you have finished downloading and installing this free app, launch the program and click on the Chrome browser icon available on this utility to download the extensions of this product. As of now, it is accessible for Google Chrome and Mozilla Firefox. However, you can install the extension for both Chrome and Firefox or either browser if you wish.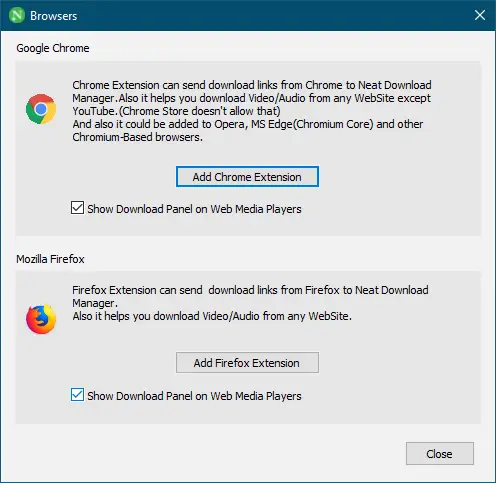 Once you install the extensions for Chrome or Firefox, it will automatically detect the download links and add them into the Neat Download Manager interface when you download a program, video, or audio file using any of these browsers. If you copy a download link to download a file, this tool will autodetect the clipboard link and start downloading. In the app's main interface, you can see the downloading speed, status of the download, remaining time, file size, resumable or not, and so forth. It divides large files into eight segments and downloads them simultaneously. Once all the fragments are downloaded successfully, it combines into one and makes it usable.
If you are downloading a long file, in between you want to pause the download to restart or shut down your PC, click on the Pause button; it will stop downloading your file, which you can later resume. Moreover, if you would like to restrict the data transmission in this specific download, navigate to Options and change the boundaries on your own inclinations.
As said above, it picks the download links automatically from Google Chrome and Mozilla Firefox only. If you use another browser and want to download the file using Neat Download Manager, you can copy the download path by right-clicking on the link and clicking on "New URL" on Neat Download Manager; you can paste it to download.
Once the download is complete, it will keep a record of all downloaded files, including software, audio, video, and so on. By default Neat Download Manager saves all the downloaded files on the downloads folder; however, you can change through this tool's Settings.
Final Opinion on Neat Download Manager
When you go through each perspective of this free tool, it looks like a simple download manager with a few basic options. In other words, Neat Download Manager is a straightforward utility that lets you manage your downloads with a few basic options. It will not boost your download speed, but yes, it will save bandwidth by resuming incomplete downloads. If someone needs a basic download manager with a few basic options, then Neat Download Manager may be a good choice for you.
Download Neat Download Manager
You can download the latest version of this free utility from its official website homepage.
Ninja Download Manager, GetGo Download Manager, and Free Download Manager are better free alternatives to Neat Download Manager.