In our daily lives, downloading videos, music, software, and other content from the web is common. However, the built-in browser download features often lack options like download resumption and scheduling. This is where download managers come in handy. Previously, we recommended two freeware download managers, GetGo Download Manager, and Free Download Manager, that work well on Windows 10 64-bit PCs.
When downloading large files, interruptions such as power outages or internet disconnections can result in the loss of bandwidth and time. In addition, the built-in download manager on Windows PCs may fail to fetch download links, requiring you to start over. To avoid these problems, it is recommended to use a reliable download manager like Ninja Download Manager.
Ninja Download Manager is an efficient download manager that offers several features to enhance your downloading experience. It supports pause and resume downloads, as well as scheduling downloads for later. It also allows users to recover partially downloaded files if there are interruptions in the downloading process. Ninja Download Manager is available for free and is compatible with Windows 10.
Ninja Download Manager for Windows 11 and 10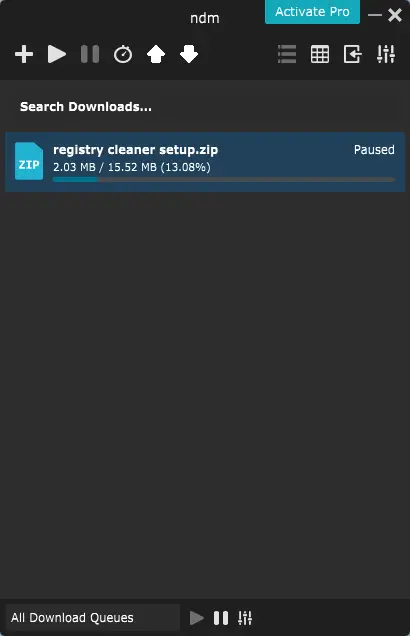 Ninja Download Manager (NDM) provides many options similar to the popular paid download manager IDM (Internet Download Manager). Since we cover only freeware tools at gearupwindows.com, here are some of the features of the free version of NDM:-
Pause/Resume Download: Ninja Download Manager (NDM) is a reliable download manager that boasts the popular feature of pausing and resuming downloads, which is commonly found in other successful download managers. One notable feature of NDM is its ability to pause downloads even on servers or websites that typically do not allow pausing, making it a standout among other freeware tools.
Limit Download Speed: If you have a slow internet connection, the download speed limiting feature in Ninja Download Manager (NDM) can be helpful. You can limit the download speed of your downloads in NDM while browsing the internet at the same time. This allows you to multitask, download a file from the internet, and browse your favorite websites simultaneously.
Download videos: While the download manager in most contemporary web browsers allows you to download videos or movies from the internet, this free tool enables you to convert the downloaded video to various formats.
Browser integration: Similar to the widely used and paid Internet Download Manager (IDM), Ninja Download Manager (NDM) seamlessly integrates with various popular web browsers such as Google Chrome, Microsoft Edge, Mozilla Firefox, Opera, and Internet Explorer.
Schedule Downloads: With Ninja Download Manager, you can easily schedule your downloads for a specific time and date, which is especially helpful for those who prefer to download large files during off-peak hours. This free software allows you to schedule multiple downloads, and NDM will manage the downloads according to the schedule you set.
Clipboard Monitor: As previously mentioned, Ninja Download Manager seamlessly integrates with popular browsers and remains active in the notification tray of your Windows computer. Once a link is copied to the clipboard, NDM will immediately recognize it and begin the download process.
Password Manager: With its encrypted login manager, this download manager securely saves your website logins, allowing for automatic login to various websites. This feature comes in handy when you need to log in to a website to resume a download.
Connection Control: You have the flexibility to manage the number of simultaneous downloads and connections per download with this download manager. The default setting allows you to download up to five files at a time, but you can adjust the connections as per your preference.
Sequential File Writing: With Ninja Download Manager, you can preview audio and video files while they are being downloaded. This is because NDM downloads files from start to finish, unlike other download managers that require the entire file to be downloaded before you can start previewing it.
Blazingly Fast Downloads: According to the developer of this free tool, using multiple concurrent connections can increase download speeds by up to 20 times.
Limitations of the free version
The free version of Ninja Download Manager has certain limitations. It does not support downloading videos larger than 720p resolution. NDM is limited to downloading videos in 720p resolution or lower. Additionally, in the free version, you need to manually copy and paste the download link from the browser to the download manager.
Download Ninja Download Manager
You can download the Ninja Download Manager, a free tool, from its official website.
Conclusion
In conclusion, Ninja Download Manager is a reliable and efficient download manager that offers a wide range of features to enhance your downloading experience. Its ability to pause and resume downloads, limit download speed, schedule downloads, and seamlessly integrates with popular web browsers make it a standout among other freeware tools. Although the free version of Ninja Download Manager has some limitations, such as only supporting videos up to 720p resolution, it is still highly recommended for Windows 11, 10, and other versions. If you're looking for a free and reliable download manager to help you manage your downloads, Ninja Download Manager is definitely worth checking out.
You might also be interested in other free download managers such as Xtreme Download Manager, Download Accelerator Plus (DAP), and Neat Download Manager.