All of us download videos, music, software, and other content from the web in our day-to-day life. Built-in browser download features are not so good as they lack various options; for instance, you can't resume your downloads or schedule your downloads. This is why so many download managers are available over the internet to take care of your downloads. Earlier, we shared two download managers, namely GetGo Download Manager and Free Download Manager. Both are freeware and work well on Windows 10 64-bit PC.
If you have to download a small file, then there are no issues as the job will be completed in a few seconds or minutes, but what if you have to download a large file, for example, a movie or any other video? Your internet may interrupt in between downloads, and you will lose bandwidth as well as time. It may also happen if you are downloading a large file and your PC shuts down suddenly due to a power outage. Oops, there is no way to recover the partially download file.
With the built-in download manager on Windows PC, you may face various problems in downloading. Many times browser fails to fetch the download link, and we need to start over everything. But if you have installed a good download manager, you don't have to worry about it.
In this post, we will introduce you to another download manager called Ninja Download Manager.
Ninja Download Manager for Windows 11 and 10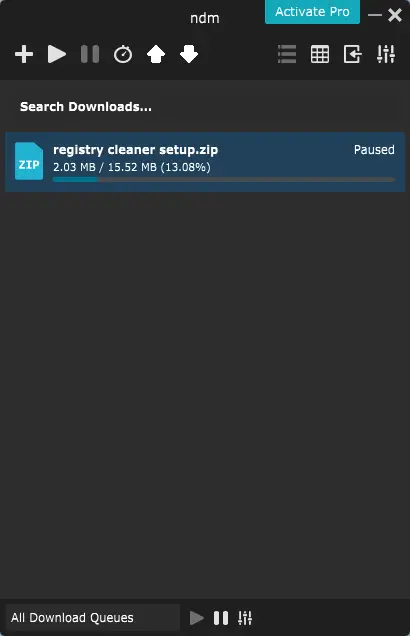 Ninja Download Manager (NDM) provides most options similar to the popular paid download manager IDM (Internet Download Manager). Since we cover only freeware tools at gearupwindows.com, here are the features of the free version of NDM:-
Pause/Resume Download: Like all other successful download managers, Ninja Download Manager (NDM) also comes with a popular feature to pause and resume any downloads. You might have noticed that some of the servers or website does not allow to pause the downloads; however, Ninja Download Manager has managed to pause such links as well. It can be noticed as the main highlight of this freeware tool.
Limit Download Speed: This feature is handy for those who are using a helpless internet connection. If you have to browse the internet and at the same time you want to download a file from the internet, you can limit the download speed of the downloads in Ninja Download Manager. This way, you can achieve two tasks simultaneously: downloading a file from the internet and browsing your popular website.
Download videos: The built-in download manager of all modern browsers let you download a video or movie from the internet, but this freeware utility lets you convert the video to different formats after downloading.
Browser integration: Like the popular paid IDM (Internet Download Manager), the NDM integrates itself to almost all popular browsers, including Google Chrome, Edge, Mozilla Firefox, Opera, Internet Explorer, etc.
Schedule Downloads: This free software lets you schedule your downloads to a specific date and time. It is beneficial for those who prefer to download large files late at night. Just schedule multiple downloads using Ninja Download Manager, and it will take care of the rest.
Clipboard Monitor: As said above, it integrates itself into popular browsers and sits in the notification tray of your Windows PC. As soon a link is copied into the clipboard, it will grab the link and start downloading using NDM.
Password Manager: This download manager securely keeps track of your various website logins, so they are automatically set using its encrypted login manager. It is useful if a file requires the login to resume the downloads.
Connection Control: It lets you control the number of simultaneous downloads and connections per download. By default, up to 5 files can be downloaded simultaneously. If you wish, you can increase or decrease the connections.
Sequential File Writing: Unlike the other download manager, Ninja Download Manager downloads files from start to finish so you can begin to preview audio and video files before the download is complete.
Blazingly Fast Downloads: The developer of this free tool claims to increase download speeds by up to 20 times by using multiple concurrent connections.
Limitations of the free version
The free edition comes with a few restrictions. It does not allow to download a video of more than 720p size. For instance, if the original video is a 1080p or even a 4k video, this tool will still download it in 720p. One other limitation in the free version of NDM is that you need to copy the link manually from the browser and paste it into the download manager.
Final Opinion about Ninja Download Manager
The Ninja Download Manager comes with a modern design and downloads a file with blazing fast speed. It is available for Windows 11, 10, 8.1, 8, 7, Vista, XP, and macOS. Even in the 64-bit version of the Windows operating system, this software works perfectly as advertised. In the free version, there are some limitations; still, you will love it after using it.
Download Ninja Download Manager
You can download the Ninja Download Manager, a free tool, from its official website.
You might also be interested in other free download managers such as Xtreme Download Manager, Download Accelerator Plus (DAP), and Neat Download Manager.