Many of us frequently install and uninstall freeware or shareware apps based on our needs. However, third-party apps are not necessary for installing and uninstalling, as these functionalities are already available in every Windows operating system, including Windows 11/10. Microsoft has not restricted app installation and uninstallation on these platforms. Nevertheless, after uninstalling an app, remnants such as registry entries, folders, and configuration files may remain, making it necessary to manually clean the PC to remove unnecessary files and entries. This can be difficult or impossible for most people to do. Due to the inbuilt uninstaller's tendency to leave unwanted entries and folders, many people use a third-party app like Revo Uninstaller to completely remove desktop software and Microsoft Store apps.
Revo Uninstaller for Windows 11/10
Features of Revo Uninstaller
Complete powerful software uninstall
Quick Uninstall one or more programs in a row
The best Windows application to uninstall stubborn programs easily.
Remove junk files and unnecessary program files.
Compatible with all 32-bit and 64-bit versions of Windows Vista, 7, 8, 8.1, 10, 11, and Windows Server
Portable version for all your personal Windows devices
Customizable and flexible easy to use user interface
Free professional technical support
Revo Uninstaller Mobile version
Uninstall EXE software using Revo Uninstaller
Revo Uninstaller is designed with a user-friendly interface and simple options. Upon launching the application, a list of installed applications will appear. Users can select the application they wish to remove and click on the uninstall button or right-click on the app and select the uninstall option. The software will take care of the rest of the process.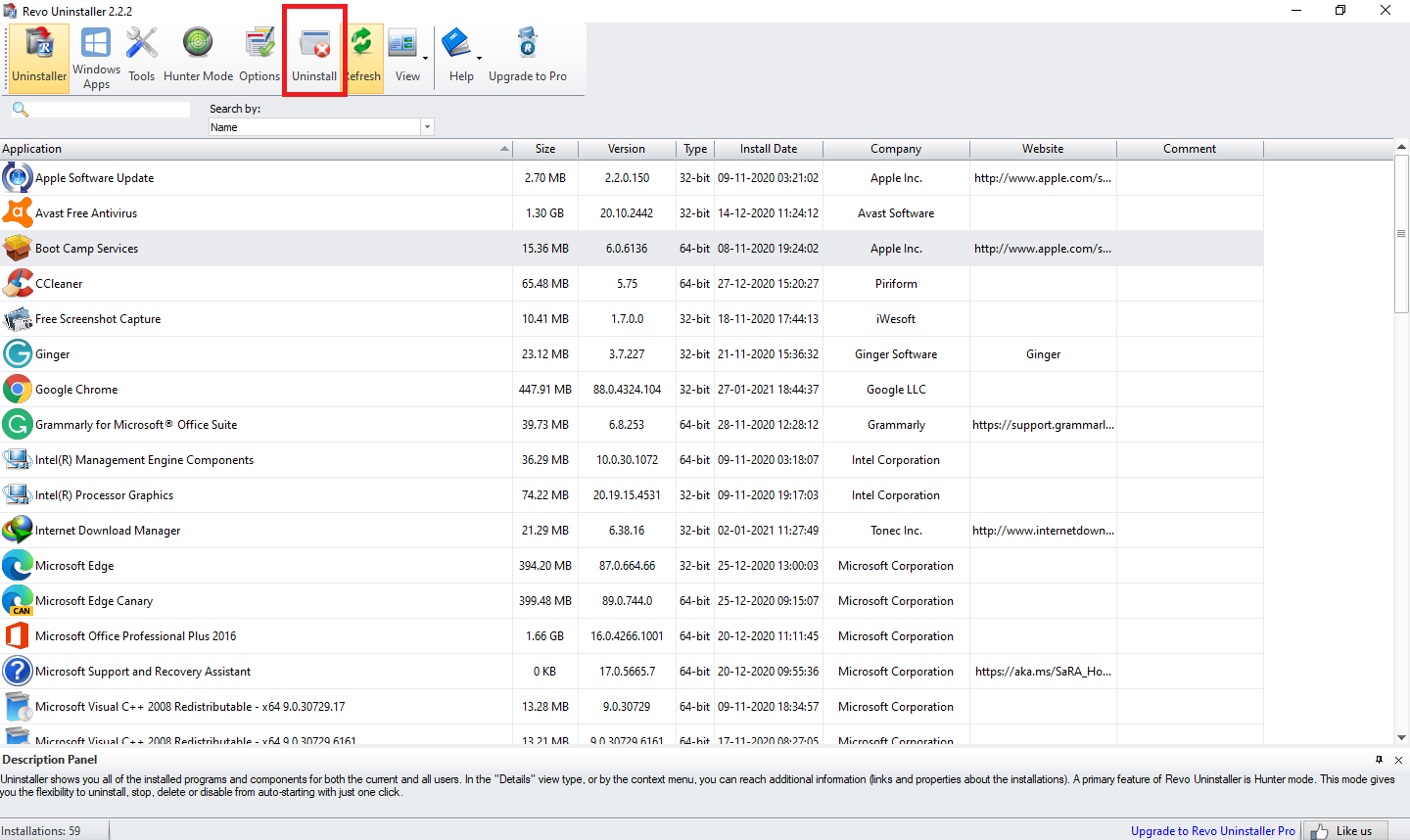 By doing right-clicking on any installed app, you can perform the following:-
Uninstall
Search Google for (Software & Developer Name)
Open About Link
Open Help Link
Open Update Link
Open Install Location
Open Registry Key
Export List to (Text file or HTML file)
Revo Uninstaller provides a comprehensive solution that simplifies the process of repairing applications through the registry or removing unwanted files.
Uninstall Microsoft Store apps using Revo Uninstaller
Microsoft Store app installation is different from regular software. You can easily remove Microsoft Store apps using Revo Uninstaller. Similar to EXE, you can do the following with Windows Store apps:-
Uninstall
Run
Search at Google for (Software & Developer Name)
Install Location
Open in Microsoft Store
Open Registry Key
Hunter Mode
It's an exciting feature of Revo Uninstaller, where a crosshair icon sits on the desktop's top right. Once an app is running, click on the crosshair icon, and it will offer to perform the following:-
Uninstall
Stop Auto Starting
Kill Process
Kill and Delete Process
Open Containing Folder
AutoRun manager, Junk File Cleaner, Windows Tools, Browsers Cleaner, Microsoft Office Cleaner, Windows Cleaner
Apart from uninstalling software and Windows Store apps, the Revo Uninstaller also offers these features:-
AutoRun Manager to enable or disable autorun programs.
Junk File Cleaner removes junk files.
Windows Tools to launch System features such as System Restore, Network Information, Security Center, System Properties, System Information, TCP/IP Netstat Command, Disk Defragmenter, Services, Shared Folders, Group Policy, Add/Remove Windows Programs, etc.
Browsers Cleaner to clear the browser history, cookies, etc., from the browsers, including Firefox, Chrome, Edge, Opera, and IE.
Microsoft Office Cleaner removes the recent history of the documents.
Windows Cleaner.
Under the Windows Cleaner, you can remove the following unwanted histories:-
Clear the Recent Documents History
Clear the Start Menu Run History
Clear the Find File History
Clear the Printers, Computers, and People History
Clear the "MS Paint" Recent File History
Clear the "MS Wordpad" Recent File History
Clear the Regedit Last Opened Key History
Clear the Common Dialog Open/Save Recent History
Clear the Common Dialog Last Visited Folder History
Delete the Start Menu Usage Logs
Empty the Clipboard
Empty the Recycle Bin
Delete Windows Temporary Files
Delete crash memory dump files
Delete Chkdsk (Check Disk) recovered file fragments
Delete Thumbnail Cache
You can see there is a lot in the Revo Uninstaller freeware tool. You can always keep your PC clean of unwanted files.
Download Revo Uninstaller
Revo Uninstaller also offers a portable version of the app, which means there is no need to install it on your Windows PC. You can download the latest version of the Revo Uninstaller free app from the official website.
Conclusion
In conclusion, while the inbuilt uninstaller in Windows is sufficient for most users to remove software and apps, it may leave behind unwanted remnants on the computer. Revo Uninstaller provides a comprehensive solution for completely removing software, including stubborn programs and Microsoft Store apps. Its user-friendly interface, portable version, and additional features such as junk file cleaner, Windows tools, and browser cleaner make it a valuable tool for keeping your PC clean and optimized. Additionally, other freeware programs like Wise Program Uninstaller, Display Driver Uninstaller, and IObit Uninstaller are also available for users to choose from. Ultimately, it's essential to have an effective uninstaller tool to maintain the optimal performance and health of your computer.