Many times Windows PC refuse to delete a file. It may happen due to various reasons like a file/folder being corrupted, affected by virus/malware, another process using the file, etc. When you try to delete a file, it may refuse with the following error messages:-
Cannot delete file: Access is denied.
There has been a sharing violation.
The source or destination file may be in use.
The file is in use by another program or user.
Make sure the disk is not full or write-protected and that the file is not currently in use.
Wise Force Deleter for Windows 11/10
All the above issues can be fixed by a freeware tool, which is called Wise Force Deleter. It is specially designed to fix the above-mentioned problems by terminating the process and allowing deleting the file/folder.
Wise Force Deleter can fix the issues by terminating the processes using the file or removing file-access restrictions that prevent you from deleting a file, which can not be rectified by the default Windows. Thus, wise Force Deleter unlocks the stubborn file/folder's access and deletes it without frustration in Windows.
Once the Wise Force Deleter is installed on your Windows PC, it integrates itself in the right-click context menu. That means you can easily delete a file using Wise Force Deleter by right-clicking on the file and selecting the "Force Delete" option.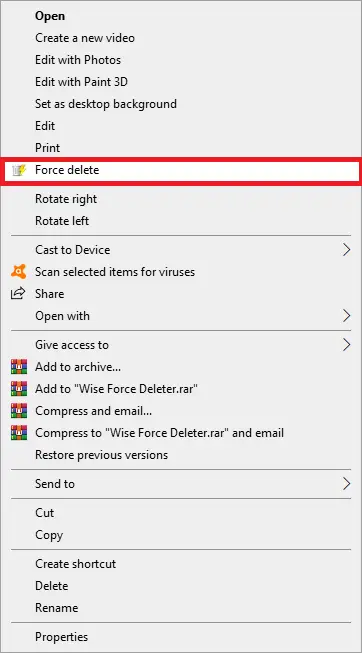 To unlock and delete a file on Windows 11/10, right-click on the file and select the "Force Delete" option to launch the Wise Force Deleter. Then you can unlock and delete the file from your Windows system immediately by clicking on the Unlock & Delete button. It will immediately unlock the file and delete it from your computer.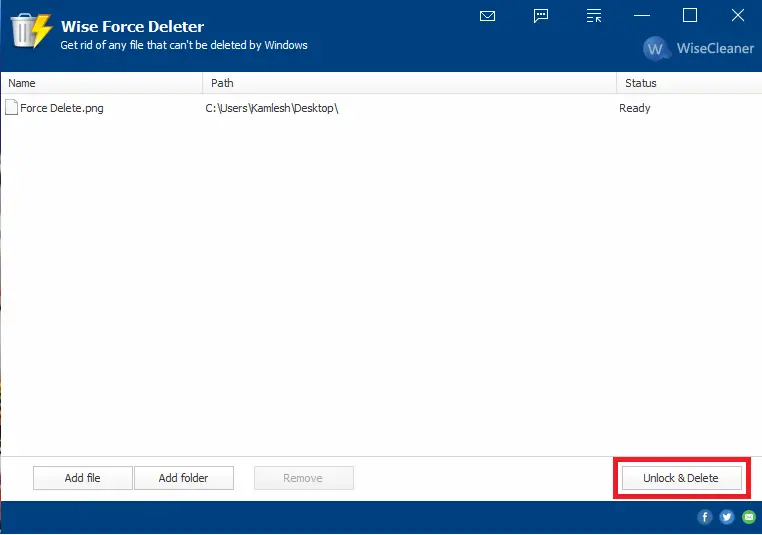 Wise Force Deleter can even delete multiple files and folders at once. It can handle a large no of files to unlock and delete. Just drag and drop all the files and folders which you want to delete on Wise Force Deleter, and click on the button "Unlock & Delete."
For those who are not convenient with drag and drop, buttons are available to add files/folders by browsing from your computer. One should note that once any file or folder is deleted using Wise Force Delete, it will be deleted permanently from the computer; you can't find it even on your Recycle Bin.
Wise Force Deleter is completely free for both commercial and non-commercial uses. It is compatible with 32-bit and 64-bit versions, including Win 11, 10, 8.1, 8, 7, Vista & Win XP.
Download Wise Force Deleter
You can download the latest Wise Force Deleter version from here (less than 2MB in size).
Unlocker and IObit Unlocker are other free tools that you might download and use on your PC.