In this giveaway, you will get a free license for WPS Office Premium Edition for 6 months. You can use this application as an alternative to MS Office. It comes with a similar feature as you can see on Microsoft Office.
WPS Office ships with all essential tools that you can use to make editing documents much easier. It is fully compatible with Microsoft Office (Word, Excel, and PowerPoint). That means, if you have earlier created a document using MS Office, you can still view and edit your documents using WPS Office.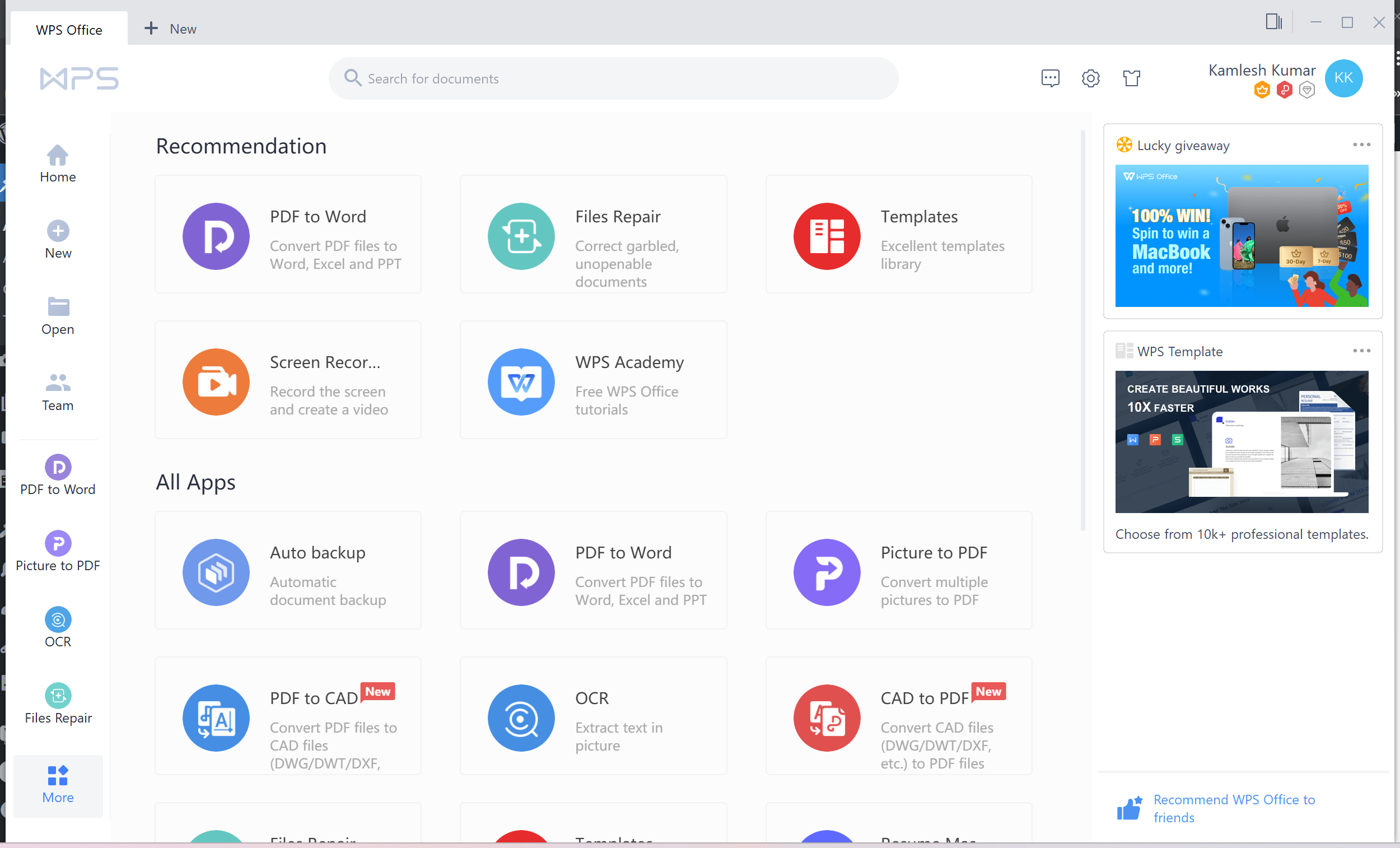 WPS Office can easily read and write Microsoft formats. It also includes a decent word and data processor program that lets you get work done.
This productivity suite is the perfect lightweight alternative to Microsoft Office. The free version replaces Word, Excel, and PowerPoint and, in addition to preserving the Office ribbon, has some.
WPS Office comes with similar features as MS Office. It also includes tabs that let you work on several documents in different tabs. It has a clean & modern user interface. During the installation of the app, you'll be offered with four different interface styles such as 2016 white, 2013 Elegant Black, 2013 Water blue & Classic style, and you can choose either.
The program is fully compatible with Windows 11, 10, 8/8.1, 7, Vista, and XP. Earlier known as Kingsoft Office, the WPS Office is fully compatible with Microsoft Word, PowerPoint, Excel, etc. programs. That means you can create, view, and edit each type of document such as doc, Docx, dot, dotx, ppt, pptx, PPS, ppsx, xls, xlsx, txt, RTF, pdf, HTML, etc. Using the WPS Office; you can also view and edit Google Docs.
WPS Office also offers free applications for your mobile phones, including iOS and Android. Even on your mobile, you can view, edit and create Writers (documents), Spreadsheets (spreadsheets), and Presentations (slideshows).
WPS Office Features
Includes Writer, Presentation, and Spreadsheets.
100% compatible with Microsoft Office and Google Docs/Apps.
It ships with over 200 fonts and hundreds of free templates.
Includes collaboration tools such as track changes, comments, and spell-check.
A lot of formulas and advanced spreadsheet tools.
Supports document encryption and read/write permissions.
Supports English, Spanish, Portuguese, French, Polish, German, and Russian languages.
Compatible with Windows 11/10 to Windows XP.
Tabs.
PDF to Word.
Picture to PDF.
OCR.
File Recovery.
Screen Recorder (Record screen and create a video).
WPS Office Premium Edition Giveaway Keys
To get premium access to WPS Office, visit the giveaway page and click the "Get Now" button. After that, sign up with your email address or use your Google or Facebook account.
Once you log in, you will gain access to a WPS Premium account. Now, download the WPS installer for Windows from here and install it on your PC. Now, sign in to your account and get a 3-month premium subscription for free.
If you are a macOS, Linux, Android, or iOS user, visit this page and download the installer for WPS Office.
You can also download WPS Office from this page for 6 months of premium access. Once you download and install it on your computer, you will notice a "Get Now" button. Just click the "Get Now" button and create an account to get a 6-month WPS membership for free.
Please note if the company starts a new giveaway for the WPS Office Premium Edition application, we will update this post with a new link and keys.