If you've been using a Windows computer for a while, it's natural to feel bored with the same old mouse cursors. Changing the mouse cursors can be an easy and effective way to make your desktop look fresh and unique. The process is simple: just download, install, and start using a new cursor theme.
Thankfully, there are many beautiful cursor options available online for free. This post shares some of the best cursor options that work with recent Windows operating systems, such as Windows 11, 10, 8.1, and 7. To install any cursor package, simply unzip it into a folder, right-click on the .inf file, and select "Install." The changes take effect immediately, refreshing the look of your Windows system.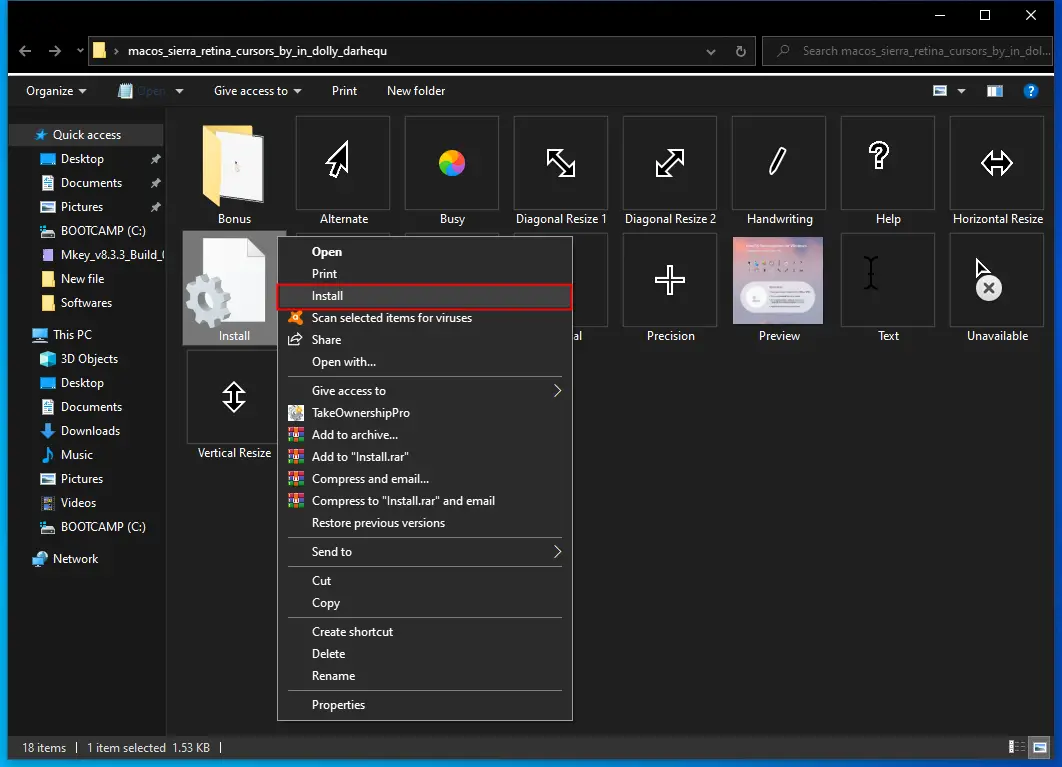 Changing the mouse pointers' schemes on your Windows 11/10 PC is easy if you've installed some mouse pointers schemes.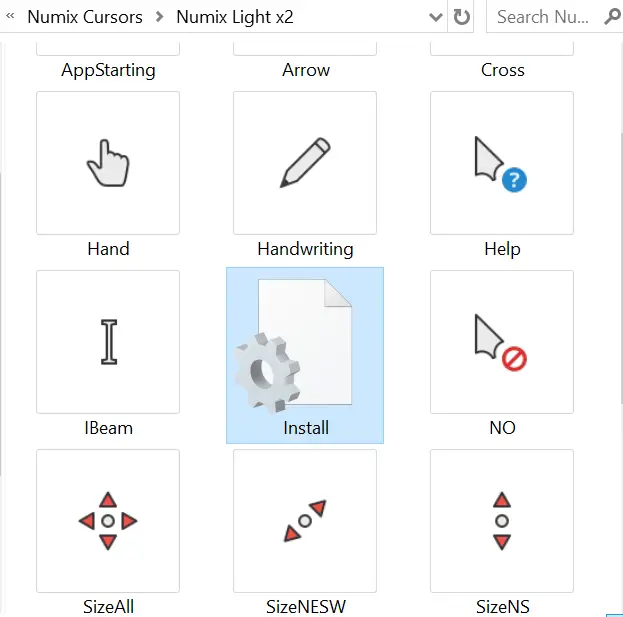 Numix Cursors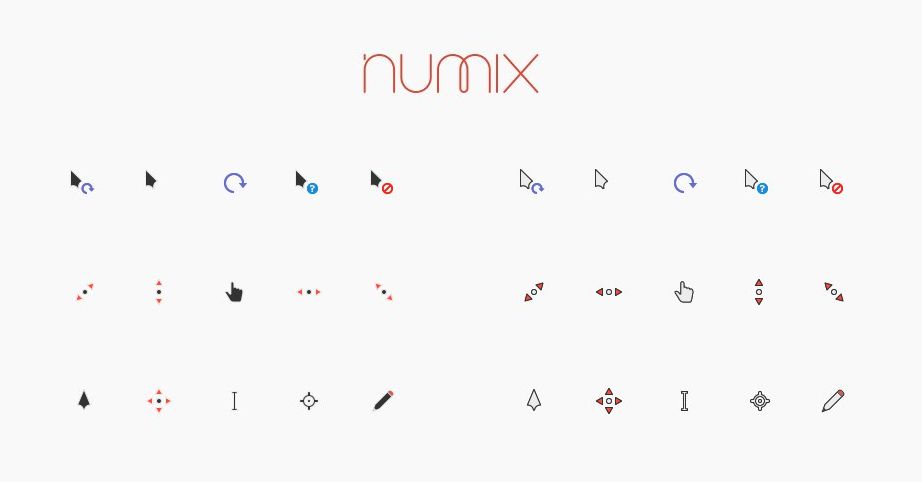 Numix is a set of customized mouse cursors for Windows PCs. Its pointers are smooth and elegant and look completely professional. This package includes both dark and light versions of the cursors. Install the package by running the install.inf file.
Polar Cursors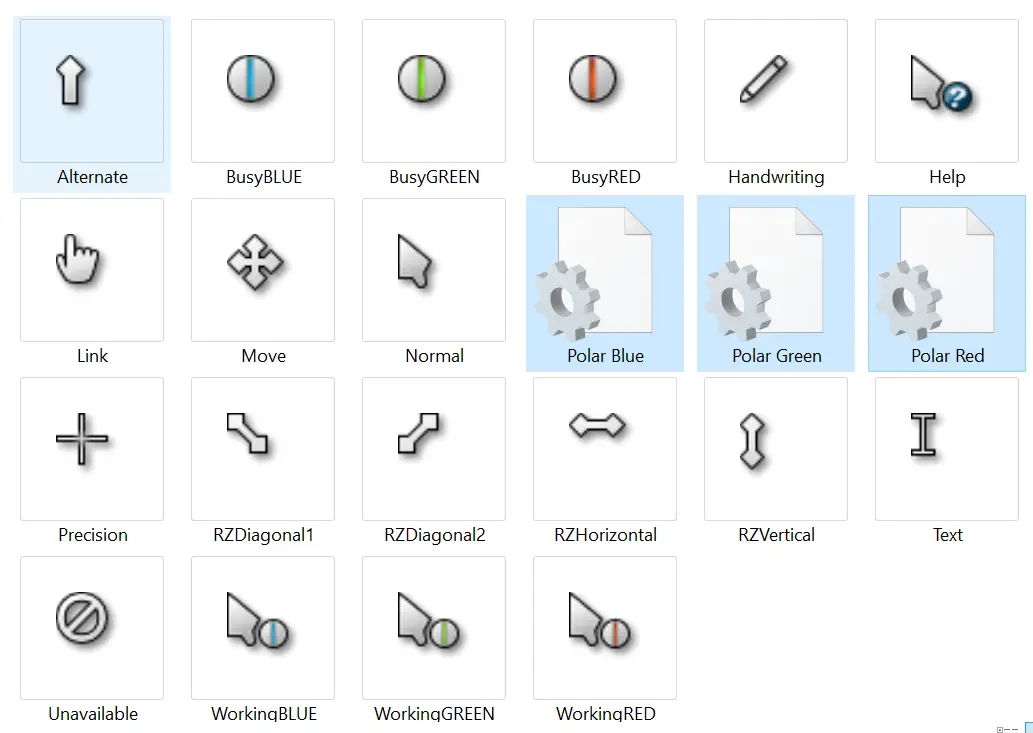 Eric Matthews made the original polar cursor set for Linux based on a similar custom theme. There are three sets included, white mouse pointers with red, white mouse pointers with green, and white mouse pointers with blue. Packages include .inf files that can be run to install them.
Oxygen Cursors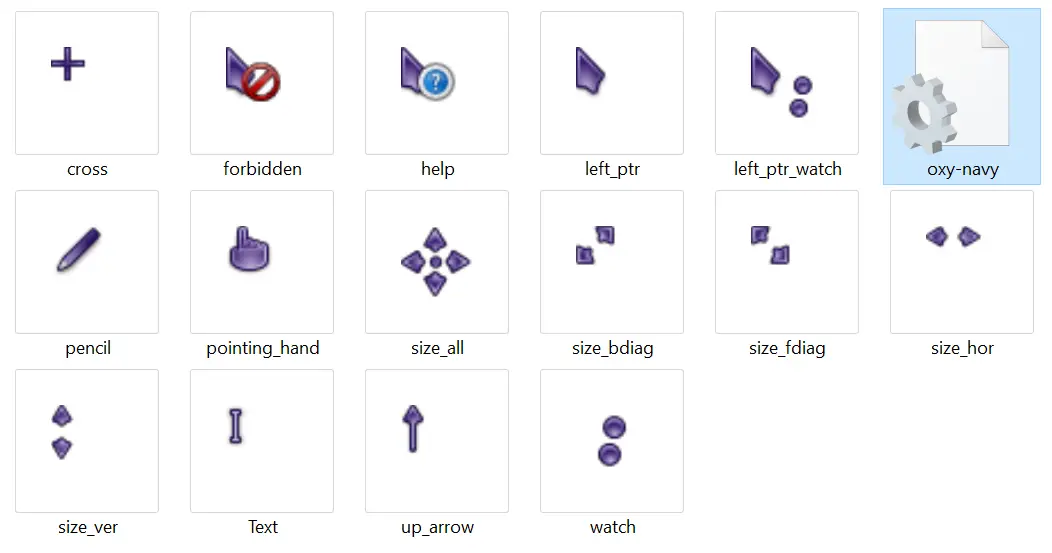 Oxygen Cursors are developed by the KDE team. There are 37 different color schemes available, including black, blue, blue curve, brown, cherry, dessert, green, grey, etc.
Android Material Cursors (Blue)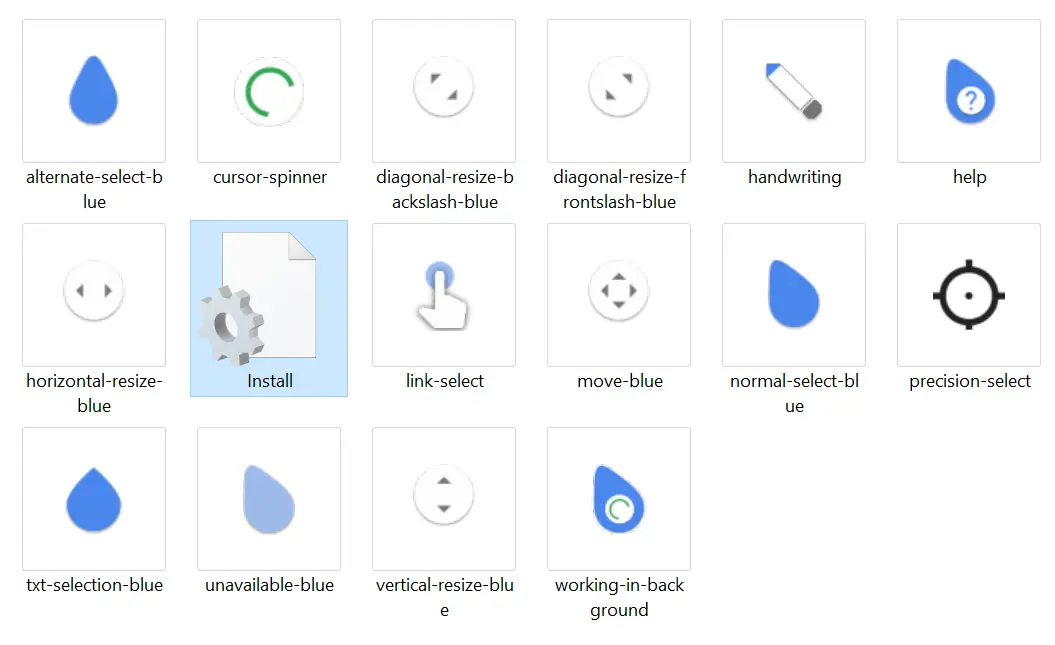 There's good news for Android users. Windows users who love Android and Google's material design can now enjoy the Android cursor set on their computers. You can install it on your Windows PC with the included .inf file.
Download Android Material Cursors (Blue)
GTCC Cursors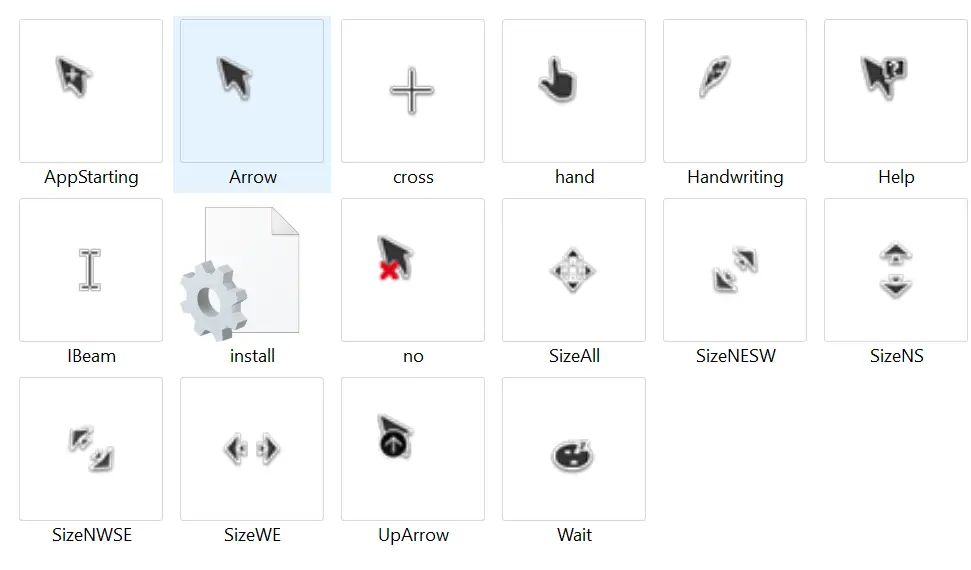 Another great mouse pointer set for Windows PC is GTCC. The gray arrows have a curved appearance, which makes them stand out from the crowd. There is also an .inf file included in this pack to make it easier to install on a computer or laptop.
El Capitan Cursors for Windows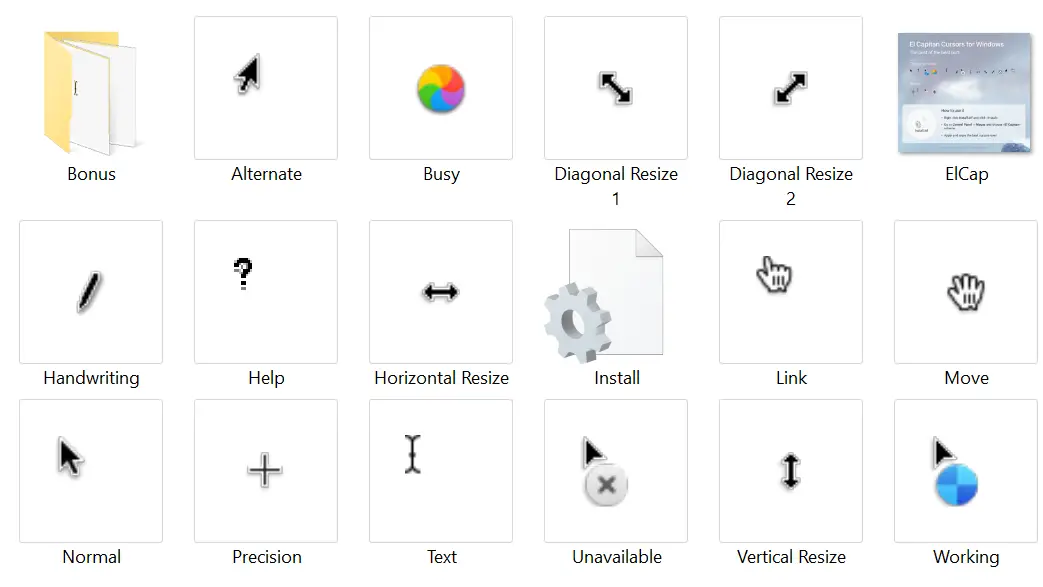 The El Capitan Cursors are an incredible set of cursors inspired by macOS. If you like the old El Capitan version of macOS, you'll love these cursors in Windows. The set comes with a
.inf
file, which makes it easy to install on Windows.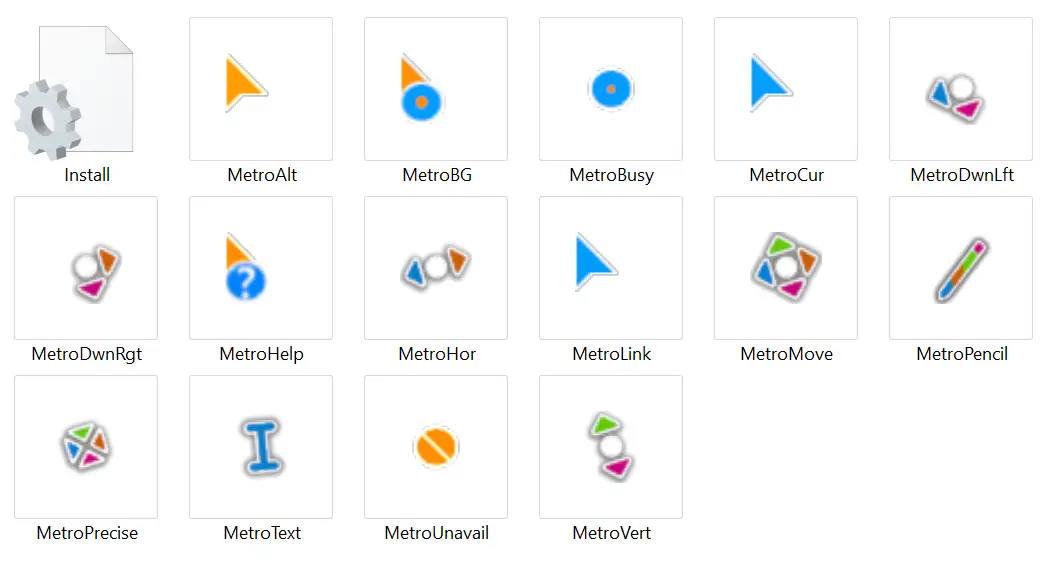 A Metro X Cursor Set is a collection of cursors in different colors. A .inf file is also included for Windows installation.
Gaia 10 Cursors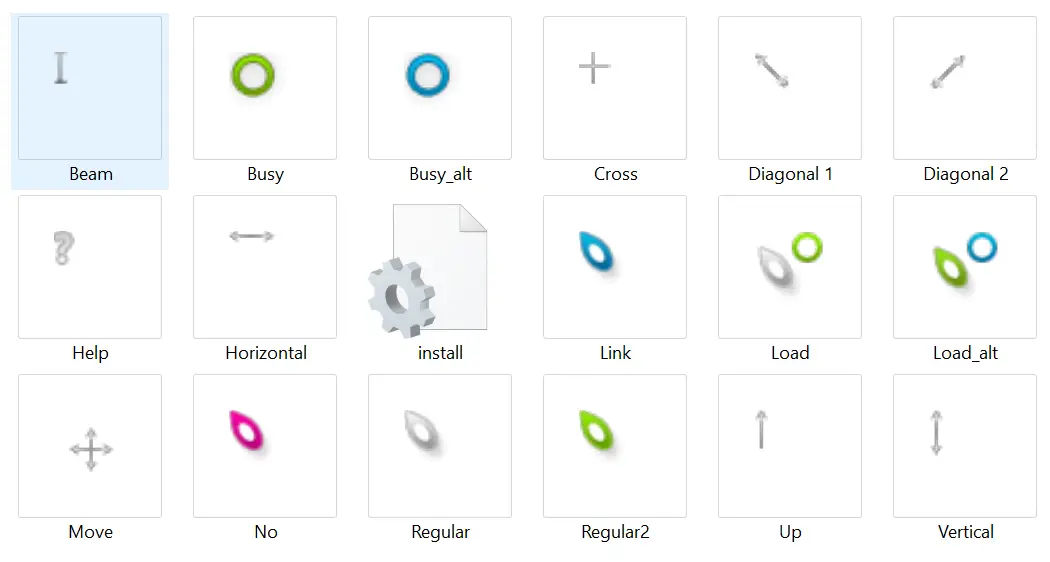 Gaia 10 comes with colorful mouse pointers. For easier installation, it also includes an inf file.
Gant Cursor Pack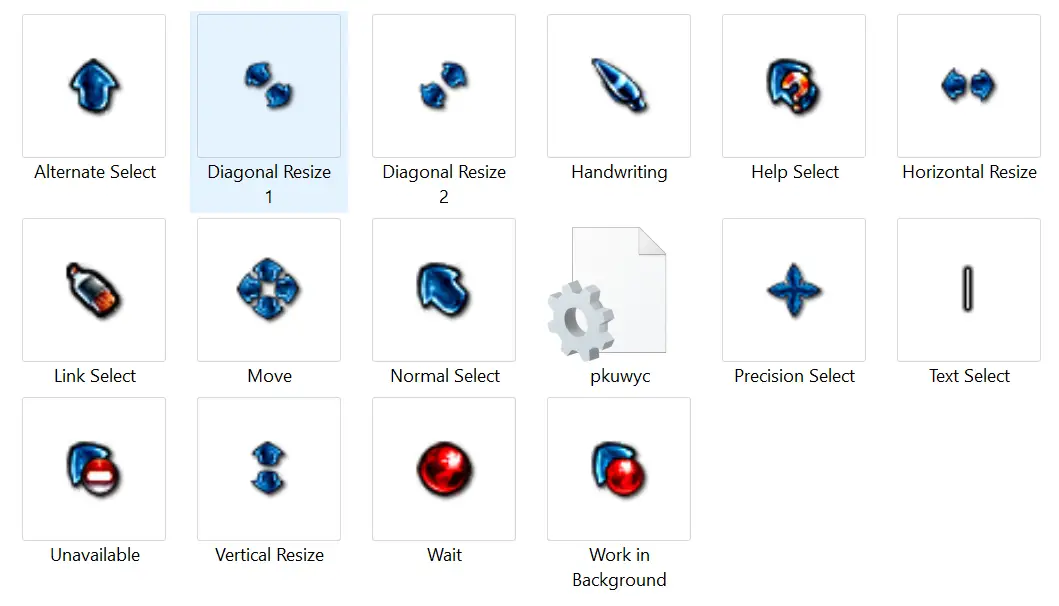 There are two color schemes in the "Gant Cursor Pack": yellow and blue, each with two sets. Thus, there are four separate folders containing four sets of GANT cursors. Each folder contains an inf file that must be installed on your computer.
Direction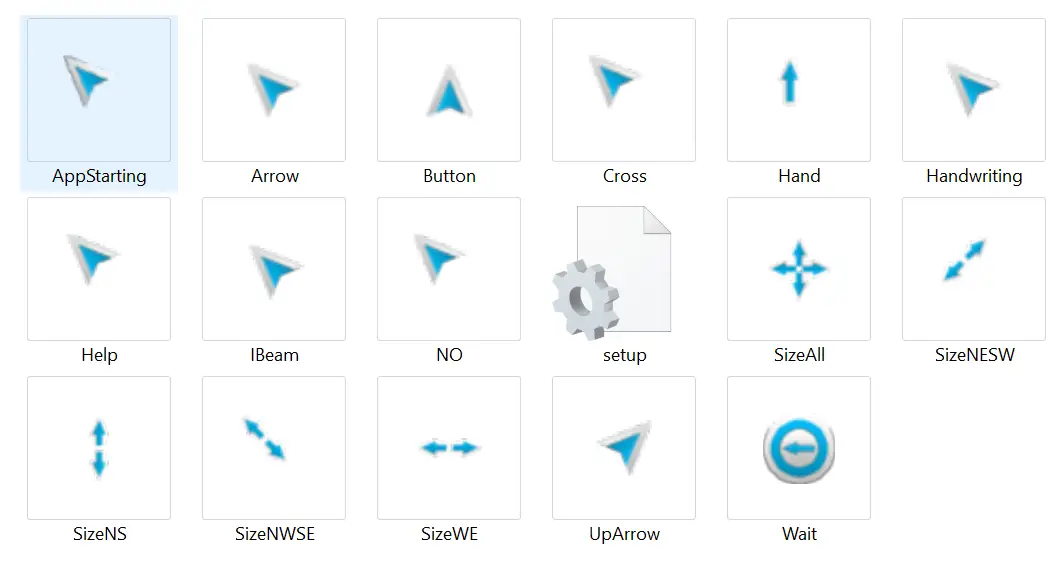 A set of extraordinary mouse pointers in light blue color comes with Direction. An inf file is included in the folder for easy installation.
Mario Gant Cursors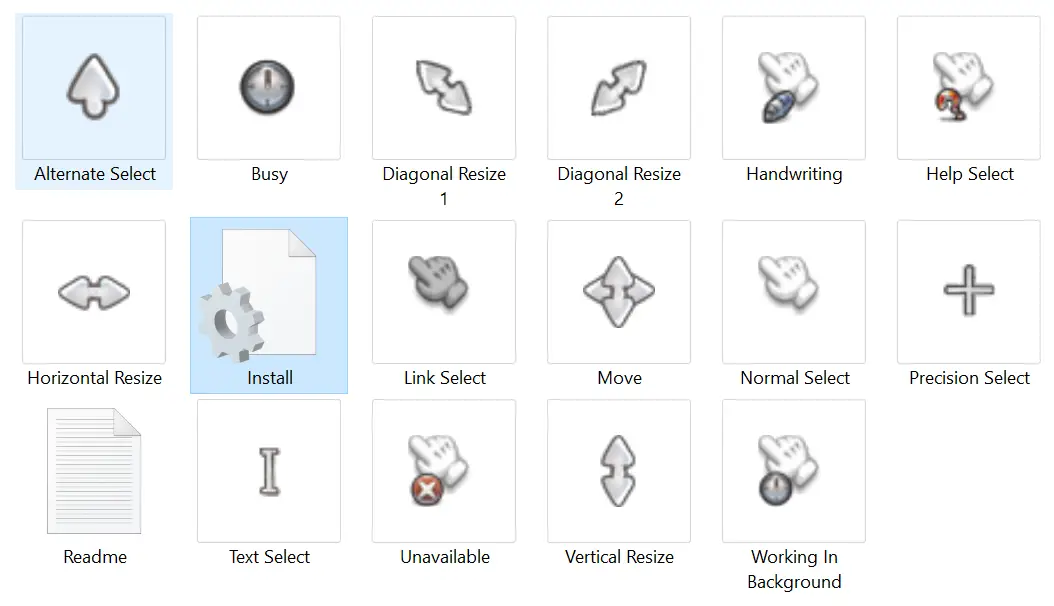 This set of cursors was developed based on Super Mario's character by the developer of Mario Gant Cursors. These mouse pointers are pretty awesome. Additionally, an inf file is included for installation on Windows PCs.
UNDERSized Cursors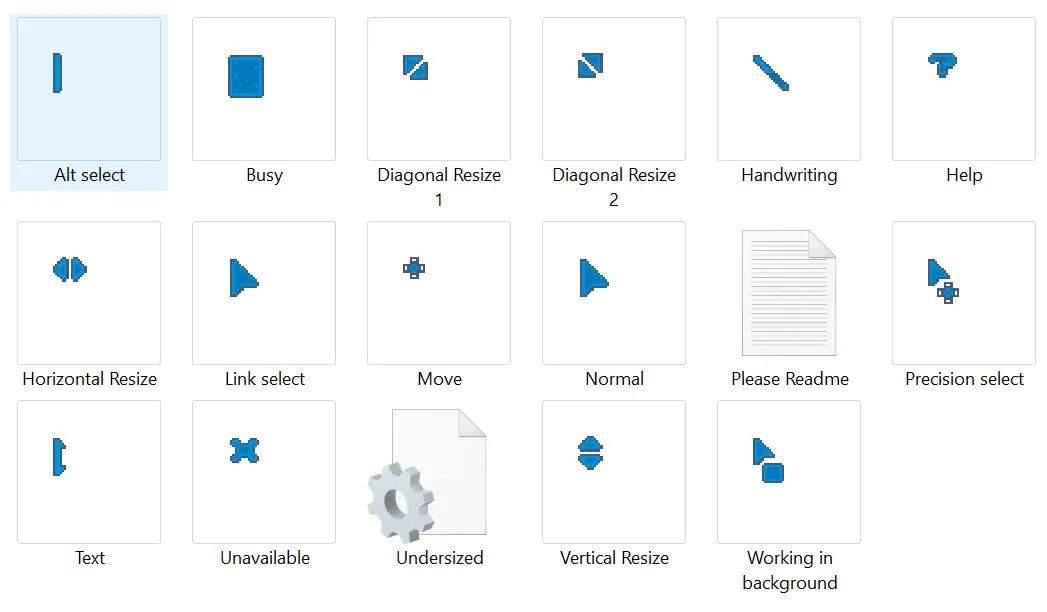 An inf file is included in this set of mouse pointers to install on your PC quickly. UNDERSized packs simple and small size sets of cursors specially designed for personal use on Windows PC.
Rainbow Cursors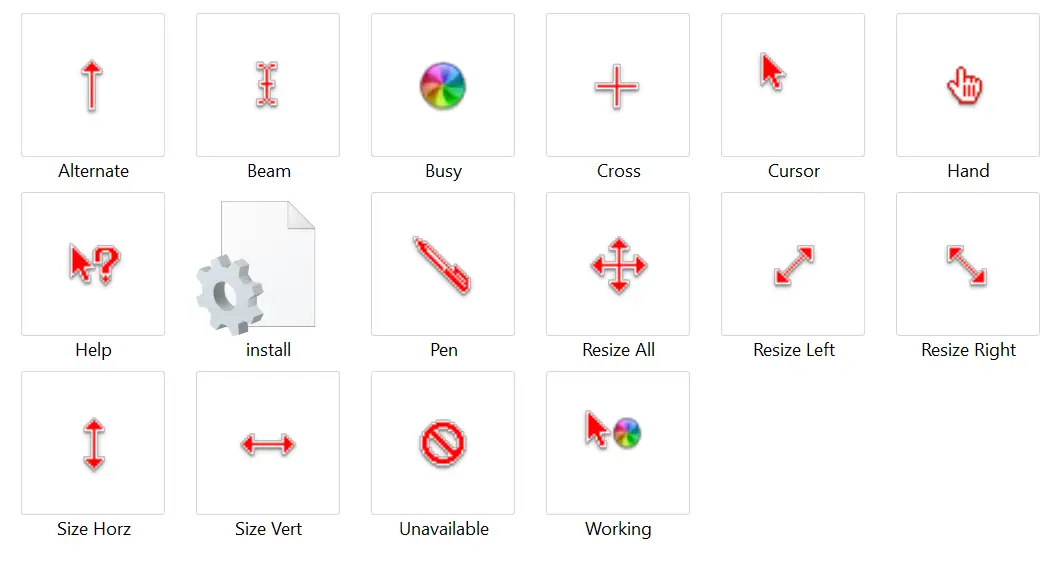 Cursors in Rainbow Cursors are based on Mac cursors that change color continuously. You will love this set of cursors if you like different colors. Additionally, an inf file is included for easy PC installation.
Metro X3 Cursor Set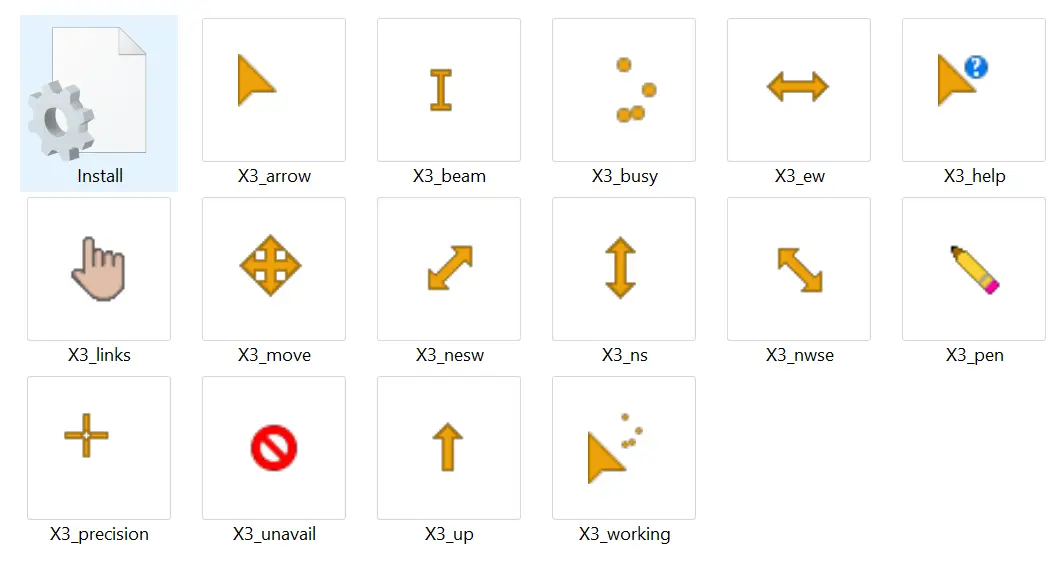 Metro X3 Cursor Set is a collection of cursors in different colors. The set also includes an inf file for Windows installation.
Mickey Mouse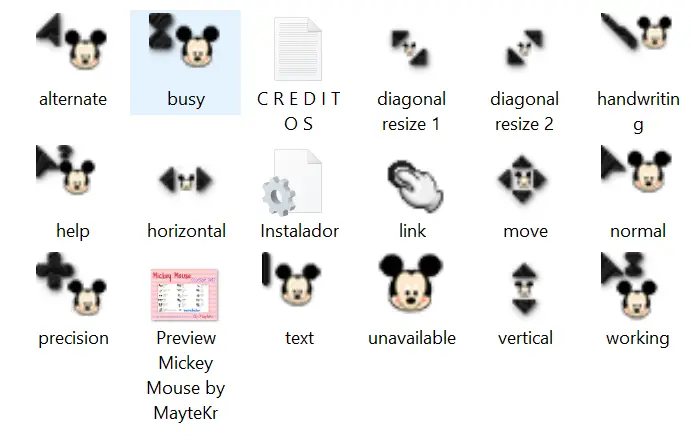 You will enjoy this set of mouse pointers if you are a fan of Mickey Mouse. Children have been kept in mind when designing these mouse pointers.
macOS Sierra Retina cursors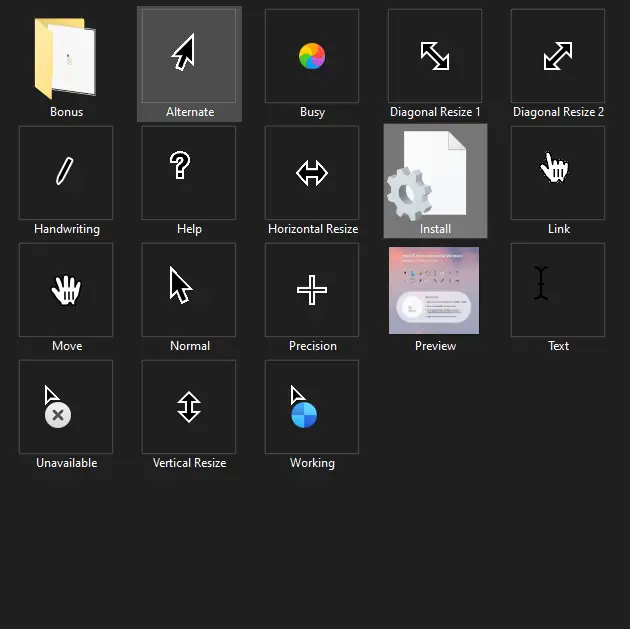 Sierra pointers come with macOS Sierra Retina cursors. You can easily install it on Windows PCs with the included .inf file.
You can download macOS Sierra Retina cursors from here.
Capitaine cursors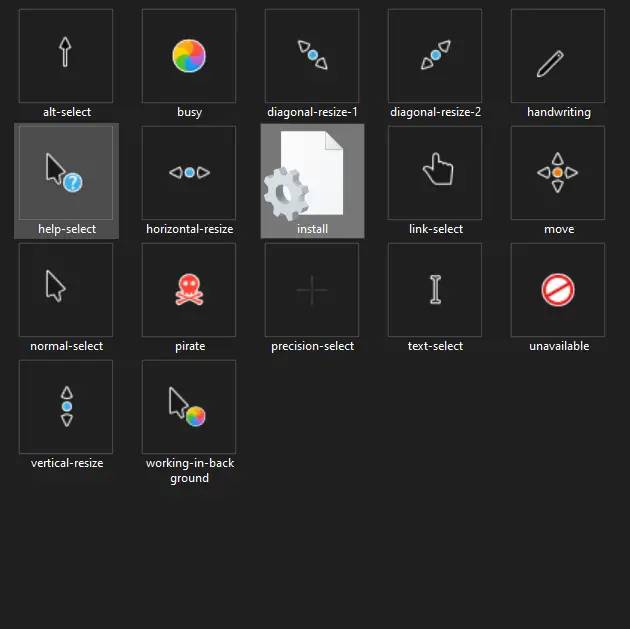 Capitaine cursors is an x-cursor theme inspired by macOS and is based on KDE Breeze. Unzip the files into a folder to install them. You will now need to navigate to the bin > Windows folder. Select the install option by right-clicking the install.inf file. That's all I have to say.
You can download Capitaine cursors from here.
Cursor Manager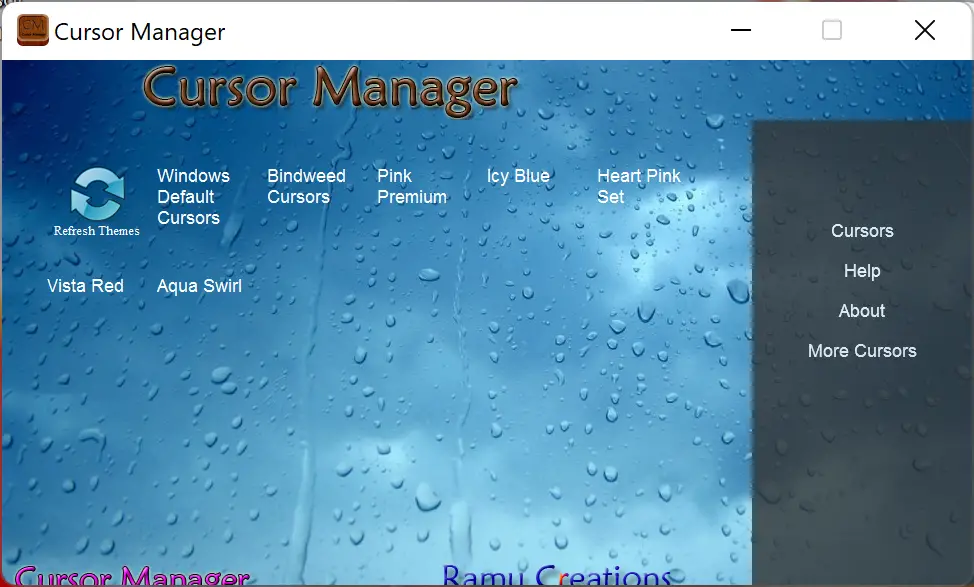 Cursor Manager is a special free cursor manager that comes as an executable file, unlike other cursor packs that include .inf files. By running this exe file, you can quickly manage mouse cursors on Windows 11/10. There are several mouse cursor themes available in this GUI-based program. The following mouse cursor themes are available: Bindweed Cursors, Pink Premium, Icy Blue, Heart Pink Set, Vista Red, and Aqua Swirl.
Aside from additional mouse cursors, it also includes the Windows default mouse cursor theme. To return to default mouse cursors, select "Windows Default Cursors" from its GUI.
You can download Cursor Manager from sourceforge.net.
WoW Cursors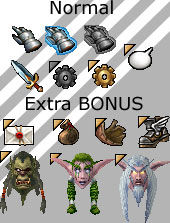 WoW Cursors are free mouse cursors based on the World of Warcraft game. If you love playing World of Warcraft, you will enjoy these mouse cursors. Once you have downloaded the cursor file, you will need to extract it on your computer. The extracted folder contains all the wonderful WoW mouse cursors. To use the custom cursors, open the Mouse Properties window and browse WoW Cursors' location.
You can download WoW Cursors from here.
Star Wars Reloaded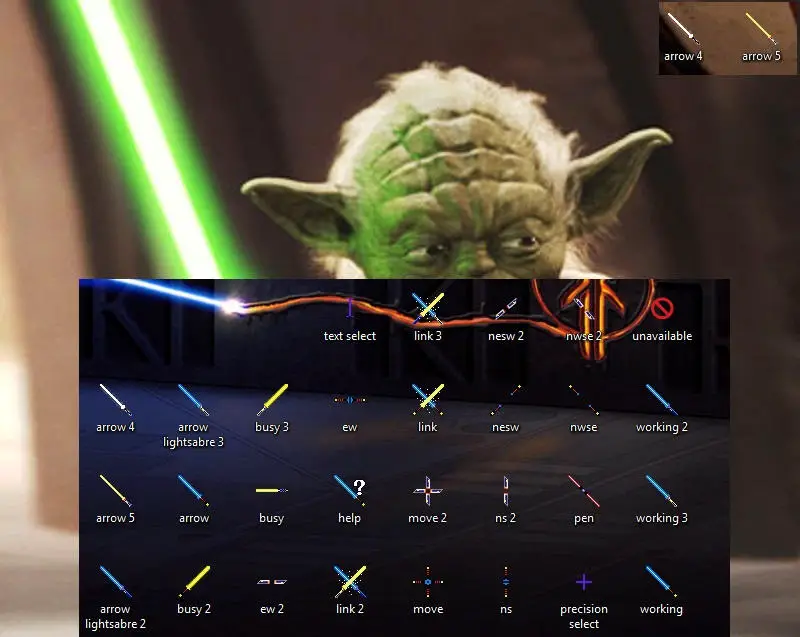 Using the Star Wars Reloaded theme for Windows 11/10; you can customize your mouse cursor. Various handy mouse cursors represent the Star Wars theme in different color codes.
You can download Star Wars Reloaded from here.
Chrome Glass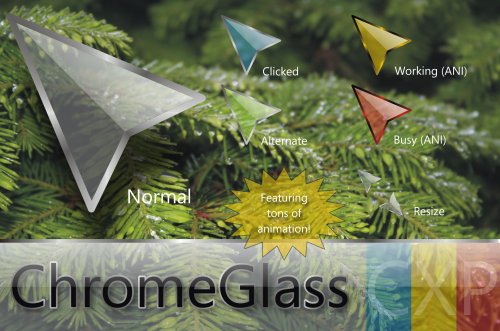 Another free mouse cursor set for Windows 11/10 is Chrome Glass. The cursor set in this package contains arrows in different colors, including white, blue, yellow, green, and red, to indicate different activities. It is an animated set of mouse cursors.
It comes with an executable file that you need to run as an administrator. In Windows' Mouse Properties, it will appear in the Scheme drop-down menu. When you run this executable file, select the Chrome Glass theme from Scheme's drop-down menu in Mouse Properties.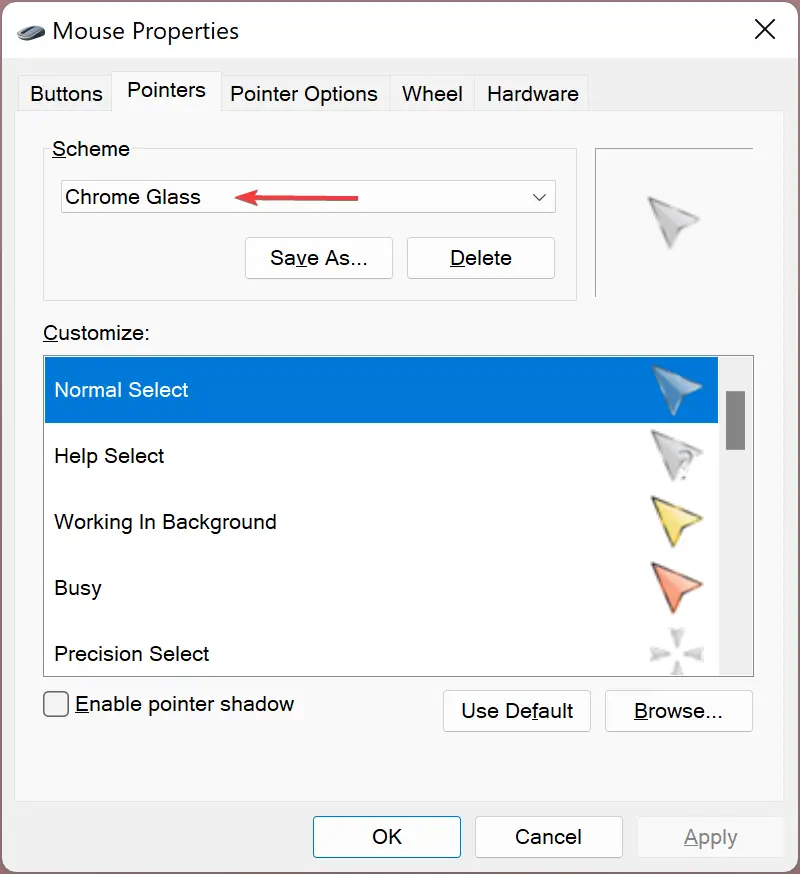 Gaia10 Cursors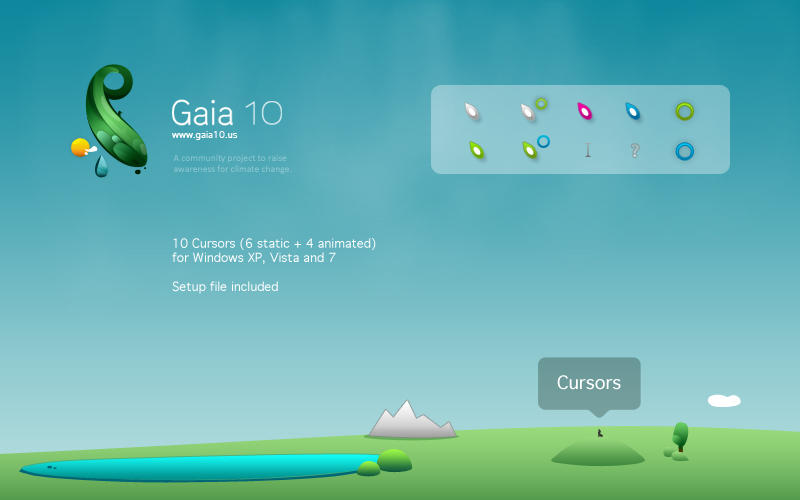 A set of free mouse cursors based on the Earth theme, Gaia10 Cursors is intended to spread environmental awareness and add a bit of greenery to your desktop. A total of 10 mouse cursors are included, including six static and four animated ones. If you like green, this mouse cursor set is for you.
Portal Themed Cursor Set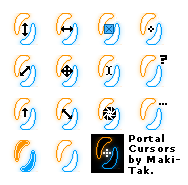 This "Portal Themed Cursor Set" is based on the Portal video game series. It brings back nostalgic memories of this quite old game. The cursor set transforms your mouse cursors into Portal gun crosshairs.
You can grab it here.
EVO Custom Cursors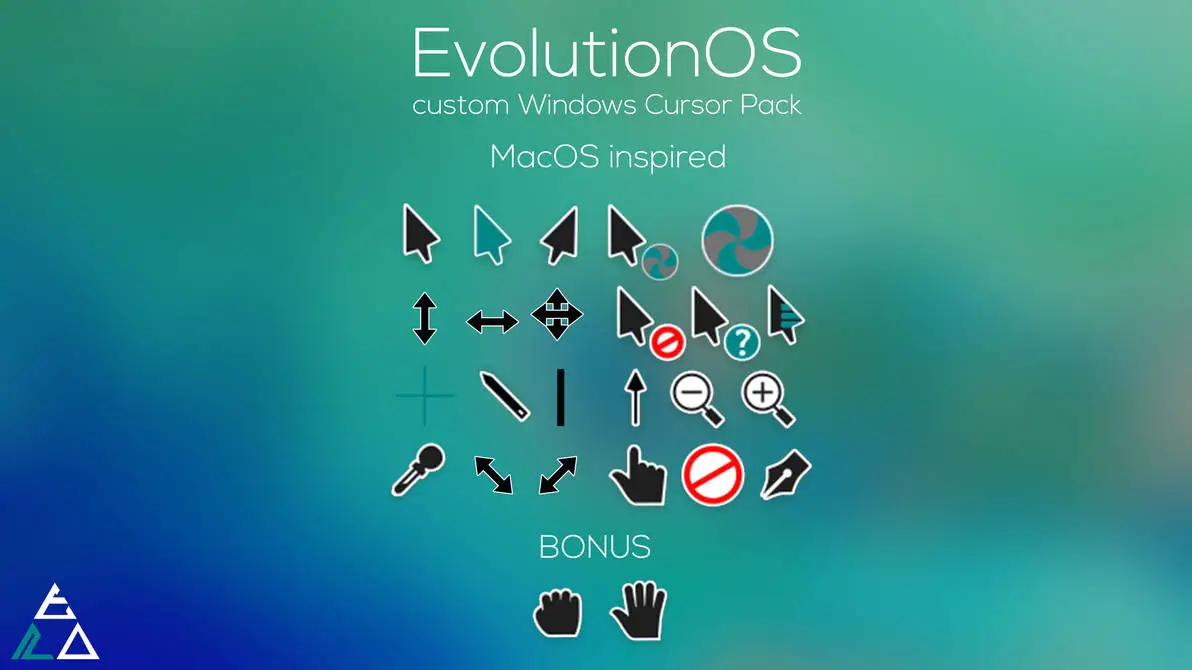 The EVO Custom Cursors are another free set of mouse pointers for Windows 11/10. These cursors will appeal to Mac lovers. There are 25 animated mouse cursors included in the package.
Wii Cursors
The Wii Cursors are based on the Wii's web browser. There are 18 cursors in this set, 15 of which are static and 3 of which are animated. A variety of mouse cursors are included in this set, including move, grab, help, open, pointer, and other mouse pointers.
We've compiled a list of the 25 best mouse cursors for Windows. Please let us know if you know of any other excellent set of cursors. Our team will include them.
Looking for a fresh and unique look for your mouse cursor? Check out these brand-new mouse pointers that are sure to impress! With a variety of designs and styles to choose from, there's something for everyone. Whether you're looking for a minimalist design or something more elaborate and detailed, these new cursors have got you covered. So why settle for a boring, default cursor when you can add some personality and style to your desktop? Give these new mouse pointers a try and elevate your computer experience to the next level!