It is recommended to keep your device drivers updated to gear up or speed up Windows 11/10 PC performance. Updated drivers keep PC health up to the notch and error-free. Updating device drivers from time to time is a good idea to improve hardware performance, add features or controls and improve stability and life.
From the Device Manager of Windows 11/10/8/7, you can change hardware settings, identify device drivers, install, uninstall, update, rollback, enable, and disable the drivers. Microsoft Updates also pushes the updated drivers as and when it is available. Double Driver and DriverBackup freeware utilities also let you backup and restore drivers on Windows 11/10 PC easily. This freeware automates the process and helps you identify, download, install or update drivers easily.
However, we also recommended to go to the manufacturer's website and then searching for the correct drivers and to download the latest device drivers for your system requirements. Earlier, we saw the download links of NVIDIA drivers for Windows 10/8/7 and learned about Intel Driver & Support Assistant.
In this gearupwindows post, we will check how to download and update AMD drivers with AMD Driver Autodetect.
AMD Driver Autodetect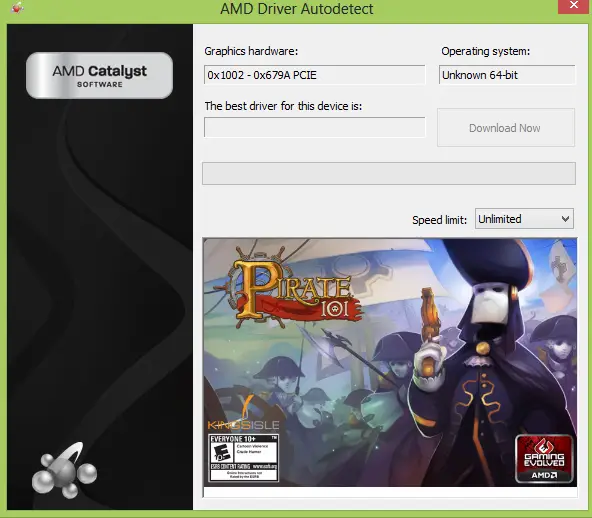 AMD Driver Autodetect is a free utility that automatically detects the computer or laptop's graphics card and Windows operating system. If there is a new driver available for your PC, this tool will download it with a single click and start the installation process. The auto-detect tool allows you to download and install the latest official driver from the AMD website.
AMD Driver Autodetect
Those using AMD products can download the AMD Driver Autodetect tool from its official website. If something goes wrong or the device is not working correctly, you can uninstall all the AMD Drivers using AMD Cleanup Utility.
Download AMD drivers
If you want to download the specific drivers for an AMD product, you can download them from here.