An ISO file (also known as an ISO image) is an archive file that contains an identical copy (or image) of data found on an optical disc, like a CD or DVD. It is regularly used for backing up optical discs or distributing large file sets intended to burn to an optical disc.
On Windows Vista and XP, we use third-party software to mount an ISO image to a virtual drive. However, Microsoft has added an inbuilt feature on Windows 7 to mount an ISO image in virtual CD ROM, and it continues to Windows 10. That means, without any third-party tool, you can mount an ISO image on a virtual drive in Windows 11, 10, 8, and 7.  If you are still hunting for the best emulator can download WinCDEmu and use it. It is compatible with Windows 11 and is hardly 1.50MB in its size.
Folder2iso for Windows
In this gearupwindows tutorial, we are going to introduce a free tool, Folder2iso. Unlike the other software, which comes with several features, Folder2iso comes with a single functionality. Folder2iso only converts a folder to an ISO file.
This is portable software and does not needs installation on your Windows PC. You can even carry it in a USB drive and start converting the folder to ISO. Using Folder2iso is quite simple, and a novice can also get addicted to this gem.
How to use Folder2iso?
Step 1. To use Folder2iso, download it and extract it in a folder using any achiever tool.
Step 2. Double-click on the Folder2iso executable file to open it.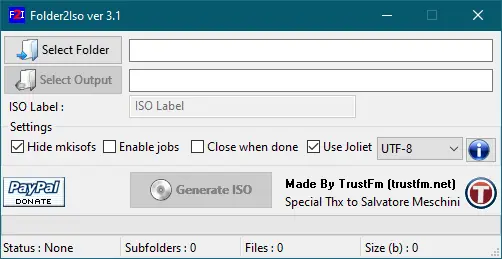 Step 3. Click on the "Select Folder" icon to select a folder from your PC or drag a folder to the interface of "Folder2iso" software.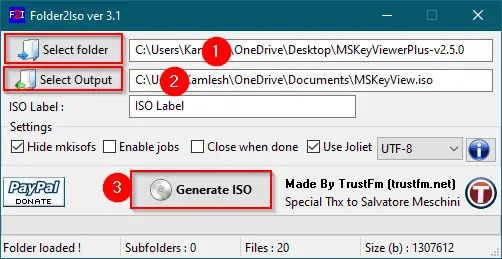 Step 4. Select the Output folder by clicking on the button "Select Output" and finally, click on the "Generate ISO" button.
Once you complete the above steps, you will have an ISO file of the selected folder on your Windows PC within a minute (depends upon the size of the folder.
Download Folder2iso
Folder2iso is compatible with Windows and Linux operating systems. You can download and use it on all versions of Windows, including Win 11, 10, 8, 7, Vista, and Win XP. You can download this free and tiny utility (less than 3MB) latest version from its official website.