There is nothing wrong with the built-in mounting feature of Windows 8 and 10, but if you need more features, you would prefer to use freeware tools like WinCDEmu, Virtual CloneDrive, etc.
gBurner Virtual Drive for Windows
gBurner Virtual Drive is a free software utility that enables you to create and manage virtual CD/DVD drives on your computer. This utility allows you to mount various disk image formats such as ISO, BIN, and CUE files, as well as create ISO image files from CDs and DVDs. With gBurner Virtual Drive, you can easily access your virtual disks as if they were physical disks, which can be particularly useful if your computer doesn't have a CD/DVD drive or if you need to access multiple disks simultaneously.
gBurner Virtual Drive is a free utility available for Windows PC that is specially designed for creating and managing virtual CD / DVD drives. It features a vast list of CD/DVD image file formats. You can mount the following image formats on a Windows PC:-
ISO (Standard ISO File)
GBI / GBP (gBurner Image Files)
DAA (PowerISO Image Files)
NRG (Nero Image Files)
MDF / MDS (Alcohol Image Files)
BIN / CUE (CDRWin Image Files)
UIF (MagicISO Image Files)
ISZ (UltraISO Image Files)
ASHDISC (Ashampoo Image Files)
DMG (Apple Mac Image Files)
GI (RecordNow Image Files)
BWI / B5I (BlindWrite Image Files)
IMG (CloneCD Image Files)
CDI (DiscJugger Image Files)
PDI (InstantCopy Image Files)
NCD (NTI CD-Maker Image Files)
LCD (CDSpace Image Files)
CIF (Easy CD/DVD Creator Image Files)
P01 (Gear Image Files)
PXI (PlexTools Image Files)
C2D (WinOnCD Image Files)
FCD (Virtual CD-ROM Image Files)
VCD (Virtual Drive Image Files)
gBurner Virtual Drive offers to create a maximum of 16 virtual drives and can be mounted above-mentioned all format image files. Once you download and install it on your PC, you can mount LCD, CIF, C2D, NRG, DMG, GI, ISO, BWI, BIN, MDF/MDS, GBI,  IMG, PDI, VCD, FCD, C2D, and other format image files.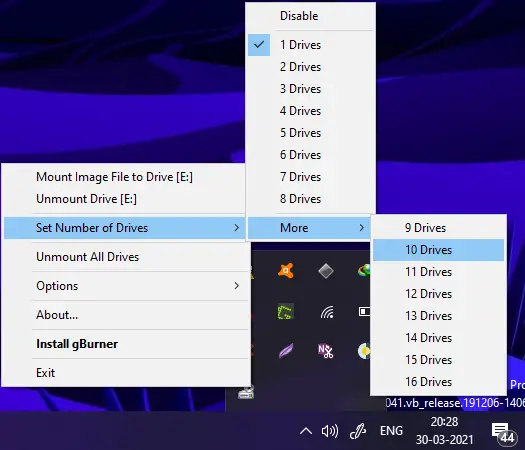 Once installed on your computer or laptop, it sits in the system tray in the Taskbar. You can access all the settings of gBurner Virtual Drive by right-clicking on its tray icon. You can set the number of drives and then use the mount option for those drives. Unmounting a single drive and unmounting all drives together options are also present there. If you don't want any virtual drives, there is no need to uninstall this software; there is an option available to disable all virtual drives.
If you need, you can also access the Configuration panel of this software by accessing this tool's Options section. The Configuration panel lets you set the drives, assign a letter to a virtual drive, and autostart this software. You can even enable/disable automount image files through the configuration panel of the gBurner Virtual Drive.
Overall gBurner Virtual Drive tool is good and can mount up to 26 CD/DVD image formats. There are limited options available on this software that a novice can also operate. There are two separate files available for 32-bit and 64-bit architecture; before downloading, make sure you have chosen the right file. You can utilize this freeware utility on Windows 10, 8, 7, Vista, and XP.
Download gBurner Virtual Drive
You can download the gBurner Virtual Drive freeware utility from its official webpage.
Conclusion
In conclusion, while Windows 8 and 10 have a built-in mounting feature, there are several freeware tools available that offer additional features and functionality for mounting virtual CD/DVD drives. Among these tools, WinCDEmu, Virtual CloneDrive, and gBurner Virtual Drive stand out as reliable options. gBurner Virtual Drive, in particular, is a free utility that allows users to create and manage virtual CD/DVD drives effortlessly. It supports a wide range of image file formats, making it versatile and compatible with various disk images. With the ability to create up to 16 virtual drives and an intuitive interface accessible from the system tray, gBurner Virtual Drive offers a user-friendly experience. The configuration panel provides further customization options, allowing users to assign drive letters, enable/disable automount, and autostart the software. Overall, gBurner Virtual Drive is a reliable tool suitable for both novice and experienced users, available for Windows 10, 8, 7, Vista, and XP.