Windows 8, 10, and 11 come with an inbuilt feature to mount ISO files on a virtual drive. However, if you are still using Windows 7 or previous Windows versions, you have to use a third-party tool to mount an image file, for instance, gBurner Virtual Drive, WinCDEmu, Virtual CloneDrive, etc.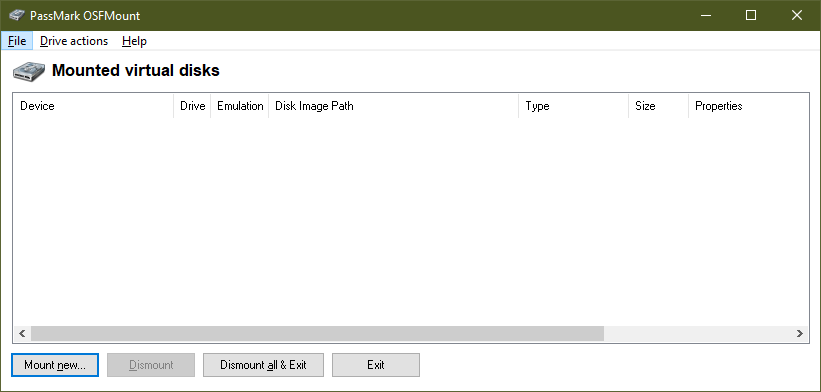 PassMark OSFMount
PassMark OSFMount is a powerful tool available for Windows PC that lets you mount an image file on a virtual disk. It mounts local disk image files in Windows as a physical disk or a logical drive letter. Once you mount the image file to a virtual disk, you analyze the disk data, play audio/files, or whatever data is stored in the image file. By default, the image files are mounted as read-only so that the original image files are unchanged.
The beauty of the OSFMount is that it supports mounting disk image files as read/writes in "write cache" mode. This software stores all writes to a "write cache" file, which preserves the original disk image file's integrity.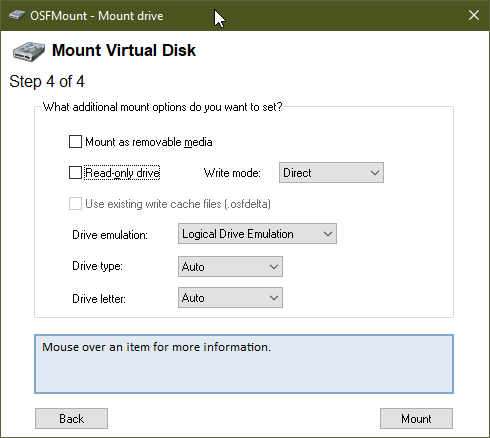 OSFMount features the facility to create RAM disks, in other words, a disk mounted into RAM. This feature provides a large speed benefit over using a hard disk. It is useful when working with applications requiring high-speed disk access, such as database applications, games, etc. Another benefit of mounting image files on RAM is that disk contents are not stored on a physical hard disk (but rather in RAM), and on system shutdown, the RAM's data gets erased automatically.
PassMark OSFMount software lets you mount ISO, VMDK, BIN, ISO, IMG, VHD, NRG, AFF, AFD, and other format files. Once you install it on your PC, you can create multiple virtual drives and view the list of all those drives on its interface. You can dismount individual image files or all image files at once. This freeware tool can also create virtual RAM disks, which helps mount an image file to a virtual RAM disk instead of a virtual disk.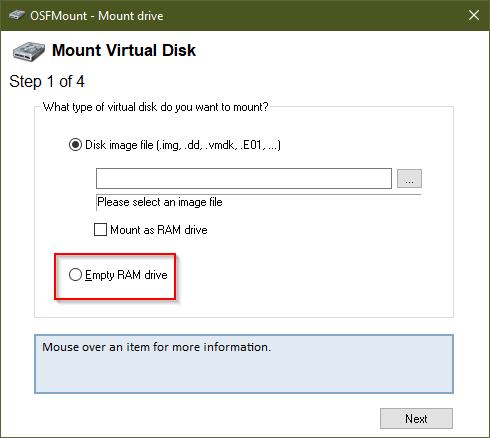 PassMark OSFMount is easy-to-use software and comes with a nice user interface. Just open its interface and click Mount new button. You can also use the File menu to mount an image file. Now a separate window will open. Select the Disk image file option. Here, you will also find an option to checkmark "Mount as RAM drive" to mount the image file to RAM.
After that, click on the browse button (…) to select an ISO image from your PC and press the Next button. In the next step, it automatically selects the entire mount image as a virtual disk option. Go to the next step and select options as per your need.
It is compatible with all versions of Windows, including Windows XP, Vista, 7, 8, 10, and 11.
Download PassMark OSFMount
The PassMark OSFMount is free-to-use software, and you can download it from its official webpage. There are two separate files available for 32-bit and 64-bit operating systems; make sure to download the correct one for your PC.
Conclusion
In conclusion, while Windows 8, 10, and 11 provide built-in features to mount ISO files on a virtual drive, users of Windows 7 or earlier versions require third-party tools to achieve the same functionality. One such reliable tool is PassMark OSFMount, a powerful software utility available for Windows PCs. OSFMount allows users to mount local disk image files as physical disks or logical drive letters. The software supports various image file formats and offers the option to mount files as read-only or in "write cache" mode to preserve the original image file's integrity. Additionally, OSFMount enables the creation of virtual RAM disks, providing high-speed disk access and data storage in RAM rather than on physical hard disks. The user-friendly interface of OSFMount makes it easy to mount image files and manage virtual drives, with options to dismount individual or all image files at once. The software is compatible with multiple Windows versions, including Windows XP, Vista, 7, 8, 10, and 11. PassMark OSFMount is available as a free-to-use tool, and users can download it from the official webpage, ensuring they select the appropriate version for their operating system.