Do you have a PDF file that you want to crop? In this article, we will guide you to cropping PDF files on Windows 11/10. If you have PDF files that have unnecessary margins, you can easily remove them with third-party software. Several times we see PDF pages that include excessive margins.
Multiple online and offline tools are available for Windows 11/10 that allow you to crop PDF pages. However, we will review only freeware software in this post. Using the software, manually enter the crop margins or make the crop box selection on the PDF page.
Free PDF Files Cropper for Windows 11/10
3StepPDF Lite
3StepPDF Lite is one the best freeware tool for Windows operating system using which you can crop PDF pages. Apart from cropping PDFs, this software lets you split, merge, and watermark PDF pages. It even supports batch crop PDF files.
To use this software, download it from the official website and double-click on the installer to install it on your PC. Now, double-click on its shortcut icon from the desktop to launch it. On its home screen, you see several tools, including Create New PDF Document, Spit PDF Documents, Watermark PDF Documents, Extract Text from Scanned Document, Merge PDF Documents, and Crop PDF Documents. Click on the Crop PDF Documents option to proceed with further steps of cropping a PDF file.
On the window that opens, click on the Browse button to select the output folder from your PC and then click on the Add button to choose a single PDF file or folder containing multip PDF documents. According to your needs, once the PDF document is added to the application interface, set up the crop settings, including width, height, origin, etc. Finally, click on the Crop Documents button to crop added PDF(s) documents.
After executing the above steps, you should crop your PDF documents according to your requirements.
AlterPDF
AlterPDF is another free software that allows you to crop PDF documents on Windows 11/10. Apart from the cropping PDF pages, it offers the following functionality:-
Convert PDF to images
Convert Excel to PDF
Merge and Split PDF files
Apply watermarks
Crop PDF and rotate pages
Extract text and images from PDF
Convert Word to PDF
Convert images to PDF
Extract pages from PDF
Remove pages from PDF
Change PDF metadata
Encrypt, decrypt and protect PDF from being copied
Convert PDF to Word
To use this software, go ahead and download it from the application homepage. Unzip the archive file using WinRAR or the built-in Compression Tool and then double-click on the executable file to install it on your PC. Now, launch the application by double-clicking on its desktop shortcut icon and then drag the PDF file to its interface.
Now select Operations from the menu and click on the Crop Pages option.
Next, select all or specific pages of PDFs that you want to crop and then enter crop box position, including origin, width, and height. Finally, click on the Crop button.
Now the software will crop the PDF files as you have specified margins. However, the free version of AlterPDF allows you to trim the first three pages only. If you want to crop more oversized PDF pages, you need to purchase the Pro version of this software.
PDF Shaper Free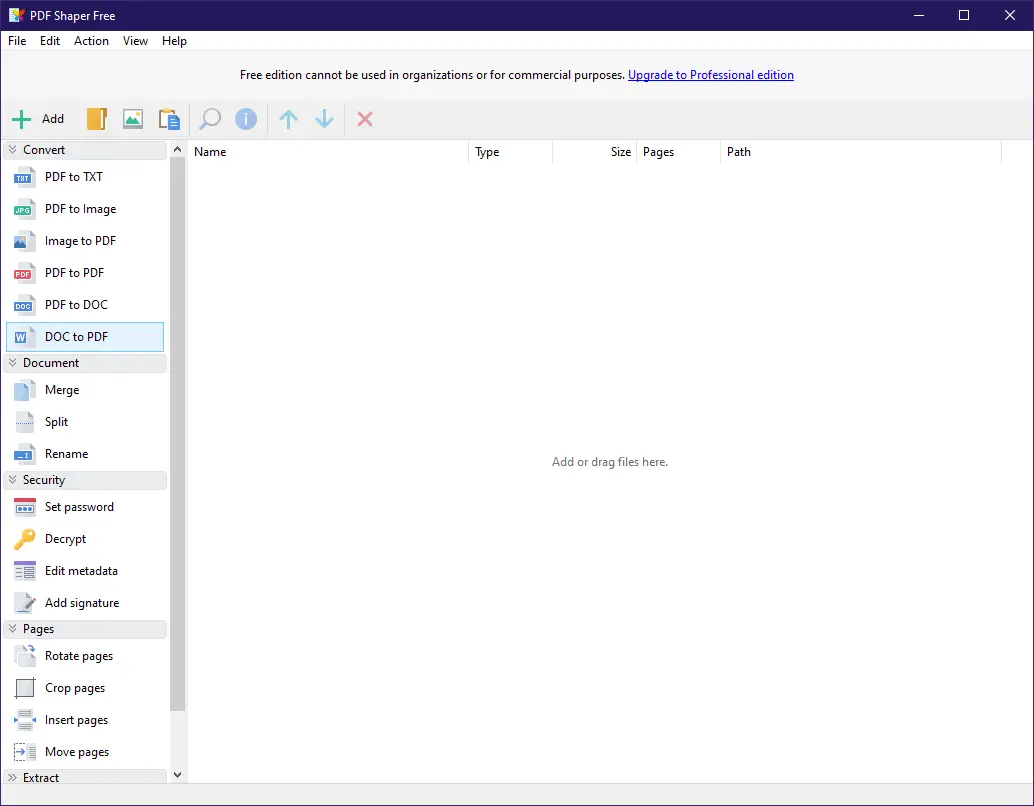 PDF Shaper Free is another free utility to crop PDF pages on Windows 11/10. Apart from cropping PDF files, it lets you encrypt, convert, merge, split, extract, watermark, and perform other PDF-related tasks. You can trim one or multiple PDF files at one using this freeware tool.
To crop a file using PDF Shaper, download and install on your computer and then open it by clicking on its desktop shortcut icon. Click on the Add from the toolbar and add your PDF file that you would like to crop.
Now, click on the Pages section to expand it and click on the Crop pages option.
Now a new window will open up. Select the margins and pages that you want to crop. Finally, click on the Proceed button to get the desired result.
The application will ask you a location where you want to save the cropped PDF file. Select the location and name the PDF file. That's it.