There are various ways to check your PC's complete information or specification without using a third-party tool. These include the Settings app, System Information, DirectX Diagnostic Tool, PowerShell, and Command Prompt. Those who want to use a third-party tool can download and install Speccy to view each component on their machine in a single window.
O&O DeskInfo for Windows 11/10
O&O DeskInfo is also a freeware tool but different from others. It directly shows you the most important system information on your Windows desktop. This means that you always have a summary of what is happening on your PC. You can immediately access specific information in the event you need support from your system administrator.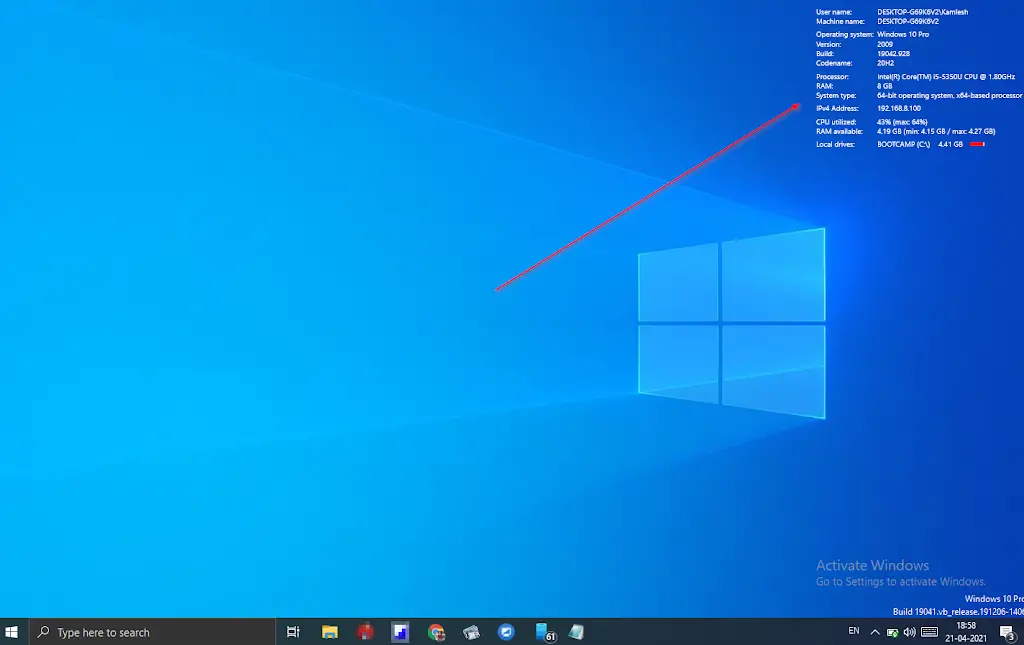 DeskInfo is a portable and free application. To see the system information right on the desktop, download and run this tool. By default, this software shows all the essential information about your computer or laptop on the top right screen of the Windows Desktop, including user name, machine name, operating system, version, OS build, codename, processor manufacturer, & type, installed RAM (memory), available RAM, system type (32-bit or 64-bit), IP address of your PC, usage of CPU, available storage, and so on.
There are many Settings available which you can access by right-clicking its icon on the system tray. You can configure the Desklnfo to start immediately with Windows. You can turn this off at any time via the context menu and also turn it on again by navigating to the DeskInfo system tray icon > Start with Windows.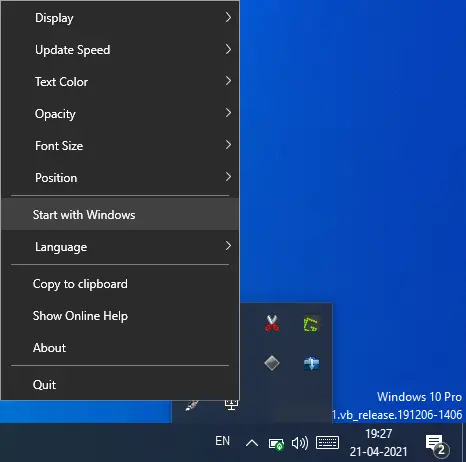 Another noticeable feature is the "Copy to clipboard" option. By selecting this option, the software will copy the critical system information of your machine in a notepad file, which you can save on your computer for review view.
As said above, by default, it displays the system information on the right top of the screen; if you want to adjust, you can do the same through the "Position" context menu.
As stated above, it shows only a few pieces of information, such as user name, machine name, operating system, version, OS build, codename, processor manufacturer, & type, installed RAM (memory), etc., with the default settings. Navigate to Display> Full if you want to see more information on your Windows 11/10 PC monitor. Now, you will see some more information on the desktop screen, such as GPU manufacture and model, GPU RAM, Network adapter, Connection type, IPv6 address, IP V4 address, subnet mask, MAC address, DNS server, default gateway, DHCP Servers, Network speed, and so on.
It also allows you to change the color of the system information on the desktop to match the background. You can select from white, black, red, green, or blue colors. It also allows you to resize the font size opacity of the system information if you need it.
Download O&O DeskInfo
You can download this small tool (around 1 MB) from its official web page if you find it helpful.
Also Read: