Although Windows 11 and 10 include driver updates with every Windows Update, it may not be sufficient for each component of your PC. Sometimes, Windows ships old and even buggy drivers.
To work efficiently, each component of your PC needs proper drivers; otherwise, they are useless. The hardware on your computer may not work without appropriate drivers, for example, display adapter, network or ethernet card, WiFi adapter, USB ports, etc.
Over the internet, many drivers updating software are available, and out of those, one is IObit Driver Booster. To keep your PC working at optimal speed, we recommend you to opt for a good quality application, such as Driver Booster.
IObit Driver Booster 9 Pro for Windows 11 and 10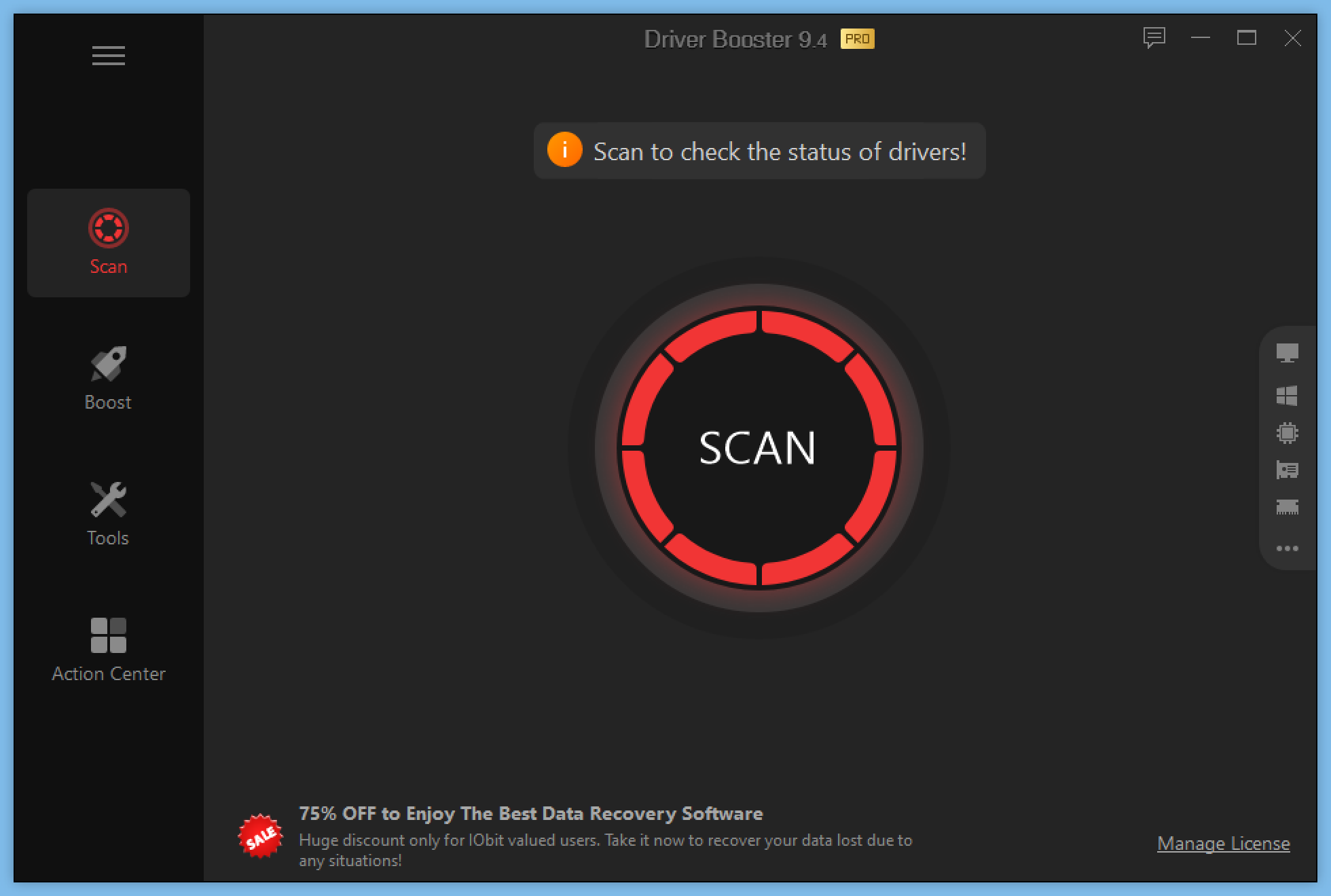 The Driver Booster from IObit is available for Windows PCs in two forms, paid and free. As you know, free versions limit features; however, Pro versions come without restrictions. But, you need to pay for a Pro version.
IObit firm is hosting a giveaway to promote their flagship products, and fortunately, gearupwindows has also been offered with some free licenses to share with users. That means you will get the free license key to activate your copy of the IObit Driver Booster 9 Pro software. Using the same license key, up to 100 users can activate their copy of Driver Booster 9 Pro.
Driver Booster 9 Pro is a life savior application with a collection of 3.5 million drivers and game components. That means you don't have to look on several websites for the driver. We can say Driver Booster is a one-stop solution for all your driver needs.
The Driver Booster 9 Pro has a simple user interface and is extremely easy to use. There is a total of 4 tabs available: Scan, Tools, Boost, and Action Center.
Scan
When you download, install, and launch this program, you'll see a big SCAN button. Just hit the SCAN button to scan your PC for outdated drivers.
Driver Booster will scan your computer and display the outdated drivers as well as up-to-date drivers. It even shows the hardware for which drivers are not yet installed on your PC. All you need to do is select the drivers in the list and click the Update Now button.
That's it. Now drivers will be downloaded by Driver Booster and automatically installed on your computer. The beauty of this program is that it automatically backs up drivers and creates a system restore point before updating the drivers, so if something goes wrong, you can revert your PC to a previous working state.
Boost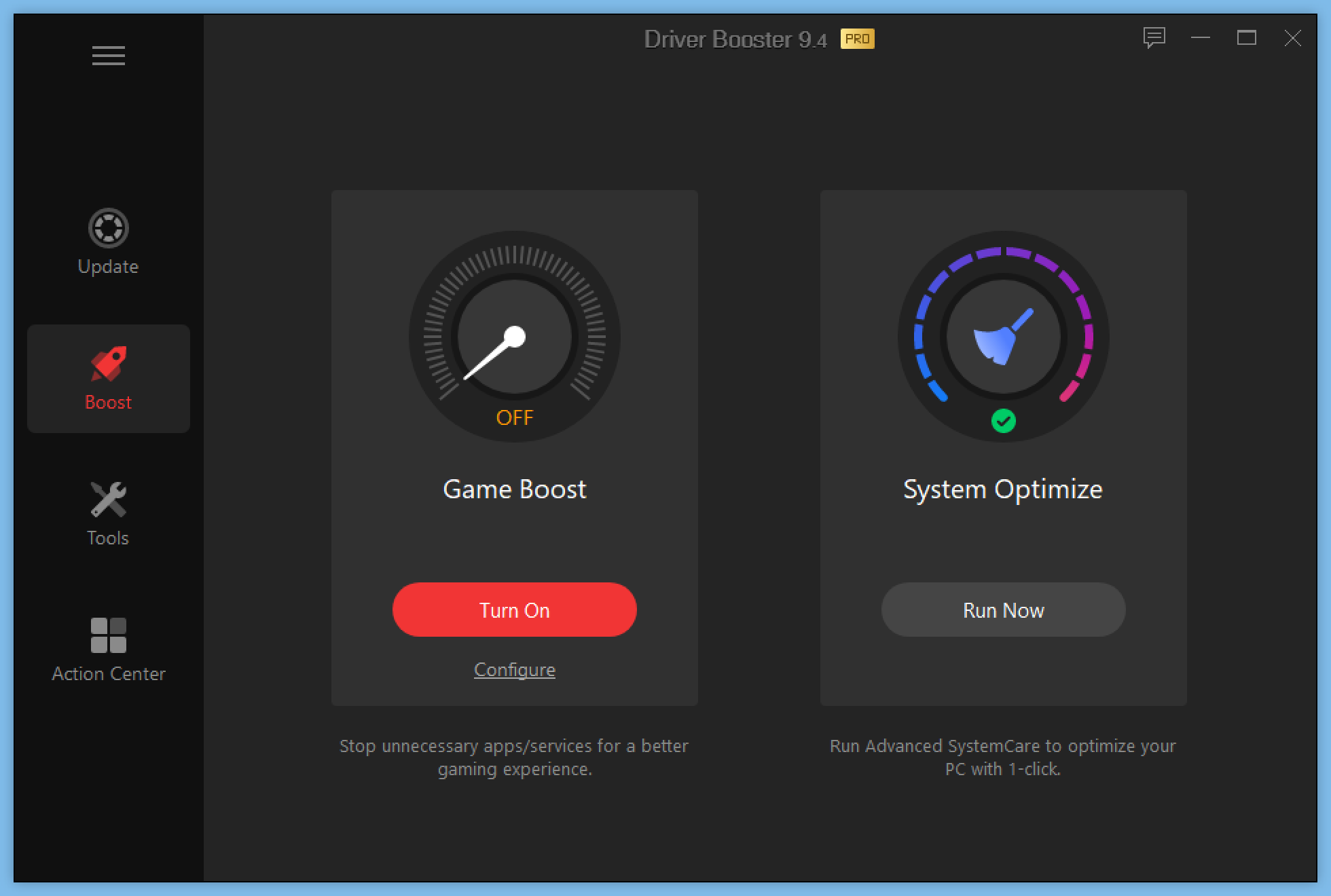 The next exciting tab is Boost, where you can turn on Game Boost. Game Boost is an option to stop unnecessary processes and services. Enabling this feature releases valuable RAM for playing a memory-hungry game. You can also use this feature when you need extra RAM for a task. For instance, if you are editing a video and watching videos in 4K. Such tasks require more RAM, so other processes can run smoother when Game Boost releases RAM.
Tools
The Tools tab of IObit Driver Booster 9 Pro lists several tools to fix a variety of issues on your computer.
Backup & Restore allows you to backup and restore drivers. It even allows you to create and view System Restore.
Fix No Sound tool lets you fix audio issues.
Fix Device Error corrects device problems and automatically fixes the issues.
Clean Invalid Device Data cleans the data of all the unplugged hardware components. However, it does not erase drivers.
Fix Network Failure repairs the Ethernet and Wi-Fi, and fixes the no internet connection issues.
Fix Bad Resolution tool helps detect and fix low resolution caused by graphic driver installation.
Offline Driver Updater allows you to update the drivers on a device that doesn't have the internet. To make this work, you need to export the device info, and the program will download the required drivers on the device where the internet is available.
System Information tool displays complete information about the system and lets you export it on your PC.
Action Center
From the "Action Center" tab, you can buy IObit's flagship programs at lower prices, such as iTop VPN, iTop Screen Recorder PRO, etc.
Overall, Driver Booster is an excellent tool for updating your PC drivers. It is compatible with all versions of Windows, including Win 11, 10, 8.1/8, 7, Vista, and XP.
Download IObit Driver Booster 9 Pro
You can download the giveaway version of Driver Booster from the official website link.
IObit Driver Booster 9 Pro Licence
Those Windows users who download IObit Driver Booster 9 from gearupwindows can active their copy using the following license:-
FAAEE-1BBEF-2D728-89A49
Please ensure that the activated Driver Booster 9 Pro copy will expire automatically in 6 months.
Conclusion
In conclusion, having updated drivers is crucial for optimal PC performance, and relying solely on Windows Update may not always be enough. IObit Driver Booster 9 Pro is a useful application that can help update drivers with ease. With its vast collection of 3.5 million drivers and game components, it serves as a one-stop solution for all your driver needs. The simple user interface and the backup and restore feature make it a hassle-free experience. Furthermore, the Game Boost feature releases RAM for memory-hungry tasks like gaming and video editing. IObit is currently hosting a giveaway for Driver Booster 9 Pro, and gearupwindows has free licenses to share with its users. Overall, if you want a stress-free way to update your PC's drivers, IObit Driver Booster 9 Pro is an excellent choice.
You might also be interested in the following giveaways:-