What is Belarc Advisor? Belarc Advisor is free for personal use software used to view the product key of the Windows 10 operating system. Once you download, install and run this freeware utility on your Windows PC, it generates a detailed profile of your installed software, hardware, network inventory, missing security updates, anti-virus status, security benchmarks, and then displays the results in your Web browser.
According to the developer, all the PC profile information Belarc Advisor generates remains private and is not sent to any web server. It is free for personal use; however, you have to purchase a commercial, government, or educational license.
This freeware software supports all versions of Windows, including Windows 11, Windows 10, Windows 8.1, Win 8, Win 7, Win Vista, Win XP SP3, MS Windows Server 2016/2012/2012/2008 R2/2008/2003 SP2. You can use it on both 32-bit and 64-bit Windows architecture. Further, the developer adds that his commercial products also run on all other Windows and Macintosh OS X, Linux, and Solaris operating systems.
The Belarc Advisor can generate software reports on any browser, including Internet Explorer, Google Chrome, Microsoft Edge, Firefox, Safari, Opera, and so on. It is approximately 4 MB in size and works well in our test on Windows 10 Pro 64-Bit Edition.
Why do we need to view or copy Windows 11/10 Product Key?
There may be several reasons to keep a Windows 11/10 Product key copy in a safe place. Suppose you have purchased a Windows PC or laptop with the preinstalled operating system on it and your Windows OS is not working well, and you are planning to reformat it. In an earlier version of Windows to Windows 7, the manufacturer used to paste the product key on the laptop or computer, which users were using to reinstall Windows on the machine. With Windows 8 launch, all manufacturers started embedding keys on BIOS/UEFI, which we can not view without a tool.
It is possible to install Windows 10 without a product key. But, one can not activate his/her Windows 10 machine without a product key. If you plan to reinstall or install a fresh copy of Windows 10, you should have a genuine product key to activate it online. Without activating Windows 10, you can not use all the functions.
How to view your Windows 11/10 Product Key using Belarc Advisor?
To view and copy your Windows 11/10 Product key using Belarc Advisor, perform the following steps:-
Step 1. Download the latest version of Belarc Advisor freeware from its official webpage.
Step 2. Install it on your Windows 11/10 PC (We are trying to recover the product key of Windows 10, which is currently working).
Step 3. Now, open the Belarc Advisor from its Desktop Shortcut icon.
Step 4. It will create a profile and run the script.
Step 5. Finally, a web page will open on your Windows 11/10 PC where you can see your operating system's license key or product key.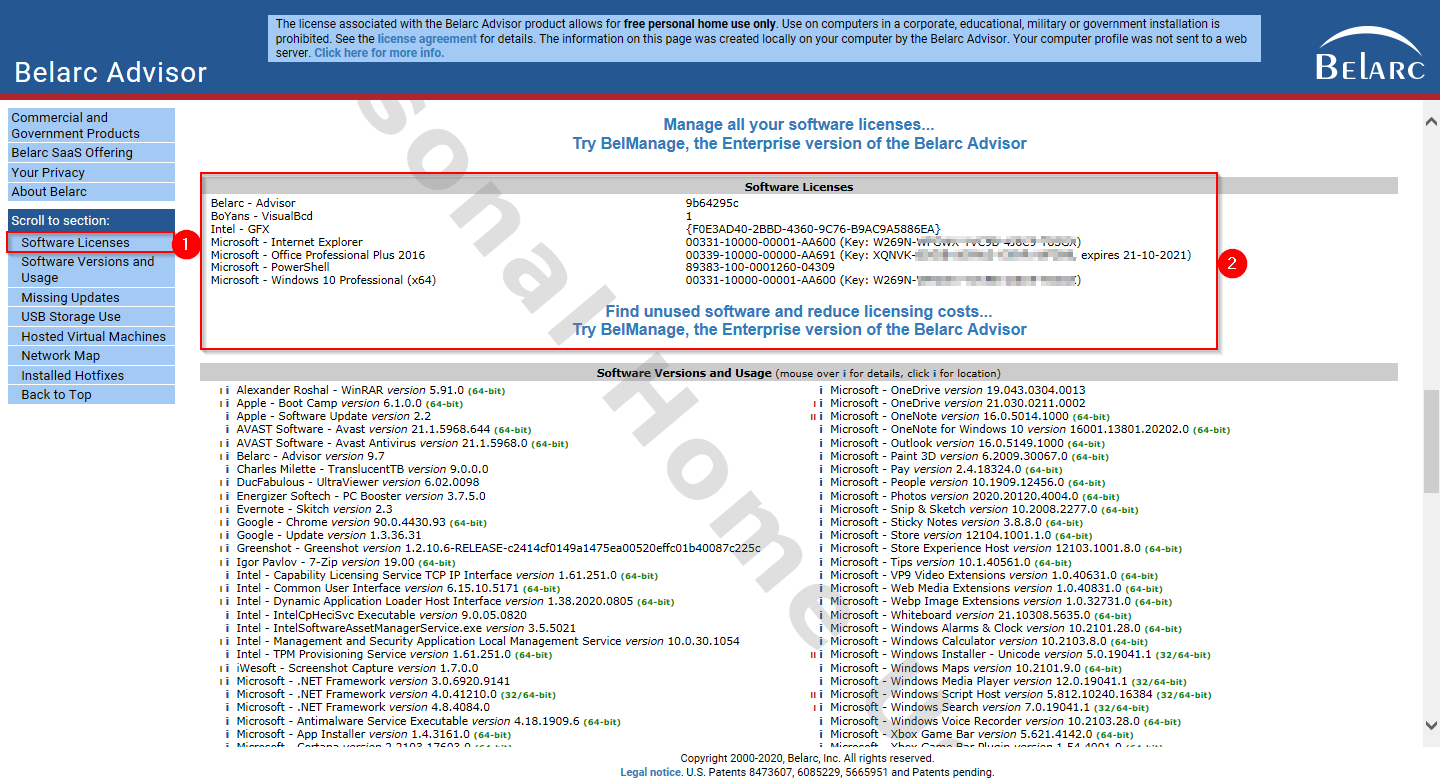 Apart from the Windows OS product key, the Belarc Advisor application also shows the Microsoft Office product key if you have installed it on your machine.
Those Windows users who don't want to generate their PC report online can download other offline freeware tools such as  ProduKey or Windows 10 Product Key Tool to recover or copy the product key of the Windows 10 operating system.