Over time, the Windows registry can become cluttered with leftover data and orphaned entries, which can slow down your computer and cause errors. That's where registry cleaner programs come in – these tools scan your system for registry errors and fix them, helping to improve system performance and stability.
While there are many paid registry cleaner programs available, there are also several free options that can get the job done. In this article, we'll take a look at some of the best free registry cleaner programs for Windows 11 and 10, and explore their features and benefits. Whether you're a tech-savvy user looking to optimize your system or a casual user looking to improve performance, there's sure to be a registry cleaner on this list that meets your needs.
Best Free Registry Cleaners for Windows 11 and 10
CCleaner is certainly one of the most popular and well-known registry cleaner programs on the market, and its ease of use and effectiveness have made it a go-to choice for many users. As you mentioned, it's important to review the list of files before removing them, as CCleaner can sometimes be overly aggressive and remove files that you may want to keep. Overall, CCleaner is a solid choice for users looking to optimize their system performance and clean up their computers.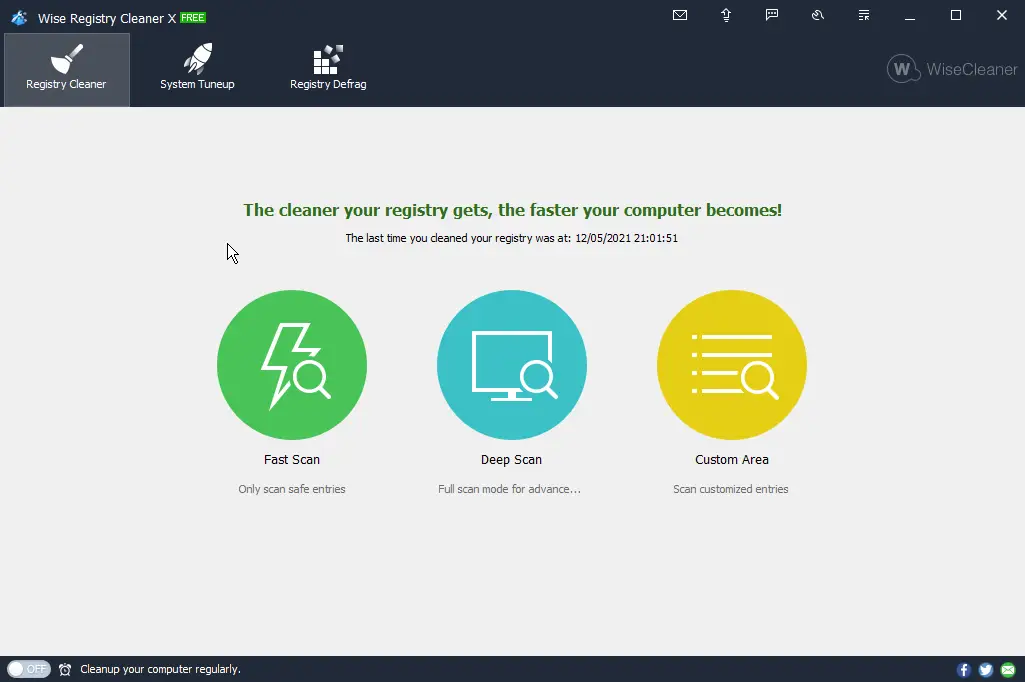 Wise Registry Cleaner is a useful tool for keeping your PC running smoothly by scanning and cleaning the Windows registry, which can become cluttered with obsolete entries over time. I appreciate the emphasis on backing up and restoring the registry before making any changes, as this can help prevent any potential issues. Additionally, the ability to schedule automatic registry cleaning and customize the scan modes and items is a nice touch. Overall, it seems like a reliable and effective registry cleaner that Windows users may find helpful.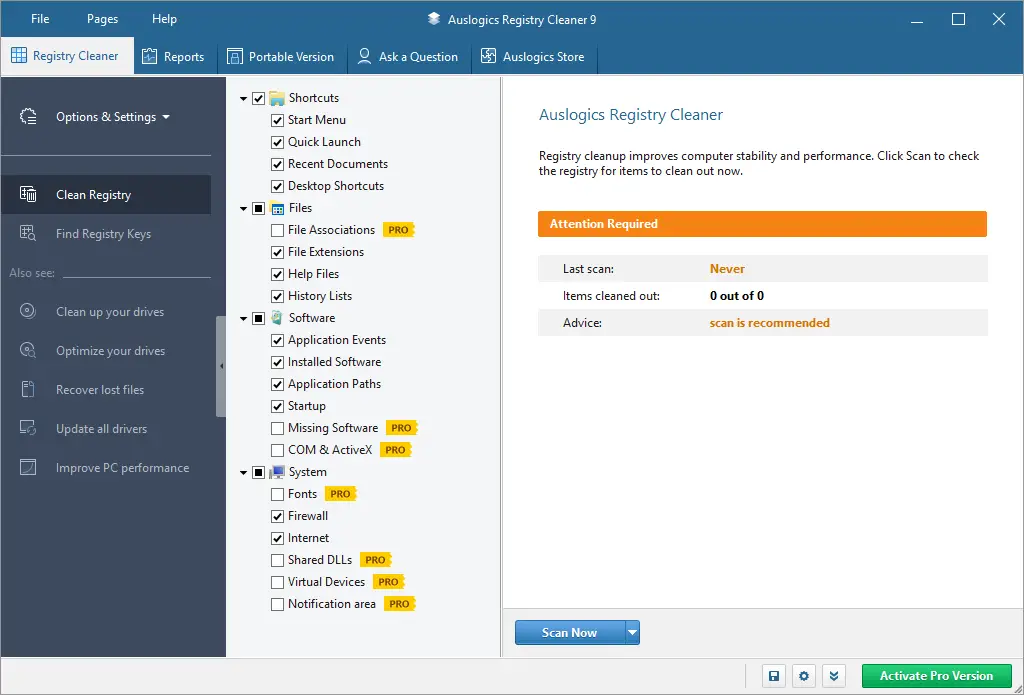 Auslogics Registry Cleaner is a free tool designed to clean and optimize the Windows Registry, which can help improve system stability and performance. It is compatible with various Windows operating systems, including Windows 11, 10, 8, 7, Vista, and XP.
Some of the key features of Auslogics Registry Cleaner include automatic backup, the ability to generate a detailed report of registry keys, and the option to create a portable version of the tool. It can also delete leftover files and entries related to uninstalled software.
However, some users have reported that during the installation process, Auslogics Registry Cleaner may attempt to install other products from its company, and the software may display advertisements. It is recommended to be cautious during installation and uncheck any offers that are not necessary.
Overall, Auslogics Registry Cleaner can be a useful tool for optimizing the Windows Registry, but it is important to use it with care and be aware of any potential unwanted installations or advertisements.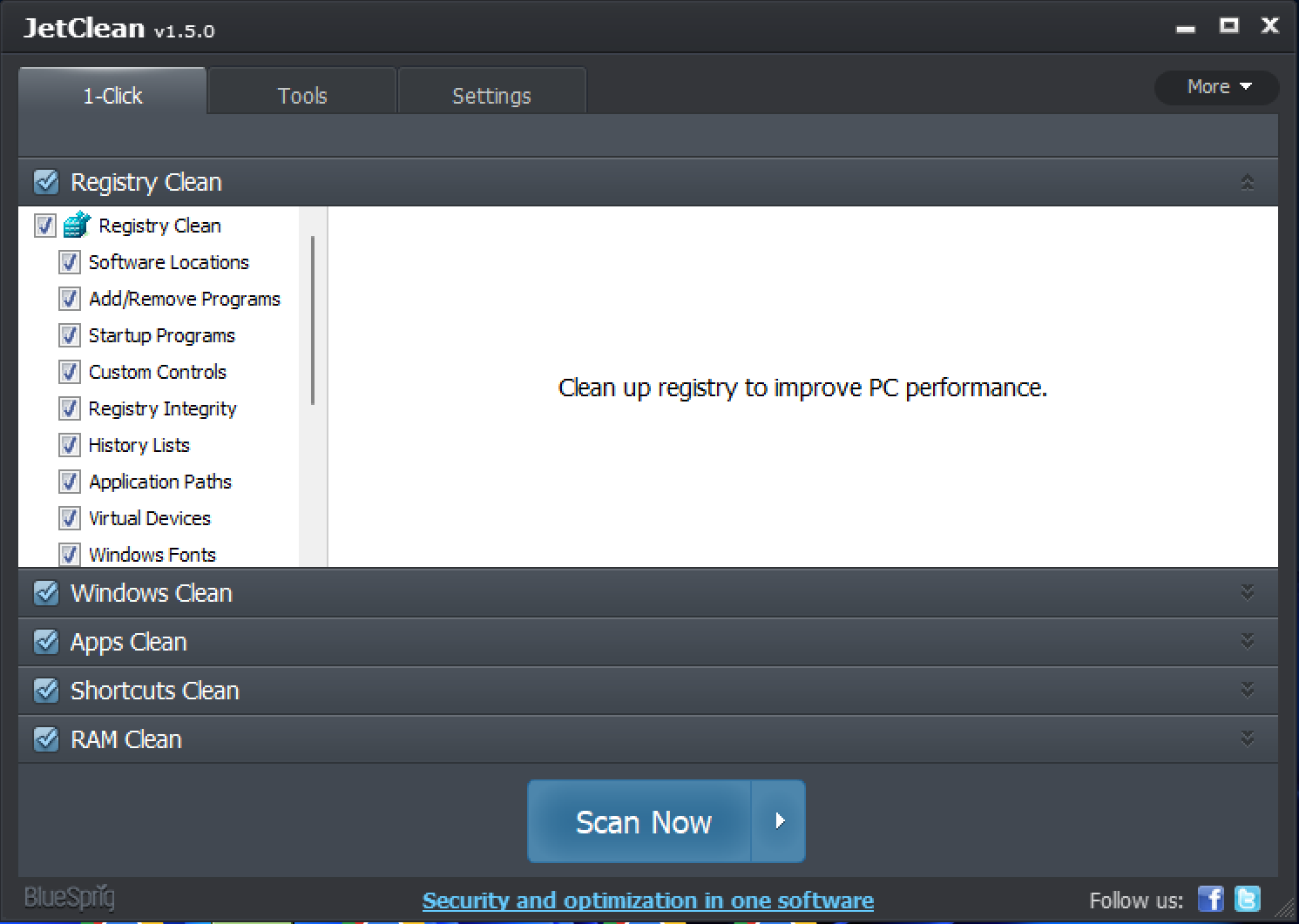 JetClean can help improve the performance of your system by removing unnecessary files and optimizing various settings. However, it is important to use such tools with caution as they can sometimes delete important files and potentially harm your system. It's always a good idea to back up your important files and create a system restore point before using any such tools.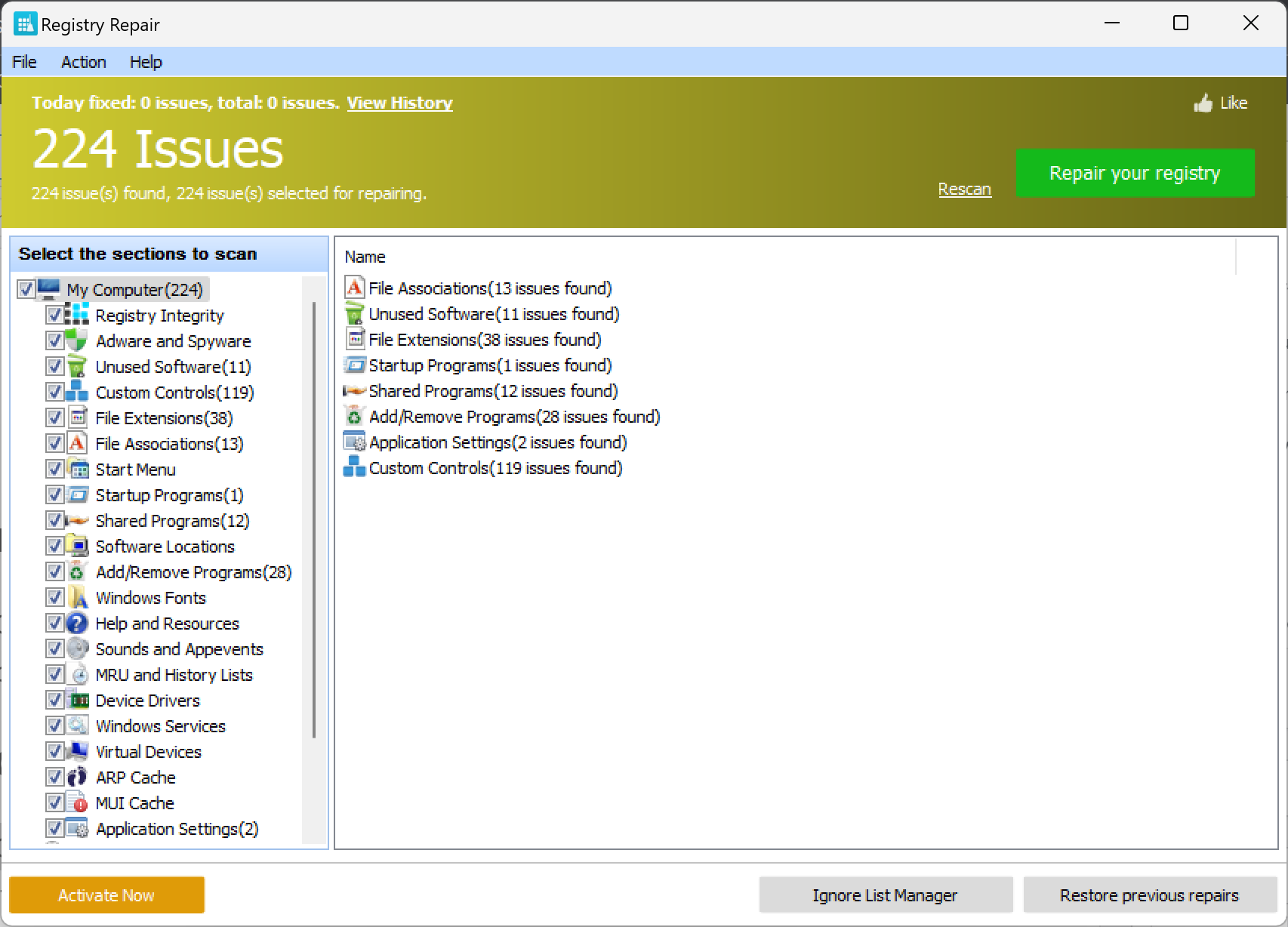 Glary Registry Repair is another software that claims to be a fast and efficient tool for scanning, cleaning, and repairing registry problems in Windows operating systems. It offers a user-friendly interface, comprehensive analysis, and a backup and restore feature. It is available for free and can be downloaded from the Glarysoft website. It is worth noting that registry cleaning software can sometimes cause unintended consequences, so it's always advisable to make a backup before making any changes to the registry.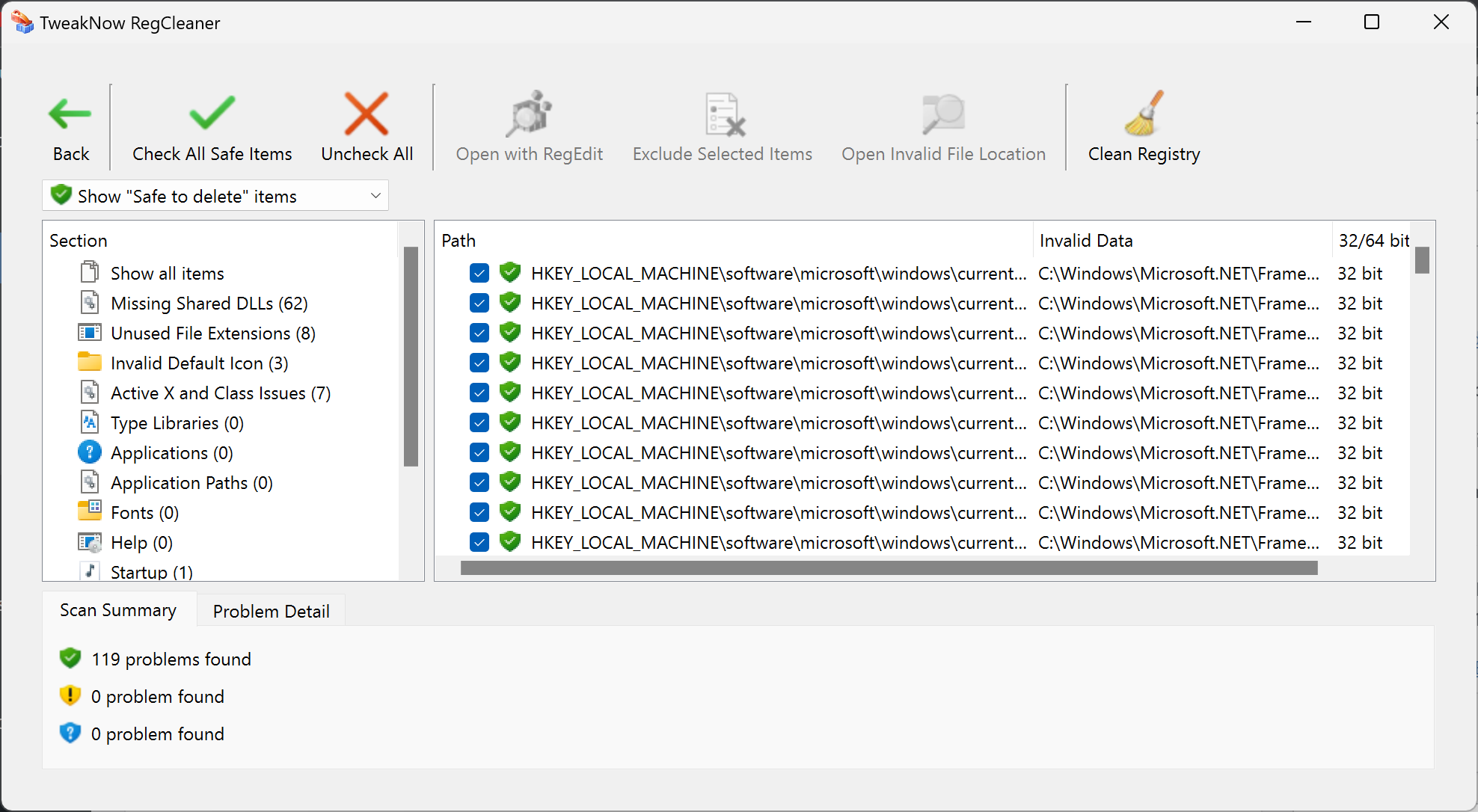 TweakNow RegCleaner offers a number of useful features for cleaning and optimizing the Windows registry, including fast scanning, accurate detection, secure cleaning, and a user-friendly interface. The fact that it is also free to use makes it a cost-effective option for those looking to improve the performance of their Windows 11 and 10 systems. As with any software, it is important to use it carefully and to make sure to back up important data before making any changes to the registry.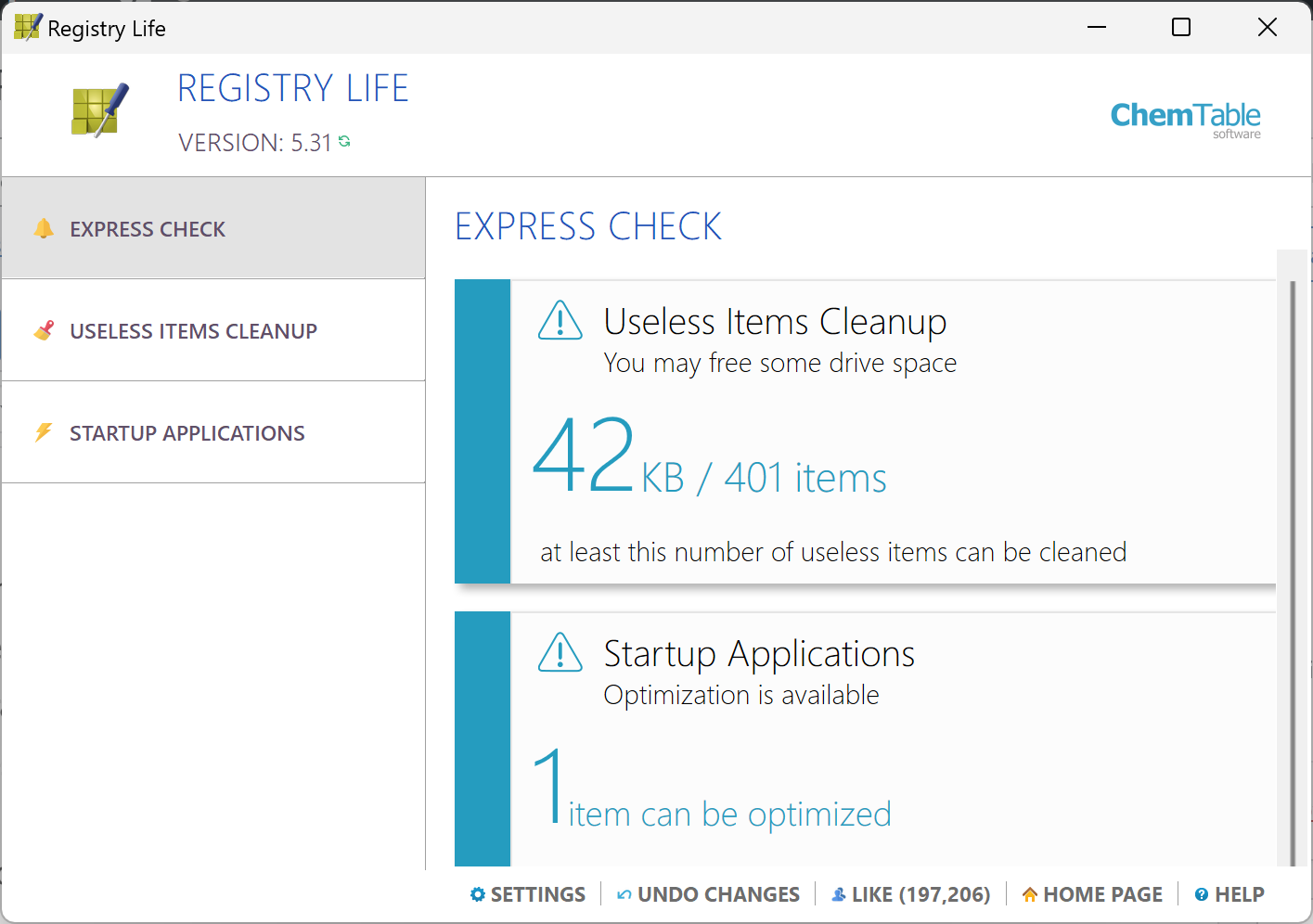 Registry Life is a free registry cleaning and optimization utility that helps users to clean and optimize their system registry. Its registry cleaner tool scans and repairs more than ten different kinds of registry problems, including invalid file extensions, font entries, and application paths. The tool also removes informational junk from the registry, which helps to optimize system performance.
Registry Life also comes with a registry optimization tool that defragments and compresses the registry. By optimizing the registry, Registry Life helps to reduce the size of the registry, which leads to faster access times and improved system performance.
Registry Life has a straightforward and easy-to-use interface that makes it easy for users to navigate and optimize their registry. The program is fast and efficient, visually displaying the results of the registry optimization and cleaning process.
One potential drawback of Registry Life is that it lacks some of the advanced features found in other similar programs. However, for users looking for a simple and effective way to optimize their registry, Registry Life may be worth checking out.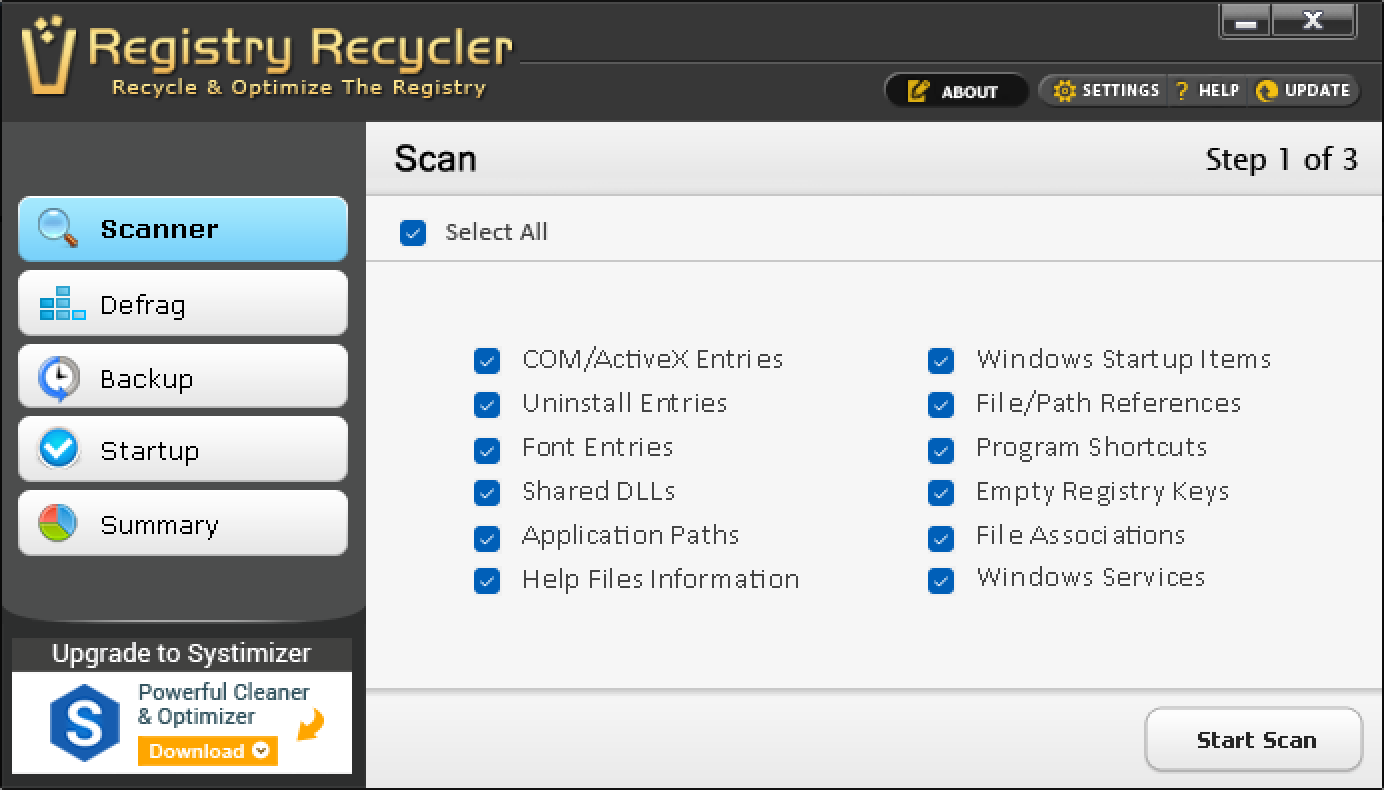 Registry Recycler is a useful and free tool for cleaning and optimizing the Windows registry. Its user-friendly interface and value-added features, such as startup management and automatic backup, make it a valuable tool for maintaining the health of your computer's registry. However, it is important to note that the customer support for Registry Recycler is limited, and it does not offer any advanced options for advanced users who might want more control over the registry cleaning process. If you're looking for a free and effective registry cleaner, Registry Recycler could be worth trying.
ACleaner is a free tool that can help you protect your privacy and optimize your computer's performance. It allows you to erase various tracks of your internet and computing activities, including browser cache, cookies, visited websites, typed URLs, recent documents, index.dat files, and more. You can also remove the tracks of up to 100 popular applications and schedule automatic erasing for any time you like. ACleaner includes an option to overwrite deleted data multiple times, so it cannot be easily recovered. It also features a registry cleaner, custom items, secure delete, boss key, and view history.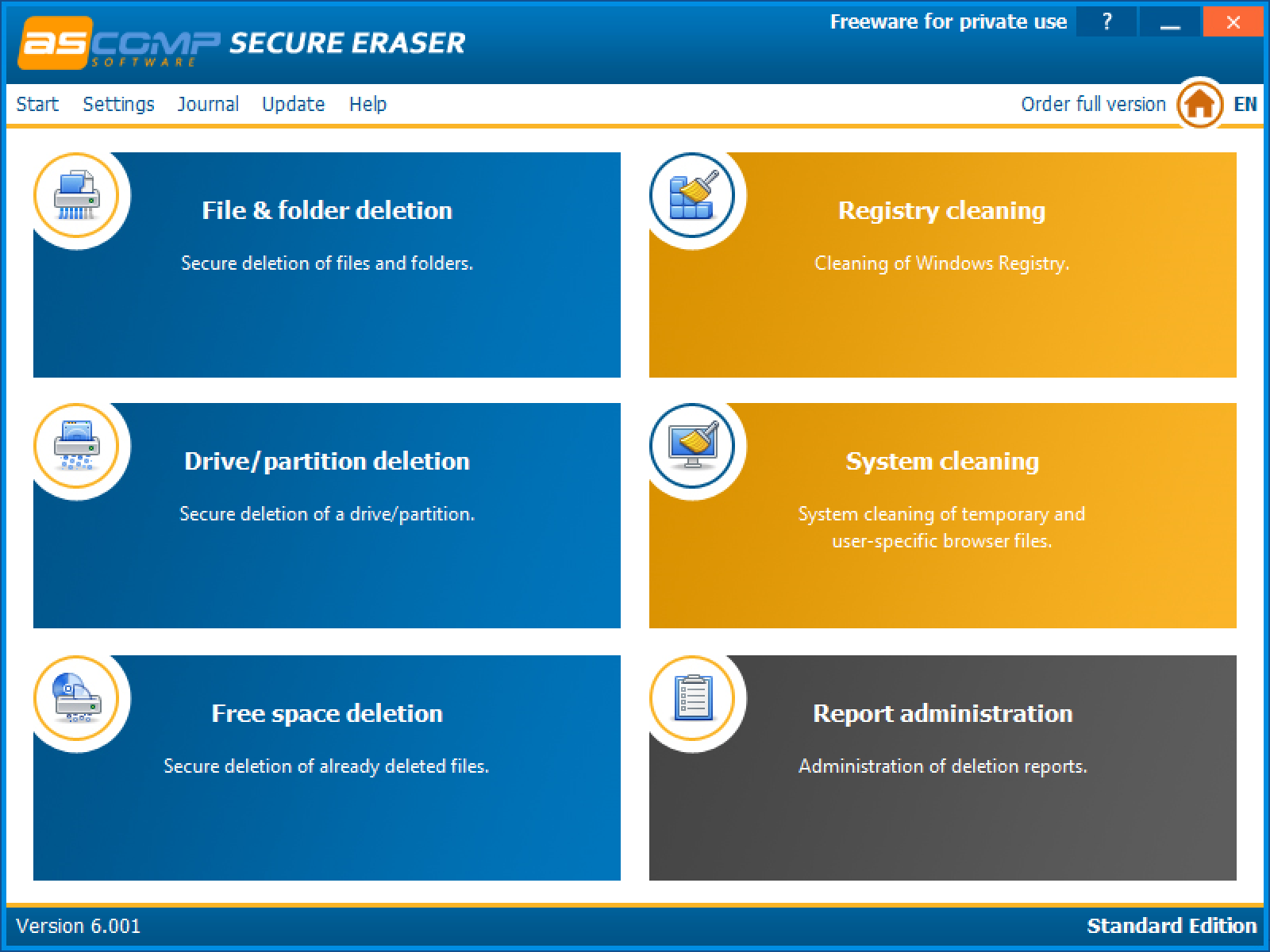 Secure Eraser is a software tool that provides a secure and reliable method to permanently delete files and folders from your computer, beyond recovery. It offers a range of deletion standards to choose from, including US DoD 5220.22-ME, U.S. DoD 5220.22-MECE, the German industrial standard, and the Peter Gutmann standard. This tool can be particularly useful if you're selling or giving away your computer, or if you have sensitive information that you want to securely delete. The software is user-friendly and easy to use, and it also offers detailed logging of all deletions upon request. The Standard Edition of Secure Eraser is available for free for personal use, and you can download it from the official website.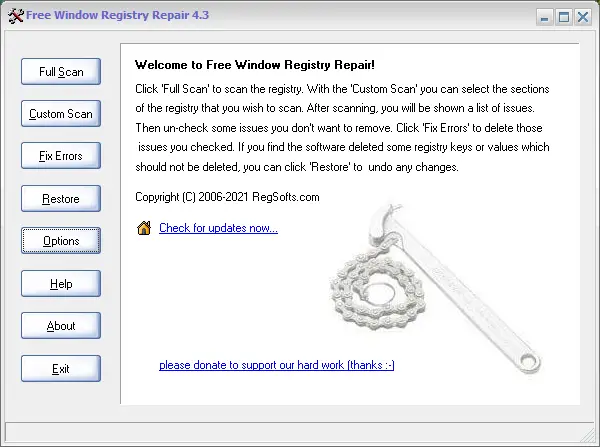 Free Window Registry Repair is another useful tool for Windows users who are experiencing system performance issues due to registry errors. Its key features, including customizable preferences and automatic backups, make it a user-friendly option for both novice and advanced users.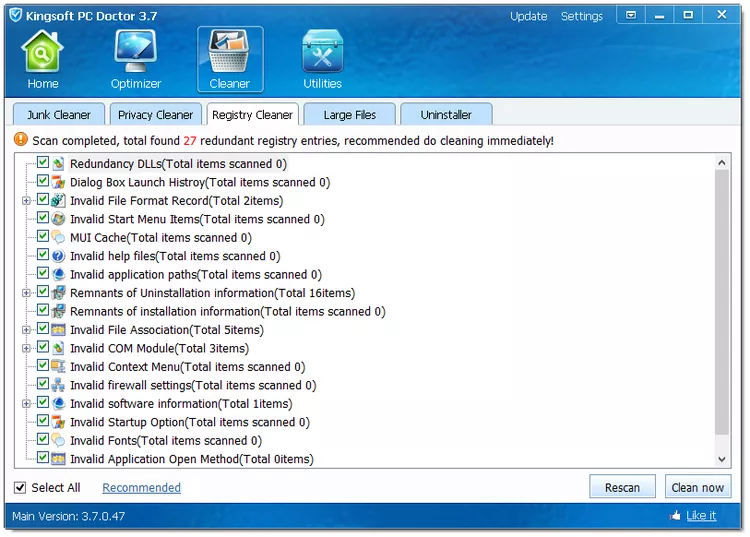 Kingsoft PC Doctor is a legitimate and safe utility tool that can help optimize system performance and improve security. However, like any system optimization software, it should be used with caution to avoid causing any issues with the system. It is always recommended to create a backup of your system before making any changes to ensure that you can easily restore your system to its previous state if any issues occur.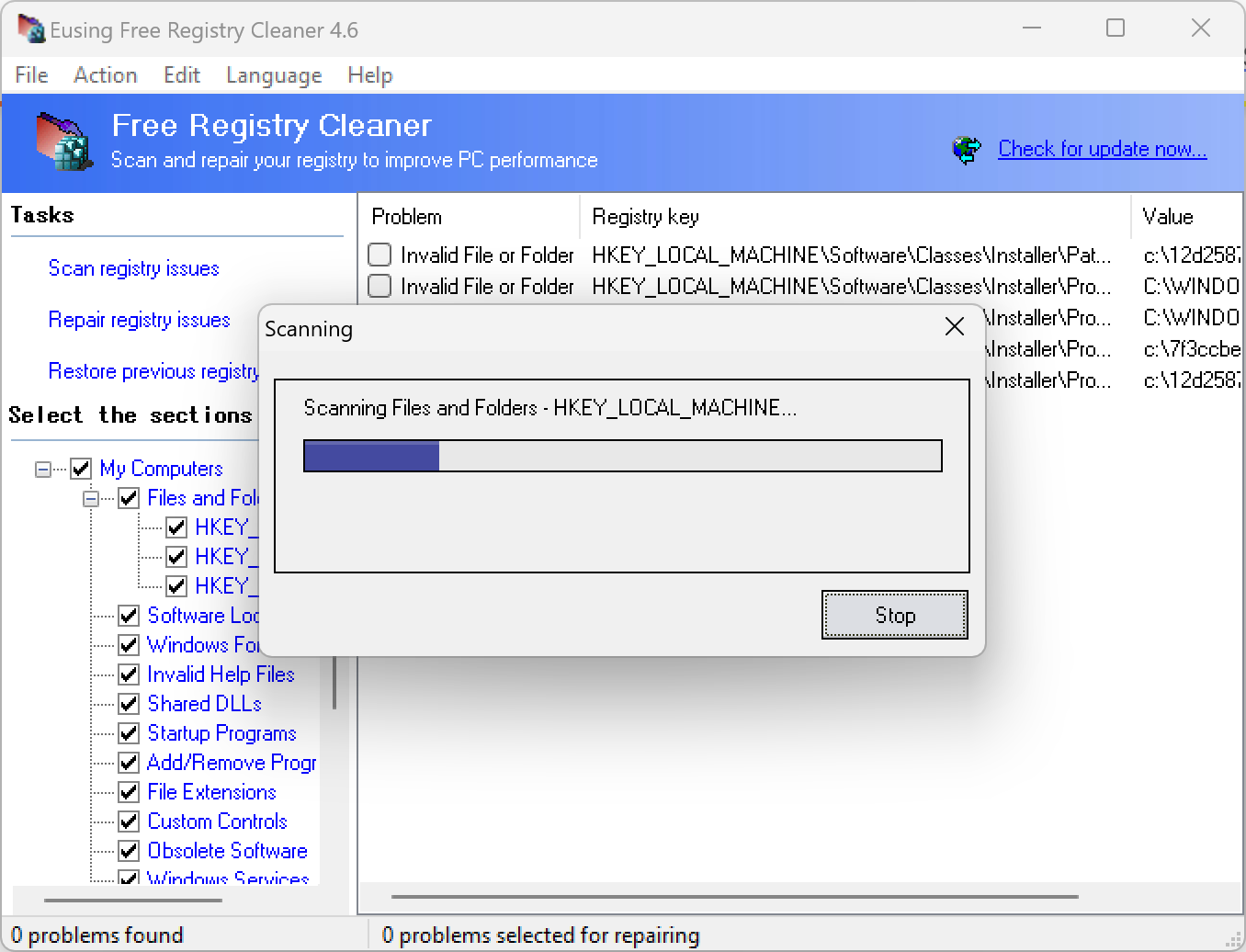 Eusing Free Registry Cleaner is another reputable and effective registry cleaning tool. It is also important to use registry cleaning tools with caution and to back up the registry before making any changes.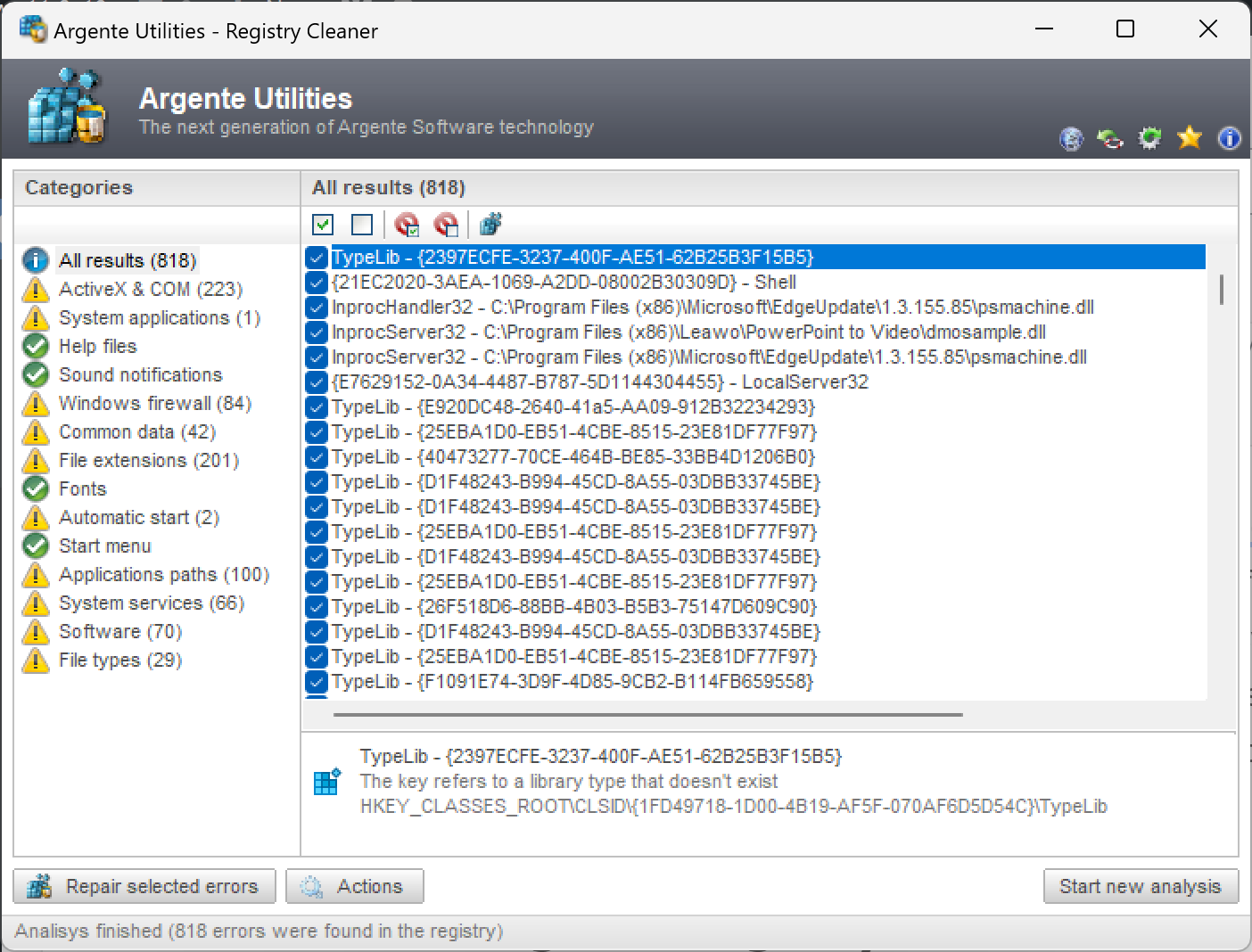 Argente Registry Cleaner is a decent choice for users looking for a free and user-friendly registry cleaner. Its features, such as automatic backups, automatic maintenance mode, and repair, exclude, and open in RegEdit options, give users more control over the cleaning process. However, some users report that the scanning and repairing process can take a long time and may detect the same errors multiple times, which could be a bit frustrating.
It's worth noting that registry cleaners are not a silver bullet for fixing all computer issues, and some experts caution against using them at all. It's also important to be cautious when making changes to your system's registry, as incorrect changes can cause serious problems.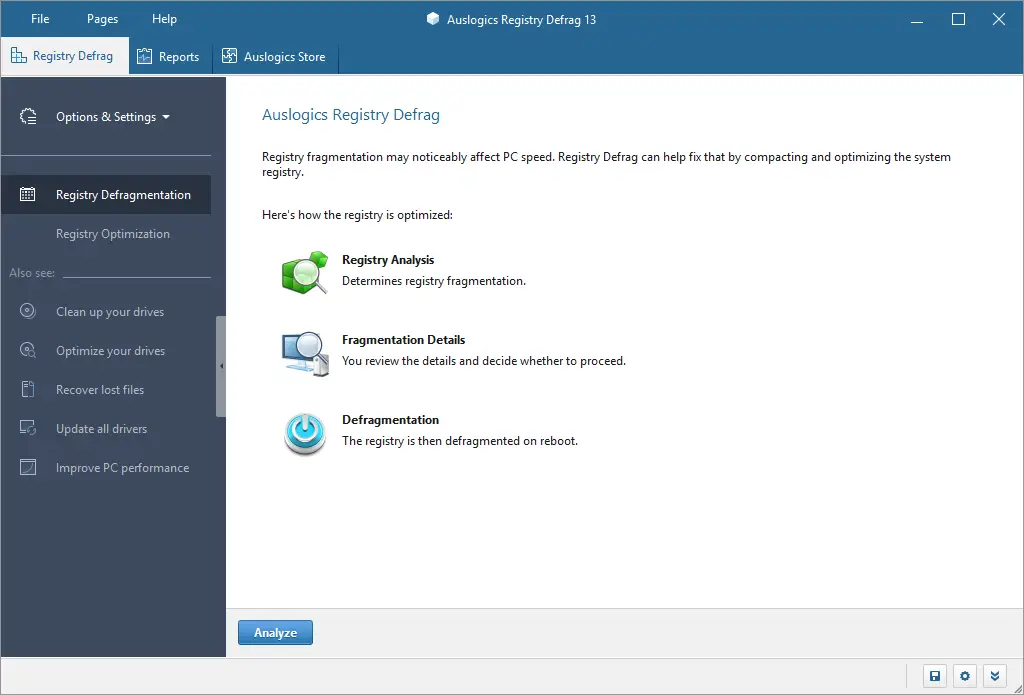 Auslogics Registry Defrag is a freeware tool that helps to compress and compact the Windows Registry to improve the performance of a Windows PC. The program analyzes the defragment level and represents it in a colorful graph, allowing users to assess the percentage of registry size after compressing it and the percentage of registry speed improvement. The program also creates a system restore point by default, allowing users to restore their Windows PC to a previous working state in case something goes wrong during the registry defragmentation. Auslogics Registry Defrag is compatible with Windows 11, 10, 8, and 7.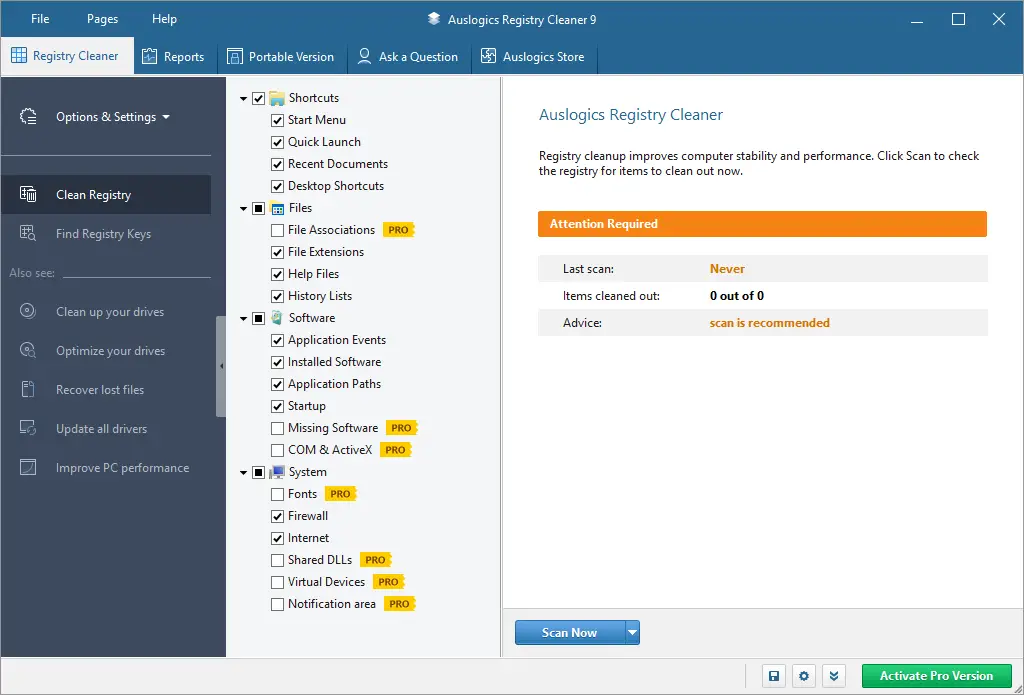 Auslogics Registry Cleaner is a useful tool for optimizing and cleaning the Windows Registry on various versions of Windows, including Windows 11, 10, 8, and 7. The ability to create a portable version of the app is also a convenient feature for users who want to keep their PC clean without having to install the software. However, it's important to be cautious during the installation process to avoid downloading any unwanted programs or offers. Overall, it sounds like a good choice for users looking to improve the stability and performance of their PC.