Windows 11 and 10 include bloatware that is known to everyone. Although it is possible to manually remove or disable unrequired things and enhance the overall performance of Windows, it is time-consuming, and you can't turn it off manually completely. Hence, you need a third-party such as WinClean.
WinClean for Windows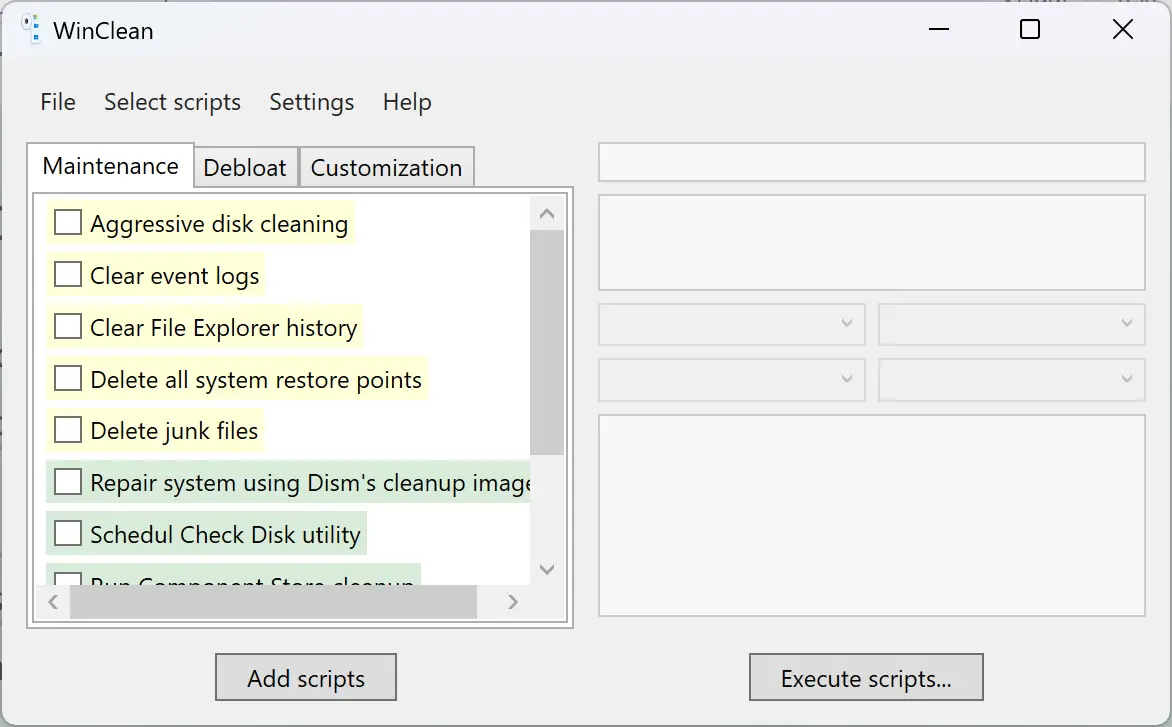 WinClean is a freeware Windows tool that is available on GitHub that lets you debloat and enhance your PC performance quickly.
The application enters deep into your PC settings and enables you to disable undesired features quickly. Apart from the basic users, advanced users can also use this application's help to optimize their PCs.
Using this software, you can perform several tasks such as disk cleanup, disk scanning, fixing system issues, checking the integrity of your system files, turning off Windows ads and Microsoft's telemetry services, uninstalling pre-installed programs, and more.
The program comes with a spotless user interface. It has a collection of scripts that makes your task easy in several ways, including the command line (Batch), PowerShell, and the Registry Editor.
The application also lets you add scripts. The beauty of this program is that it lets you create a system restore point before optimizing your PC. If something goes wrong after running this application, you can quickly restore your computer to its previous working state.
The WinClean is divided into three tabs that include several customization options. These tabs are the following: Maintenance, Debloat, and Customization.
The maintenance tab includes the following options:-
Aggressive disk cleaning
Clear event logs
Clear File Explorer history
Delete all system restore points
Delete junk files
Schedule Check Disk utility
Run Component Store Cleanup
Run the Disk Cleanup tool
Run the System File Checker tool
Using the Debloat tab, you can do the following:-
Disable Biometry services
Disable Bluetooth services
Disable delivery optimization
Disable Hyper-V services
Disable network and business services
Disable smart card services
Disable Xbox services
Remove Microsoft Windows Malware Removal Tool
Under the Customization tab, you have the following options:-
Always show folder merge conflicts
Disable shortcut suffix
Disable systematic short filename creation
Disable Timeline
Keep thumbnail cache after reboot
Download WinClean
If you want to try WinClean on your PC, you can download it from the GitHub website.
Conclusion
In conclusion, while Windows 11 and 10 come with pre-installed bloatware that may slow down your system, it can be difficult and time-consuming to remove them manually. However, WinClean, a freeware Windows tool available on GitHub, provides an easy and effective solution to debloat and optimize your PC's performance. With its simple interface, built-in scripts, and customizable tabs, WinClean offers various options to disable unwanted features, uninstall pre-installed programs, and perform disk cleanup, system repairs, and more. Additionally, the software lets you create a system restore point before optimization, ensuring you can quickly restore your computer to its previous state if something goes wrong. Downloading and trying out WinClean could be an excellent option to boost your PC's performance and improve your overall experience.